Some of the most popular and enduring shows ever produced for television have been anthologies – specifically, series that feature a collection of stories all tied together by one specific theme or concept. During the "Golden Age of Television", the weekly live series PLAYHOUSE 90 brought viewers excellently written and acted dramas, some of which went on to be adapted into full length motion pictures: Rod Serling's REQUIEM FOR A HEAVYWEIGHT, plus others like DAYS OF WINE AND ROSES, and JUDGMENT AT NUREMBERG. Along with that series, viewers were enthralled by other classic anthologies which featured incredible tales of suspense, horror and mystery that continue to endure today: ALFRED HITCHCOCK PRESENTS, Serling's THE TWILIGHT ZONE, plus THE OUTER LIMITS, Steven Spielberg's AMAZING STORIES and TALES FROM THE CRYPT.
Web series like PLAYSHORTS and the upcoming horror anthology SIDEWALK STORIES are continuing that great tradition. Adding to it is a new series called HORROR HOTEL, produced by a family team of filmmakers: Ricky Hess (the series' creator), Debbie Hess and Al Hess (who also penned each episode). Having premiered its first season of 6 episodes in September on its official Youtube channel and web site, HORROR HOTEL features terrifying tales of the macabre, the mysterious and the magical – all taking place at an equally mysterious motel located somewhere off the beaten path.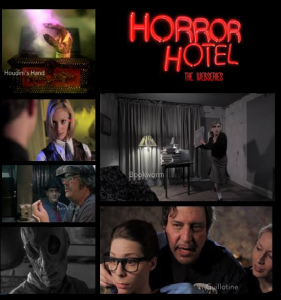 Every episode brings viewers stories from a variety of genres; tales that feature an equally diverse array of characters caught up in extraordinary situations. "There are strange guests that check into the Horror Hotel that include aliens, androids, ghosts, psychotic killers, gangsters and more. Each episode is a complete story in itself and that can span sci-fi, horror, fantasy and mystery tales. Most of the stories center around a moral decay in the characters' personality that create the story plot lines," says Ricky, whose expertise in special visual effects (mainly latex masks) served him well not only in past projects, but also in the design of the series' primary set – a decrepit motel room (more on that ahead).
Classic anthology series like ALFRED HITCHCOCK PRESENTS and THE TWILIGHT ZONE served as the primary influences for HORROR HOTEL both in terms of its storytelling and visual style. "We wanted to bring back an older style of storytelling starting with a great storyline, and following up with good visuals to compliment the footage," Ricky says. Produced entirely in Atlanta, Georgia, HORROR HOTEL utilized the city's talented film and acting community, plus a dedicated 80 member crew comprised of both student and veteran filmmakers.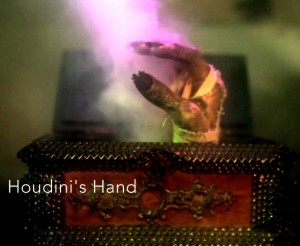 Each episode was filmed on a specially constructed set located in the town of Marietta, Georgia. Designed by Debbie Hess, her impressive work in creating a rundown, dilapidated motel room has not gone unnoticed. "People are impressed with the atmosphere we created for HORROR HOTEL and always want to know how we make our paint 'peel' and look so creepy. It's the number one question we get from visitors, cast and crew. Rick's working knowledge with latex allows us to create the realistic look. We paint the walls in blotches and then paint latex over that, then simply peel the latex back. The paint sticks to it and produces that eerie effect. We also use a lot of antiques to give the room a horror chic, sorta old European hotel look," she says. In fact, much of the pre-production process was a family affair for the Hesses. Al Hess (wife of Debbie and father of Ricky) used his experience as a carpenter to design the motel's furniture, plus several of the show's elaborate props – like a Houdini's Hand box for the series' pilot episode of the same name, among others.
An unparalleled mix of sci-fi, horror, mystery and fantasy, along with an equally unique style of filmmaking that pays tribute to some of the great storytellers of the past, is what viewers can expect when they check in to HORROR HOTEL every time. As Ricky Hess recalls: "I grew up on science fiction films like Star Wars, Star Trek and shows like the Twilight Zone. I wanted to recreate a style of storytelling similar to those older shows and films but with some more modern up to date story plots." Many of those influences are reflected throughout the series' six episodes. "I'm a huge fan of Gene Roddenberry (creator of STAR TREK), John Carpenter (legendary director of films like HALLOWEEN, ESCAPE FROM NEW YORK, THE THING, etc.), Rod Sterling and Alfred Hitchcock. They weren't afraid to push the social conflicts of the day and create interesting commentaries incorporated into their story ideas. Several of our episodes also contain some social commentary of the day, and we took it back old school with a couple of the episodes shot in black and white and highly stylized to look like throwback movies of the 50's," he says.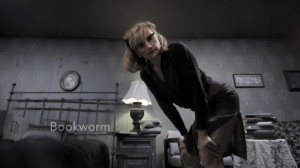 One such example: the series' fourth episode "Bookworm", with its story and production approach heavily influenced by Alfred Hitchcock. Directed by Ricky Hess, the episode was filmed utilizing a mix of color and black and white, with the set and actors' wardrobe designed to reflect a vintage, bygone era. The show's remarkable approach to its storytelling and production have both made HORROR HOTEL an exceptional web series that has won fans and acclaim from viewers across many key demographics. "Because of the wide spread of genres and styles, we hope to appeal to a large audience spread. So far, we have had positive feedback from teenagers to adults 50 and older," Hess says.
While the Hess family hopes that HORROR HOTEL will continue to be a frequent destination for lovers of various genres like science fiction, horror, fantasy and thrillers, their goals for its success are simple: to produce high quality, compelling content with incredible stories that appeal to a wide, diverse audience. "We just want to continue to entertain people with doses of uncanny and unpredictable tales that includes twisted plots and surprise endings. The show theme is on the lines of strange tales of twisted human nature and an exaggerated imagination."
(Note: the series is not currently closed-captioned, but Ricky says that he's considered adding that feature later for each episode.)
ON THE WEB: www.horrorhotelwebseries.com
FACEBOOK: https://www.facebook.com/HorrorHotelTheWebseries
TWITTER: @HorrorHotel123