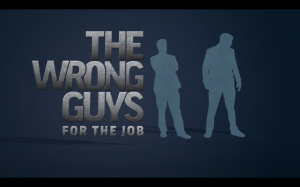 Two crooks in way over their heads find themselves in even deeper when they take on a series of wacky jobs in order to achieve higher status in the mob, in the award-winning interactive comedy web series THE WRONG GUYS FOR THE JOB.
Created, written and directed by Sutton McKee and Matthew Tibbenham (who won outstanding directing honors at the recent LA WebFest), Wrong Guys stars Brian Dobski (Larry) and Ryan Barry McCarthy (Charlie) as two inept criminals who will do anything to move up the mafia ladder, no matter how dangerous – or comical.
The show has already filmed four episodes, and just like the popular CHOOSE YOUR OWN ADVENTURE book series, each episode has alternate endings (in this case, three) that the viewers choose, making for not only a hilarious and entertaining comedy, but also a web series experience unlike any other on the web. In addition, a standalone episode has also been produced, mainly as a tease for upcoming installments.
McKee and Tibbenham developed the show after producing a series of short films involving Larry and Charlie's characters, and their misadventures in criminal activity, which quickly gained a following among moviegoers in Texas. "While I was at a screening, a few people approached me about what our plans were for Larry and Charlie. They then mentioned we should make a web series based off the two characters. Matthew and I talked about it for a few weeks and ultimately decided it was a great idea. Later Matthew asked me what I thought about making it interactive and I thought it was a great idea," says McKee.
At first, the production process proved to be overwhelming for both filmmakers, from dropping plans to film the show in New York, and then having to dramatically downsize the scripts (with nine endings per episode) to a more digestible, and producible, format, not to mention Tibbenham's prior commitment as part of the production crew on the 2012 horror film SINISTER. In the end, the script reduction allowed both McKee and Tibbenham to produce the show efficiently, and to utilize its unique interactive format. "Being big fans of Quentin Tarantino, Edgar Wright and Guy Ritchie, we tried to create a unique and clever show for the web. Being huge film buffs, we also tried to create fun moments for the audience by paying homage to several classic films and film styles," they say.
The process of shooting each episode's multiple endings also presented its own challenges, but in the end, the extra hard work paid off, according to both filmmakers. "We would shoot everything within a set up all at once, no matter what scene it was in. We were jumping from page 3 to 11 to 17 and it got very confusing. Our actors would get confused where they were in the script and the emotions they should be portraying, depending on what ending we were shooting. They did a great job though despite the frustrating process that I'm sure it was for them. It was nuts, but it came out well and between us, we somehow kept everything straight."
Both filmmakers have modest goals for THE WRONG GUYS FOR THE JOB, and throughout the production process, they learned a lot about no-budget filmmaking, resulting in not only a hilarious dark comedy, but also a unique web series experience. "We did it because we thought it was a great idea and knew we could feasibly do it without any outside financial help. It was also a great training ground to prepare ourselves for our first feature films, which we are both currently developing. We had been writing features and doing short films before and decided the web was a great medium to get your work out there for people to see and enjoy quicker than it takes to get a feature off the ground."