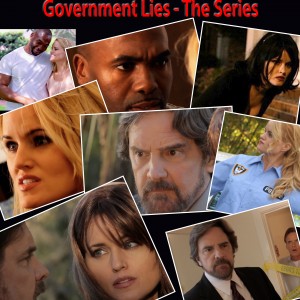 In the midst of the war on terrorism, a forbidden romance leads to a soldier's wife accused of murder, and a possible government cover-up involving her missing (or dead?) husband, in the new web series thriller GOVERNMENT LIES, created by, and starring Deanna Meske.
Meske plays Erica Weston, a woman who, while married to her soldier husband Tom (Gregory Williams), engages in an affair with another man, Stephen (Nyell Segura), as Tom is away at war. One morning, having realized the error of her ways, Deanna wakes up with him, with every intention of ending their illicit affair, but when Tom suddenly comes home from overseas combat (or has he?), Erica's life changes in dramatic fashion, and she finds herself accused of killing Stephen, on the same day that the military informs her that her husband was killed in action – or was he?
The show also stars soap veteran Lane Davies (SANTA BARBARA, GENERAL HOSPITAL, and the web series THE BAY) as longtime Weston family friend, and FBI detective, Jake Huckerby, and is set for a ten episode first season, airing on Youtube and on the show's official web site (see links below).
The series, filmed in New Orleans, has filmed three episodes so far, and grew out of a short film, FLIPPEN, originally produced by Meske for the New Orleans version of the 48 HOUR FILM FESTIVAL. "As I was watching it in the theater, a light bulb went off and I was like, 'oh my God, I can totally create a series out of this,' and then I started writing and coming up with character backgrounds and plots and it just started to flourish. I brought on a new D.P., a new director for these two episodes, and some really great crew along with two co-writers to help me flush out my ideas." A crowd funding campaign to raise funds for the production of the show's fourth and fifth episodes is now underway on IndieGoGo (see link below).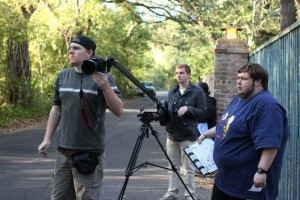 Meske, who cites the popular cable drama DAMAGES as her main inspiration for creating GOVERNMENT LIES, took on many roles behind the camera, in addition to starring in the series, and was also fortunate to work with an exceptional production crew, including camera department personnel Carl Johnson and Troy Torgerson, and sound mixer Alex Price. "I do too much. I produce, write, cast, co-direct and star in it, but I love to be super busy, so I don't mind all of that. I found a great P.A. (Karen Clark) who saved my bacon. She really took a load off of me, and I owe her big time! Plus the D.P. (Mickey Gaidos) is my favorite, we have worked together on several projects and I just love him. The crew was really amazing too, everyone was so excited about the footage we were getting."
Meske also hopes to gain a bigger budget for the show, which will not only ease the load for her behind the camera, but also will further improve the show's production quality. In addition, she hopes to pitch the show to TV networks, including streaming services like Netflix and Amazon, in addition to gaining further distribution on the web. Perhaps the biggest hope for the success of GOVERNMENT LIES, says Meske, is broader exposure, not only for her, but also for her talented cast and crew. "I expect to expand as a filmmaker, help all of my actors and crew book more jobs from it, and I expect to get the attention of studios and bigger investors so I can get this on TV!"
Even despite the adult content of the series, Meske believes that GOVERNMENT LIES will appeal to all ages, and will attract many viewers, especially those who enjoy good drama, combined with action-packed thrills, making for an exciting web series experience that will take viewers on an incredible journey. "It's got cops in it, it has chase scenes, it has futuristic mind control, it's got just a lot of different elements, conflicting elements, and it's just going to be a really cool, fast-paced web series."
FACEBOOK: facebook.com/GovernmentLiesWebSeries