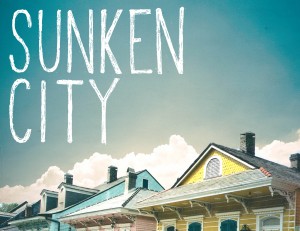 New Orleans is a city known the world over for its great food, toe-tapping music, and unique personalities. The new comedy web series SUNKEN CITY, created by Kyle June Williams and C.J. Hunt, portrays what makes the Crescent City one of the most interesting places in the world through its offbeat, quirky and hilarious characters as unique as the city itself.
The pilot for the show's six episode season premiered June 3rd on Youtube, and as of July 4th, its Kickstarter campaign has successfully raised over $10,000 for producing the next five episodes of the series. Williams and Hunt not only wrote and created SUNKEN CITY, but they each play three different characters who make up the show's primary couples: Beau (Hunt) and Birdie Jackson (Williams), who both aspire to be the next King and Queen of Rex (one of New Orleans' oldest and most traditional Mardi Gras carnival organizations), Warlock (Hunt) and Anne (Williams), a couple who hope to become the #1 provider of 'Haunted Tours' in the city, and Daniel J. Woods (again played by Hunt) and Curry (also played by Williams) as two young entrepreneurs who stumble in their quest for success.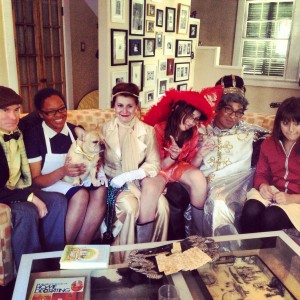 Both Williams and Hunt created the series as not only a way for them to play multiple roles, each of which were inspired by the one-of-a-kind characters they encountered in everyday life in New Orleans, but also as a way of trying to fill a void in terms of TV and web series that focus on the city. "We asked ourselves 'how is there not yet a great character comedy about New Orleans?' From there it was decided: we would make that comedy. We then built out the characters and their journeys and interwove their stories together to make a whole season. We had known Jonathan Evans from some great film work he has done, particularly with The New Movement (a comedy theater in New Orleans). We brought him on as director, and from there he helped us to shape the story, capture the look and feel of the show, and tailor the characters to make them people viewers actually care about," Hunt says.
While both actors knew the rigors of performing, producing a web series proved to be a whole new ballgame entirely for Williams and Hunt. Yet, the daunting task of filming SUNKEN CITY was made easier thanks to the assistance of fellow actors and their experienced director. Recalls Williams: "We recruited our friends from The New Movement (Molly Ruben-Long, Jared Gore, Mike Spara, Britt Wright) to work as P.A.'s (production assistants) on the show. They handled the shooting logistics and made our actors and extras feel taken care of – as if it (was) more like a little party than a film shoot. With extensive shooting experience, our director Jonathan Evans led this awesome team and handled pressure with style and precision," she says.
Many viewers, according to Hunt, have often compared SUNKEN CITY to the popular IFC comedy PORTLANDIA. Both shows are character-based comedies that celebrate their respective cities, but they differ in their approaches to storytelling and structure, Hunt says. "SUNKEN CITY is a story-based sitcom more in line with shows like PARKS AND RECREATION and ARRESTED DEVELOPMENT. When viewers tune in to SUNKEN CITY, they will not see sketches and vignettes about the city; they will see a story being told about three sets of characters – each striving to 'make it big' in the Big Easy. Hopefully, our audience will root for these characters and feel for them when bad things happen. In painting these characters, we also hope to show audiences outside of New Orleans sides of the city they have never seen on screen before. We have seen few shows that manage to pull off memorable character acting, sharp cultural satire, and moving story telling. SUNKEN CITY strives to do all three – and to do it in under 10 minutes per episode."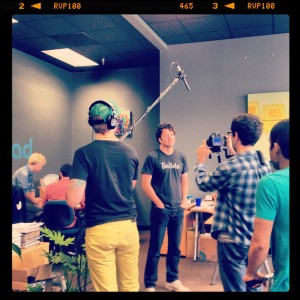 Both Williams and Hunt have high hopes for the show's success, but the biggest goal for each is for SUNKEN CITY to give viewers a show that not only provides great comedy, but also one that positively portrays one of America's greatest, most unique cities. Says Williams: "We hope to make a show that people think is smart and funny – one that will make them fall in love with New Orleans like we have. We hope to raise enough money to pay the hardworking crew behind the show and afford the props, costumes, and locations need to film a great season. We hope to make a show that the people of New Orleans are proud to be a part of, and characters that people get to know and love along with the city. We believe it is possible to have an award-winning comedy with national appeal that's made entirely by artists and creatives living in New Orleans. In a year, we want New Orleanians to be approached by their out-of-state friends who say 'oh my god, you're from New Orleans. I love SUNKEN CITY. We watch it every week on IFC/Netflix/HBO. It's made me super excited about your city.', and we want those New Orleanians to be able to proudly respond, 'I feel the same way – and you're welcome."
ON THE WEB: www.oursunkencity.com
FACEBOOK: www.facebook.com/OurSunkenCity
TWITTER: @oursunkencity
INSTAGRAM: @oursunkencity
YOUTUBE: http://www.youtube.com/user/OurSunkenCity
SUNKEN CITY's Kickstarter campaign can be found here: