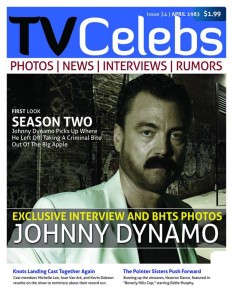 In the 1980's, Johnny Dynamo played the biggest, toughest and most popular detective on TV. He gained the love of fans worldwide and the respect of his peers throughout the industry. There was nowhere to go for him but up – until a disastrous publicity stunt destroyed his career and his reputation. Now, with the help of three devoted (and some would say delusional) fans, he's hoping to get it back in the new comedy/action-adventure web series JOHNNY DYNAMO, created by Dennis Mareno and Joe Thomas. The series premiered on August 1st of this year with ten episodes set for its first season, three of which are now available on its official web site (see link below). As of this writing, seven episodes have been filmed, and production is still underway of the remaining three episodes which should be completed by the end of September.
JOHNNY DYNAMO stars Rick Wells as Robert Pierce-Mitchell (a.k.a. 'Johnny Dynamo'), the all but forgotten TV star who's now settled down and living in Nashville with his wife Sandy (Jennifer Shelton) and young daughter (played by newcomer Hailee Ricci). Mitchell's heyday as America's favorite TV cop has long since passed, and both his iconic role and the actor himself have been all but forgotten by almost everyone except three young showbiz upstarts: Hannah Motlow (Sarah Shoemaker), Jack Meredith (Jonathan Everett) and Ira Stein (Daniel Mark Collins). Together, they have a plan to bring both the character, and the man who brought him to life, back into America's conscience. There's just one problem: nobody knows what the plan is – not even Robert.
The series is a unique hybrid of comedy and drama, and as Thomas explains, it's a mix that sets JOHNNY DYNAMO apart from many other web series in many ways. "JOHNNY DYNAMO is a dark comedy but it feels more like a drama from one scene to the next. We really didn't set out to be like any other series; we tend to dance to our own drummer. We're not worried about following any specific production 'rules' and we're certainly not trying to produce a show to please the industry. We wanted to create something for the audience – not something to impress Hollywood or the production community. We aren't trying to write 24 jokes per minute and we try to keep the story moving along but with mini cliff-hangers in every episode. Our goal is to keep it smart, fresh and entertaining," he says.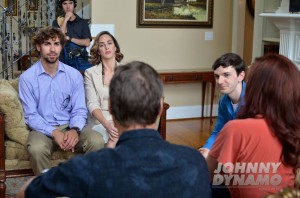 While Mareno and Thomas were inspired to create JOHNNY DYNAMO by their love of such popular and enduring TV series from the '80s like the groundbreaking sitcom THE COSBY SHOW, plus action/adventure thrillers like MAGNUM, P.I., and so many others that topped the Nielsens back then, Thomas says that his chemistry with co-writer Mareno serves as the primary fuel for each other's creativity. "If I say something interesting, he has to be more interesting, and vice-versa. We're working on 3 different series right now as well as our own Youtube comedy channel – we write everything together – I suppose we feed off each other," he says.
Like many web series creators, Mareno and Thomas hope for bigger and better things for their series, including expanding the length of each episode and possibly continuing their story for two more seasons. Yet, no matter how successful JOHNNY DYNAMO becomes, its message still remains the same: everyone deserves a second chance in life, no matter who they are or even how famous they were. As Thomas says, it's a show that is unlike any web series out there – one that's hilarious without being crass. "We didn't really write the show with some great desire to solve any social issues, (but) the whole point of it was to create something that we felt people could relate to and have fun with. The show is fun. It's smart, intelligent entertainment that doesn't rely on sex, nudity, violence or zombies. It's just a fun, intriguing story."
(Note: while the series is not currently closed captioned, Thomas says that he hopes to provide that service to viewers during the show's second season).
ON THE WEB: www.johnnydynamo.com
FACEBOOK: www.facebook.com/JohnnyDynamoTheSeries