Recently in New Orleans, a unique event brought together the best minds from the web series industry, along with some of the best creators of original content for the web. Web Weekend, a two day series of screenings and panels held by the New Orleans Video Access Center (NOVAC) in conjunction with the New Orleans Film Festival, provided attendees (this writer included) with ample opportunities to meet fellow filmmakers and to gain valuable insight on various issues relating to the industry, as well as ways to build audiences and to create quality content. NOVAC Web Weekend began on Friday, October 18th with Think Tank, which took place downtown at Launch Pad NOLA. Think Tank provided creators of many locally produced web series like SUNKEN CITY and LEAST FAVORITE LOVE SONGS ample opportunities to network with, and get valuable feedback from, their fellow filmmakers.
Later, those who gathered for Web Weekend got to see the third season premiere of the popular documentary web series BLACK FOLK DON'T, along with an in-depth discussion with the show's writer/director Angela Tucker. From there, it was party time at the Bellocq Bar, located inside the New Orleans' Hotel Modern. As the night went on, those gathered for Web Weekend celebrated the beginning of the inaugural event in style (and with plenty of cocktails to go around).
The next day (October 19th), I arrived in the city to attend the first of a day-long series of panel discussions that focused on many facets of the world of original digital content for the Internet. Each panel was held at the New Orleans BioInnovation Center. The first of those was "Web Series 101", an informative and insightful talk by Mike Tringe, the founder of CreatorUp, an educational resource for aspiring and current web series creators that features online-based classes on various subjects relating to the creation and distribution of digital content. (The full length videos of that panel, plus the later discussion with Charles Ingram and Ally Hord of FUNNY OR DIE, are both available via UStream at the link below).
I walked into the conference room, where several people, much of them web series creators, sat patiently before the presentation began. Outside the room were four computers, where people viewed several of the locally produced web series featured on NOVAC's Vimeo page. Many of those shows would screen throughout the day as part of the Web Weekend "Small Screen Series", also at the BioInnovation Center.
After being introduced by NOVAC director of programs Ashley Charbonnet, Tringe began his lecture by asking the audience just what defines a web series. I volunteered to respond, and from there the site's founder elaborated on the concept. "I think what defines a web series is that you have an idea, an audience for that idea, and that it lives online. No matter what format you have, non-fiction, fiction, as long as there's a matching of content and audience, you have what we refer to as a web series as long as it's serialized. One video does not make a web series, but one video can launch a web series."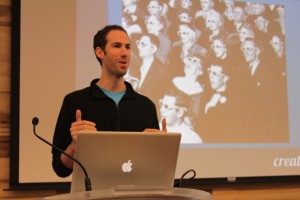 Soon afterward, Tringe introduced the audience to CreatorUp's informative and unique classes – and teachers – in the site's explanatory video. Classes currently on the site touch on a wide range of subjects relevant to all aspiring and current creators of web series, from how to get your first 10,000 views on Youtube (more on that later), to crowd-funding through Kickstarter, to the medium's more creative aspects such as writing and cinematography. "What we've been able to do with CreatorUp is to build a network of knowledge. Teachers who have an expertise in a particular area, and giving them basically a venue to share that knowledge with everyone else. Our mission is to empower creators to make their own content. We're trying to increase access to this information which has been stuck in a box for a long time," Tringe said.
Throughout the 90 minute panel, Tringe focused on several key facets of making original content for the web. Among them was distribution, where Tringe emphasized both the importance of consistent content output (including extras like behind-the-scenes features) as well as building a devoted community of viewers through that content. "If you're thinking about creating a show, there is an element of commitment to a certain amount of content. Does it mean that you need to be producing every single day? No. Does it mean you need to plan to have at least 10 episodes? Yeah, you should try to shoot that many. Should you do some behind-the-scenes, or should you do some extras? These are other forms of distribution, i.e. bonus content, that allow you to stretch the bang for your buck."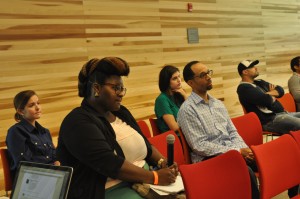 As Tringe explained, though, simply posting a video in hopes that it will instantly gain viewers is not enough. "Pre-building your audience is a very specific strategy, and it has to do with reaching out to the entities (whether that be an online community, a blog or an individual Youtube channel, Twitter feed, blog followers) that are matched up with the tone of the audience of your content, and letting them know, 'hey, I'm doing this, it's going to be great,' getting them invested and involved in what you're doing in innovative ways. If you have somebody that has a big Youtube channel or big Twitter following, try to cast them. Try to put them in it. If you have some money to pay them, they'd be more likely to do it, but getting the word out before the series is out is pretty important."
Later, he demonstrated CreatorUp's web site in action, from its ease of use, to one of the classes it offers: how to gain 10,000 views on Youtube. The latter, presented by Brian Rodda (whose PR firm, Brian Rodda Consulting, helped popular web series like HUSBANDS and HIPSTERHOOD increase their social media and marketing/promotion outreach), was just one example of not only the personal, one on one approach that CreatorUp provides with its instructional videos, but also the convenience of the site as a whole.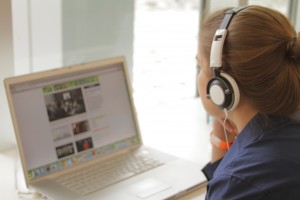 Along with other important topics like finding and defining a series' target audience, plus different monetization strategies including ad revenue, paid subscriptions, product placement and sponsorships, Tringe discussed another key factor that web series creators should take notice of – the difference between a Youtube channel and a Youtube network (a channel being singular, with a network being a series of channels that helps each other cross-promote content). As he explained, many content creators find that the task of producing quality web series on a consistent basis can be an overwhelming one, especially if it's all airing on one channel. Thus, the concept of a Youtube network is both intriguing and beneficial.
"(It means) reaching out to other like channels, or maybe channels that have a similar audience as yours, and doing a deal with them, and saying we would like to include your content on our channel, uploading it to our channel, and claiming the ad revenue in exchange for the exposure and the views that we're going to help you get, because you don't have that right now," said Tringe, who also emphasized the importance of finding a specific audience for one's network (like the gamer/geek driven Machinima and the popular kids/teens hub Awesomeness TV, among others). "The beauty of it is that you can create your own network, once you've started your own channel," he added. I took notes furiously on my small notepad as Tringe's lecture continued, and before it was all over I completely ran out of paper. That's a testimony to how informative and great of a resource this panel was.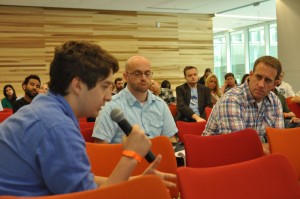 Tringe then took questions from the audience. John Calhoun, host of a New Orleans web-based late night talk/variety program, THE GOODNIGHT SHOW, and its producer Paul Punzo, asked Tringe about how they could gain greater views through their Youtube channel by live-streaming their show. THE GOODNIGHT SHOW, as they explained, is taped before a live audience and is a show that's much in the mold of popular TV late night hosts like Johnny Carson and Jimmy Fallon, among others. Tringe suggested that the show could benefit by utilizing an event strategy through live streaming (primarily through sites like UStream, LiveStream and others), plus working with an audience partner who could help promote the show through its platform, and in turn gaining viewership.
Later, Kimberly Gail, creator of the drama series THE STRUGGLE (previously covered here), asked how she can boost the viewership for her series, which focuses on a group of young women whose lives are filled with trials and tribulation – and how each tries to cope with their problems. Along with ideas for cross-promotion opportunities through other blogs and sites relating to the show's subject matter, Tringe made another great suggestion to the show's creator when he responded that one way she could attract more people to watch her show was through vlogging, where her cast (appearing in character) would discuss their lives and problems in personal, gripping on-camera video blogs (vlogs).
It's a technique most prominently used by the popular, award-winning web series THE LIZZIE BENNET DIARIES. The questions and answers kept flowing, and when it was all over both the web series creators in attendance, as well as myself, got plenty of good insight and information on the brave new world of digital media, and of the process and business aspects of creating original content for the internet.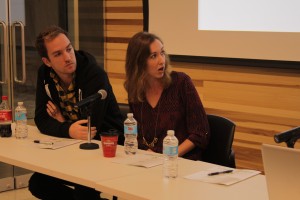 "Web Series 101" was only one of several panels that took place throughout the day at the BioInnovation Center. The rest of the day's events focused on other important issues like content monetization (discussed in the day's next panel, 'Going Green'), along with marketing and distribution, and changing trends in the world of web content. Along with Tringe, other key industry figures who participated in the afternoon's panel discussions included BLACK FOLK DON'T's Tucker, plus Andrew Mer, SnagFilms' VP of content partnerships, Mark Gantt, co-creator/star of the acclaimed web series THE BANNEN WAY, and Webby Awards managing director Claire Graves.
The panel discussions concluded with "Funny Or Discuss", featuring an in-depth conversation with two of the driving forces behind the popular viral comedy video site FUNNY OR DIE: its writer/director Charles Ingram and executive producer Ally Hord, who discussed their roles in the site's overwhelming success, and their views on what the future looks like for original web content.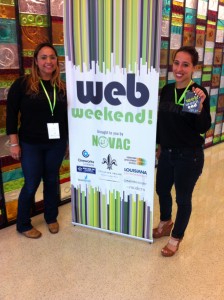 For web series creators, as well as those who cover the industry, NOVAC Web Weekend provided an inside look at the creative process of digital entertainment, along with ample opportunities for creators of many popular web series to network with their peers and other influential figures in the industry. Both Charbonnet and NOVAC executive director Darcy McKinnon hope that Web Weekend will be an annual event that will continue to attract web series – and their talented creators, from all across the state and beyond, along with some of the industry's heaviest hitters. If this year's event is any indication, NOVAC is well on its way.
For more information on the work and mission of the New Orleans Video Access Center (NOVAC), along with perspective on Web Weekend from Helen Krieger (LEAST FAVORITE LOVE SONGS) and Eritria Pitts (she is alex.), please visit:
To view the archived UStream videos of both the Web Series 101 and Funny Or Die panels, please visit:
http://www.novacvideo.org/learn-connect/film-community-events/webweekend/webweekendpanels.html