For any aspiring actor trying to make it big in the ultra glamorous and ultra competitive world of showbiz, just the task of working hard to get that first big starring role is tough. Having to accomplish it while being constantly stereotyped and typecast in roles that don't necessarily demonstrate the true range of the actor portraying that role – or the person as a whole – is even tougher.
That's a reality that one such performer faces in hilarious and revealing fashion in season 2 of the acclaimed web series THE UNITED COLORS OF AMANI, co-created by Amani Starnes and Michael Agresta. The new season of 5 episodes premiered on February 26th, with four currently streaming on its official web site and Youtube page. (See links below). Starnes also says that there may be a bonus episode at some point this season.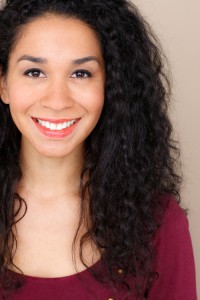 Starnes stars in the title role as a smart, talented biracial actress named Amani. Having moved from her hometown of Kansas City to the entertainment capital of the world, Los Angeles, Amani is determined to become the next big Hollywood star. Unfortunately, as she soon learns, that pursuit of fame and fortune is harder than she could have ever expected due in large part to the industry's racial insensitivity and shortsightedness.
As a result, Amani finds herself confronting those barriers in hilarious, yet often painfully awkward fashion in each vignette. The end result is a series that not only pokes fun at the common difficulties of making it in Hollywood, but one that exposes some very inconvenient truths about just how some performers are perceived despite their talents.
Starnes knew from her own experience just what kind of challenges every showbiz aspirant faces upon launching their careers. Those struggles inspired her to create THE UNITED COLORS OF AMANI. "As an actress and a singer, sometimes it feels like you're at the mercy of other people's creative vision. You can feel pretty powerless when it comes to being seen or making your own voice heard. I was struggling to figure out how to make opportunities for myself as a performer and writer, and I could never really pinpoint how to write for myself. I wanted to make something that everyone could relate to."
However, it took some time for Starnes to realize the potential in creating that opportunity. "My friend and co-creator of THE UNITED COLORS OF AMANI, Mike Agresta, got tired of me complaining and talking about myself all the time (in true actress fashion), and said, 'Just write about what you know.' I was so myopically mired in the world and complications of showbiz, I failed to see that my own frustrations might have been interesting enough fodder for a character and a show. As a birthday present, Mike drafted up some preliminary sketch ideas based on discussions we'd had and showed them to me. I took them and ran with them."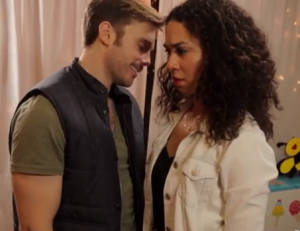 Unlike most comedies, THE UNITED COLORS OF AMANI's episodic structure is based in sketch comedy and not necessarily by the traditional narrative style found in typical sitcoms.
While each episode features hysterically funny moments and performances by Amani and a revolving guest cast, Starnes feels that the show's approach to its humor also sets it apart from other shows. "The show doesn't follow a standard model – there is no real story arc between episodes. Also, it's a comedy, but it's not necessarily gunning for jokes – it's funny by virtue of the very uncomfortable truths it highlights. It's written to make people think first, laugh second (or maybe never for people who don't 'get it')", she says.
After the show's extensive pre-production, including assembling its ensemble cast, the process of bringing THE UNITED COLORS OF AMANI from script to screen began. Even though that task wasn't easy, filming each episode was a rewarding experience for Starnes thanks to her dedicated cast and crew. "It's simply impossible to have a positive and functional production process without a team of really flexible and talented people. Everyone on the UNITED COLORS OF AMANI crew is incredibly good spirited, professional, and skilled."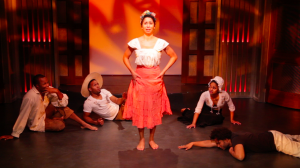 Described by Starnes as LOUIE (the popular FX comedy with Louis C.K.) meets HOLLYWOOD SHUFFLE (the 1987 Robert Townsend satire about racism and stereotypes towards African-American actors in Hollywood), THE UNITED COLORS OF AMANI spectacularly combines the distinctive humor and social commentary of both in each episode.
Yet, she says, it does much more than make people laugh, and that's a goal she hopes to continue to achieve through her series and her career. "I intended for this to be a calling card for myself as a creator and to reach people who feel like their image/self-identity is marginalized or misunderstood. Naturally, I'd love for it to lead to other creative opportunities—I'm working on a related short film with the 'Amani' character at the center of a story on young adulthood/image control."
No matter where THE UNITED COLORS OF AMANI takes Starnes, though, its most important message is just as important in life as it is in Hollywood: "It's pretty simple—no one wants to be pigeonholed. It's pretty easy to make snap judgements about who someone is or what he/she is capable of based on very superficial criteria. Maybe don't be so quick to do that."
Note: The series is not currently closed-captioned, but Starnes says she's hoping to add that feature soon.
The first episode of season 2 is embedded here:
ON THE WEB: www.unitedcolorsofamani.com
YOUTUBE: www.youtube.com/theucoa
FACEBOOK: www.facebook.com/UnitedColorsOfAmani
TWITTER: www.twitter.com/ucoamani
INSTAGRAM: www.instagram.com/UnitedColorsOfAmani