Science. It's something we all live with, be it through nature, energy, technology or even the air we breathe and the food we eat. Science affects all of us throughout our daily lives, and the more we know about the impact it has and how it can help us, the better we can appreciate it. For decades, television has educated and entertained viewers young and old alike through series that present the world of science in ways that are equally as captivating.
Whether it's children's fare like BILL NYE: THE SCIENCE GUY, BEAKMAN'S WORLD or NEWTON'S APPLE, or programs that take a deeper look at all aspects of the subject, like COSMOS (the original PBS series hosted by legendary astronomer Dr. Carl Sagan, or its equally acclaimed, updated version airing on Fox with Dr. Neil deGrasse Tyson), it's clear that more and more people are aware of just how important science is to life on planet Earth and beyond.
Yet, broadcast and cable television aren't alone in creating a greater awareness of science. Web series have also created an additional, and equally distinctive, resource for those who seek to learn more about science in innovative and interactive ways that transcend the limits of traditional TV.
One of them is PROFESSOR BOB'S BRAIN STEW, created by Blight Productions' Brian A. Bernhard (A FOOL'S IDEA and A FOOL'S IDEA PRESENTS), and now streaming four episodes on his studio's official web site and Youtube page.
The series stars Professor Bob Friedhoffer (a.k.a. "The Madman Of Science"), a veteran author, former Adjunct Professor of Science at the City University of New York, and a popular magician who's won acclaim throughout the country from kids, parents and educators thanks to his entertaining, interactive shows that not only demonstrate science but also gives audiences the chance to experience it through his experiments.
In each episode of PROFESSOR BOB'S BRAIN STEW, Friedhoffer blends scientific teaching with wacky humor and plenty of razzmatazz to bring viewers lessons about various aspects of science like electricity, entomology (the study of insects), perception and optical illusions, and pendulums, in a series of short, self-contained video lessons. That approach to teaching people about science was just one of several factors that led Bernhard to create the series.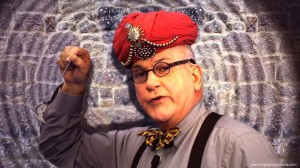 "I have always been a fan of shows like BILL NYE: THE SCIENCE GUY and BEAKMAN'S WORLD, and thought that it would be super fun to create a science series in the same vein," he says.
Yet, he didn't know of anyone who could bring that series to life. Enter Friedhoffer. "Once I met a science educator that was also an entertainer and magician, I decided to make it happen," Bernhard recalls.
Although Bernhard is well known for his groundbreaking look at the world of clown through the acclaimed documentary series A FOOL'S IDEA and its spinoff, A FOOL'S IDEA PRESENTS, he's also passionate about science, and equally passionate about educating people on the subject in ways that go far beyond passive viewing.
Bernhard feels that PROFESSOR BOB'S BRAIN STEW will do just that, while giving viewers a sense of wonder about science itself. "Viewers/people can always benefit from learning something new about the world. Piquing curiosities and interests is one of the best ways to inspire the next generation of great thinkers."
Thanks to its often humorous, always unpredictable yet extremely educational approach to science, Bernhard feels that PROFESSOR BOB'S BRAIN STEW is unlike many series produced on the subject precisely because of that style. "I believe the subjects we tackle and the way we go about crafting the lesson, is very unique. I also think that if we are able to get a budget and create that active learning experience, we may be able to create a form of education that has never been done before." (More on that later.)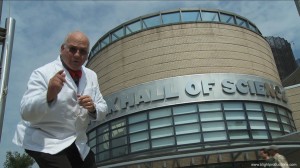 The series' four episodes were filmed primarily in Bernhard's New York loft, where Friedhoffer's 'laboratory' scenes took place, but Bernhard and his crew also took their quest for scientific knowledge on the road. "We also connected with some amazing science museums in order to go on location and interview the experts," he recalls.
For example, in episode 3, Friedhoffer learns about the unexpected benefits of something that virtually everyone shrieks at the sight of: bugs! "In this episode Professor Bob meets a giant roach that explains to him the benefit of cockroaches, we learn about the extraordinary power of circus fleas and travel to the American Museum of Natural History in New York City to talk with the world's premiere "bed bugs" expert, Dr. Lou Sorkin."
While on location shoots were an adventure all their own, things would soon get rather sticky when it came to actually filming one of Professor Friedhoffer's elaborate demonstrations. "One of the trickiest shoots we had was in the first episode when I decided it would be a fun idea to hang Professor Bob upside down in order to shoot a visual gag about perception," Bernhard remembers.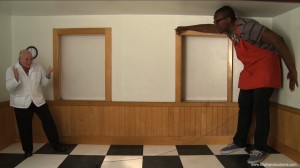 "The episode begins in the lab with a three part spiral illusion until the professor flushes himself down the pipes and ends up at the New York Hall of Science, where we get to explore the optical effects of a "distorted" Aims room. We eventually end up traveling to Washington Square Park in New York City, to watch Professor Bob perform a magic trick!"
Like many shows produced for TV, neither of the aforementioned programs contained a key element that's become more prevalent than ever before given the accessibility of the internet: interactivity. It's a concept that will definitely be beneficial in a variety of ways; one that Bernhard hopes to utilize for PROFESSOR BOB'S BRAIN STEW.
"A dream of mine (if a budget ever presents itself) is to create an interactive learning space, where fans could ask questions and vote on science topics they would like to learn about. We would then script and produce the series while in a dialogue with the fans watching so that we can educate and inspire them in an active way," he says.
Through PROFESSOR BOB'S BRAIN STEW, Bernhard hopes to do much more than just give viewers an educational and entertaining look at science. He wants to make a difference in the lives of those who watch, and to get them curious about everything that makes science so fascinating. "I love the idea of creating things that can inspire people. I have previously focused my inspirational efforts on the art world. However, I also love science and I think it would be wonderful if I could even inspire just one kid to take a deeper look into the world of science."
(Note: The series is not currently closed-captioned, but Bernhard says he hopes to add that feature to each episode within the next few months.)
ON THE WEB: http://www.blightproductions.com/
YOUTUBE: https://www.youtube.com/playlist?list=PLGVaZOkf-AbiEl5ep74oePckG2kEvRcx0
FACEBOOK: www.facebook.com/blightproductions
TWITTER: www.twitter.com/blightprod
The show's first episode can be viewed here: