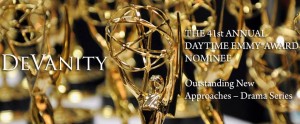 Daytime TV has undergone dramatic change in the past few years, in large part due to the changes in programming that have taken shape.
Where daytime soaps once dominated the viewing schedule, they've now been replaced by game shows, sensationalized talkers and how-to/lifestyle programming (cooking, beauty, health, etc.) Those changes have also impacted the annual broadcast of the Daytime Emmys, which will not air on any cable or broadcast network – for the first time ever.
Rather, it will be streaming live online at daytimeemmys.net on Sunday, June 22nd at 8 PM Eastern/5 PM Pacific. Even more incredibly, the Daytime Emmys will award one series the coveted statuette in a completely new category that reflects the growth of the web and its impact on viewers around the world: New Approaches To Media. It's proof that despite the seemingly shrinking landscape of daytime drama on broadcast TV, the genre is thriving online with worldwide audiences in record numbers.
Four different, yet innovative series are competing for the award, most notably Crystal Chappell's VENICE: THE SERIES (2011 Daytime Emmy winner in the Outstanding Special Class Short Format category), plus the "soap within a soap" TAINTED DREAMS, the Intel/Toshiba branded alien invasion comedy THE POWER INSIDE, and the glitzy, glamorous family saga DEVANITY (the subject of this article).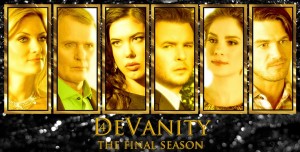 While THE POWER INSIDE was backed by Hollywood and two tech giants in Intel and Toshiba, the other three series were all produced and funded independently.
Most importantly, though, TAINTED DREAMS, VENICE: THE SERIES and DEVANITY maintained a high level of production quality in front of and behind the camera. Yet, no matter who wins Sunday, one thing is for certain: original episodic content produced for online audiences has truly emerged as a viable form of entertainment for audiences worldwide.
A modern day version of such classic nighttime sudsers like DYNASTY and DALLAS, DEVANITY stars Michael Caruso (co-executive producer of the show with his wife Barbara) as Jason DeVanity. Together, he and his siblings struggle to keep the family empire afloat after the sudden murder of their father and family patriarch Richard DeVanity. The show recently wrapped its astonishing four season run and can be viewed on its official web site.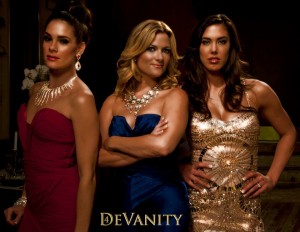 The series' cast also features several notables from both shows, plus some of daytime's most popular series.
Among them: Charlene Tilton (known for her portrayal of Lucy Ewing on both the new and original DALLAS), Gordon Thomson (Adam Carrington on DYNASTY), Robin Riker (DAYS OF OUR LIVES, THE BOLD AND THE BEAUTIFUL) Steve Kanaly (Ray Krebbs on both versions of DALLAS), and Sheree J. Wilson (April Stevens on DALLAS).
DEVANITY is a show that not only entertained viewers around the world, but has done so while utilizing a strong social media footprint that emphasizes fan outreach and interaction. Furthermore, it's a show that's already achieved notoriety for its impressive production style; one that's accomplished on an extremely limited budget.
Recently, I spoke with Caruso about his reaction to the news of its Emmy nod, the keys to its overall success among fans and industry observers, and how his series' nomination could provide new opportunities for web series creators.
How was the show developed? How did you come up with the idea for your show?
My wife and I live in Downtown L.A. and we are very close to the jewelry district and we would walk by the windows groaning with stunning jewelry and I said to myself, "There's never been a show done about jewelry before." I think it is important for a great soap to have something at its core that is worth fighting for. If these characters are going to do horrible things to each other they have to do it for something that they deem is worthy of a battle.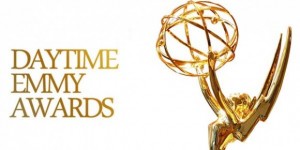 When and how did you find out that DEVANITY was nominated for a Daytime Emmy?
I found out we got the nomination on the morning of May 1st when the nominations were announced. I actually found out from Luke Kerr of DAYTIME CONFIDENTIAL (a popular soap opera news web site) because he tweeted congratulations to me and I hadn't seen the press release yet.
What was your reaction to it, and how did your cast/crew react?
It was so early in the morning that Barbi was still asleep and I woke her up and we basically both started crying. We were so excited. The rest of the day is an on again, off again blur. EVERYONE was calling to congratulate us. The cast and crew are all beyond excited. I think that across the board this has been a major moment for the show and everyone is over the moon about it.
What was the reaction to the Emmy nomination among your peers in the web series industry, plus in the soap opera industry?
I think one of the best things that has come out of the nomination is just the tidal wave of support we've received. There are so many people out there who love the show and are rooting for us both in the soap opera community as well as the web series community. We couldn't be surrounded by a better group of friends and colleagues in both worlds.
How has being nominated (along with 3 other dramas) for a Daytime Emmy in the New Approaches to Media category helped not only DEVANITY, but web series in general? 
I think it's a big moment for the little guys like us. DeVanity is an independent series in the truest sense of the word. We don't come from a major television background or a celebrity background. The show has been put together with a group of people that have fought hard to create something incredible with minimal at best resources, so to be taken seriously on such a profound level is a true blessing.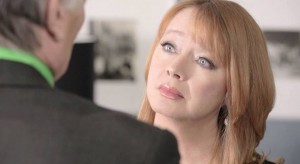 What sets the show apart from other web series, including those of its genre? 
Each web series is unique in its own way based on the team behind it, their resources, and their drive. If our audience feels we are set apart from others I leave it to them to determine why. My feelings on the subject are my own and anything else would undoubtedly come across as competitive. I love this space and I support anyone who is crazy and courageous enough to create something.
Do you feel that with DEVANITY being announced as part of the new Emmy category (New Approaches to Media, drama category) that independently web series have truly arrived as a valuable medium?
I would like to think that we are all getting one step closer. I think that as time goes on it is getting harder and harder to ignore the reality that online entertainment is the way of the future.
Along with its incredible cast of soap veterans, viewers and critics have marveled at DEVANITY for its outstanding production quality even though it's produced on a limited budget. How were you able to pull it off?
We have always tried to think outside of the box. If we see something that costs a small fortune, we try to create a less expensive version of it. DeVanity is definitely an example of teamwork firing on all cylinders. I think that paying attention to details is a huge thing. We do our best to make sure that every nook and cranny is covered with what we have available to us.
I also think a major part of it is that we never rest on our laurels. Each year we have always asked ourselves: how can we be better? What can we improve? What worked and what didn't? I think that too much pride can be the death of any series. The attention the show has gotten has been incredible, but it also has given us all a great sense of responsibility to do right by our audience and continue to deliver something better than they saw before.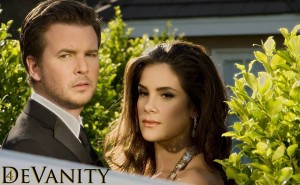 What was the production process like?
We worked on DeVanity pretty much year round. I gestate on each season for about 3 or 4 months and then I typically write a season within a week.
The script goes to Kelley and she gives me her thoughts, and once the script is locked we pretty much roll into pre-production. I cast any guest stars or new characters.
My wife and I do all the physical aesthetic things for the show like the sets and jewelry, and Rod and Kelley (editor/sound designer/cinematographer Rodolphe Portier and producer/director Kelley Portier) do all of the shot plotting and equipment rental and then we shoot over a three month period typically on weekends. Once that is done Kelley and I watch every single shred of footage and select the scenes we like and Rod does the rough cut.
Then we take a second pass. I will begin social media and press stuff while Rod and Kelley tighten the show and then I come back in for one final pass and then we release it.
DEVANITY has also had a tremendous success with its fans through social media, and has been cited by many as a textbook example of how to effectively involve viewers in the process of bringing a web series to life. What was the process of social media outreach like, and how did it work?
Never underestimate the power of a simple conversation. Talk to your fans, not at them. If someone takes the time to say I really enjoy your show I feel that it is my duty to say thank you back. I'm not perfect at it, but I always try my best. One of my favorite things to do is take off every Thursday when we would air a new episode and talk to the fans about it on Twitter and Facebook.
Engaging your audience needs to go far beyond posting a link and saying watch my show. You need to treat people like humans and talk to them. I think it's important for your fans to know that you are listening to them and that you are appreciating them as they take this journey with you. Watching any kind of series should be fun and sharing that joy with your audience is one of the best parts of this process.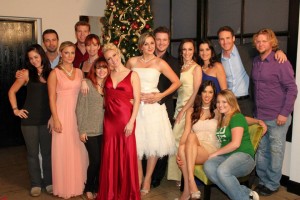 Furthermore, do you see the model that DEVANITY used for its production/social media outreach becoming even more common as other web series go into production? 
The longer I do this, the more I realize I have many more things to learn and get better at. If someone out there has been inspired by something we have done correctly or even incorrectly then I'm happy I could help.
The best advice I would give is to take your criticisms (there will be many), fall down (it's going to hurt), get up (it didn't kill you so now you're stronger), don't get cocky (even when you want to be), and focus on the work (stop telling me what you're going to do and just f*cking do it), because at the end of the day your work always speaks for itself. Let your show be your voice.
What are your hopes for DEVANITY's success and its legacy as a result of its Emmy nomination? 
Success is always determined by each of us individually. I'm intensely proud of our show and the work that went into it. I am grateful that we have entertained and inspired as many people that we have, and if nothing else, I would wish that our legacy is proof that you can accomplish anything to set your mind to.
To watch all four seasons of DEVANITY, visit:
FACEBOOK: https://www.facebook.com/DeVanity
TWITTER: @DevanitySoap