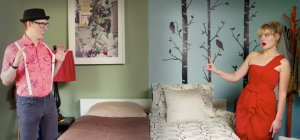 Stu and Syd share a lot in common. For one, they're best friends. For another, they spend almost all of their time doing absolutely nothing.
Yet, one thing is for certain: no matter how humdrum their days, or how awkward the moments they share, they'll always stick together through thick and thin. Of course, having a comfy bed to come home to every night helps a lot.
Set to premiere all 10 of its first season episodes, plus 9 extra short 'bits' (more on that later) on its official web site and Youtube page today (Tuesday, August 12), ROOMIESS stars Edward Kinry-Ostro as Stuart, an idiotic yet lovable barista who just happens to share an apartment with his best friend Sydney (Sal Neslusan, of the popular web series PROFESSIONAL FRIEND), a librarian who loves him just the way he is despite his faults.
In addition, Kinry-Ostro and Neslusan co-created the show, with Sean Cook serving as its producer. The series also features guest appearances by Katy Colloton (from the upcoming web series turned TV Land sitcom pilot TEACHERS), Jeremy Mitchell (KNOW THY ENEMY, HARDER THEY FALL) and Matt McManus (from the TBS comedy/reality competition series MARLON WAYANS' FUNNIEST WINS).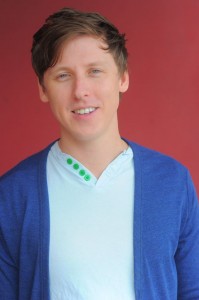 As the show's co-creators recall, the concept for what would become the tale of two best friends and roommates (hence the title, ROOMIESS) grew out of both Kinry-Ostro and Neslusan's increasing attachment to each other, and was further propelled by the successful example set by a friend's web series.
"Well, we (Sal and Ed) first met in acting class a couple of years ago (shout out to Lesly Kahn!). (Kahn is a Los Angeles-based acting coach.) While working together, we realized we were kind of obsessed with each other. On a cold February morning, after being inspired by Katy Colloton's recent success with her web series TEACHERS, we were set on creating our own ridiculousness."
Both Kinry-Ostro and Neslusan felt that ROOMIESS would be the perfect opportunity for them to work side by side, and to create opportunities for them to display their acting talents without having to wait for the next audition.
"We had both completed separate projects and were interested in working together. We wanted to keep generating content so this seemed like a natural fit for us. As Sal had experience producing her previous web series, PROFESSIONAL FRIEND, and Ed had just wrapped his short film, HOLD UP HEART, we had a wealth of resources at our fingertips," they say.
Indeed, the experience of creating their own content was both liberating and eye-opening. "As actors, it's refreshing and empowering to be your own 'yes' man and to see what you can come up with. We were both surprised at how easy it was to come up with ideas and how flexible we were at scrapping those that weren't working."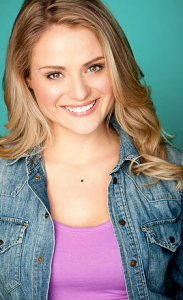 While web content has exploded in popularity, keeping the attention span of a viewer is the biggest challenge. Kinry-Ostro and Neslusan knew just how important it was to keep viewers entertained within a short time frame, while bringing them hilarious comedy and characters at the same time.
"In the age of BuzzFeed lists and 140-character news, we wanted to produce a comedy series that carved strong relationships and characters like those found in half-hour comedies, but with a dash of sketch. We feel like it's not too long and it's not too short – it's just right! We both love web series and have produced online content in the past, so with this we really wanted to create something that felt fresh and current while keeping the soul of a more traditional genre. We wanted to find that happy medium."
While ROOMIESS is heavily inspired by such popular sketch comedies like INSIDE AMY SCHUMER, PORTLANDIA and the long running NBC sitcom 30 ROCK, the DIY ethic of web series has played a huge role in ROOMIESS' development. For Kinry-Ostro, the success of a popular cable sitcom has also inspired him as an actor and filmmaker.
"Ed has worked with the boys over at IT'S ALWAYS SUNNY IN PHILADELPHIA and they have always been a huge inspiration for him. Their story has become legend; they were really some of the first to pioneer the idea of saying, 'screw the system – let's do our own thing!'. What they have since created is a brand unto its own," Neslusan adds.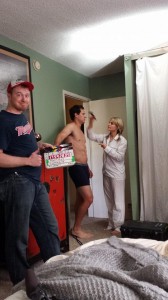 Despite those influences, though, the biggest goal that the show's co-stars/co-creators hoped to achieve was simple: to create a funny comedy that's original, and for both Kinry-Ostro and Neslusan to reap the rewards of it, as well.
"…At the end of the day, we were really focused on making each other laugh first. If we succeeded in that then we knew we were on the right path. It's good to be inspired but it's also important to create your own identity."
Nevertheless, the show's co-stars/co-creators add that fans of those aforementioned shows will find plenty of humor and references to them throughout the series' 10 episodes. "We think it falls in line with those shows that have inspired us – INSIDE AMY SCHUMER, PORTLANDIA, 30 ROCK, IT'S ALWAYS SUNNY – it has a fun irreverence with a bite. As one of the show's central characters is gay, there are some nods and winks to that crowd," they say.
However, those shows aren't the only ones that Kinry-Ostro and Neslusan poke fun at in ROOMIESS. "We also have some pop cultural references to other television shows out there like TRUE DETECTIVE, LAW AND ORDER: SVU, LASSIE, SEINFELD and THE WALKING DEAD, and the best show ever – THE GOLDEN GIRLS!"
After Kinry-Ostro and Neslusan set about writing the scripts for each episode, they had little trouble finding actors to play some of the extra roles throughout the series. "We're really fortunate to know some amazingly talented people in this town and they were kind enough to lend their services. We wrote the script without anyone in mind and then once we had a general idea of the characters, we approached our friends who fit the overall archetype. After they signed on, we tweaked some things so that it could mold more around them," they say.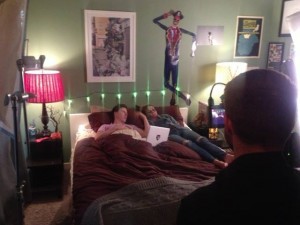 As any screenwriter knows, a script is never truly finished during the pre-production process, and is always subject to the whims of actors on-set.
Before cameras rolled on ROOMIESS, Kinry-Ostro and Neslusan rewrote each script and tailored them accordingly to the needs of their cast.
"We had a couple of read-throughs with our cast and crew where we took notes and then reworked. The entire writing process took about three months. Once we were set on the script we moved forward with production."
As production ensued on the series' first season of 10 episodes, keeping the production process as uncomplicated as possible was paramount for Kinry-Ostro and Neslusan. In fact, their work and the series' overall storytelling structure can be described in four simple, yet easily memorable letters:
"Following the world renowned K.I.S.S. model (Keep It Simple Stupid), we wanted the show to center around two friends. It was to be a structured format wherein the action would always be set in one of Stu & Syd's bedrooms and each scene was to be around the 2-minute mark," they add.
While each episode runs 2 minutes, Kinry-Ostro and Neslusan knew how important it was to keep viewers entertained in between weekly airings. To that end, they created unique supplemental content that added to the show's storyline. As they explain, that extra content was developed at a time when the duo was set on releasing the main series' episodes in a conventional weekly rollout.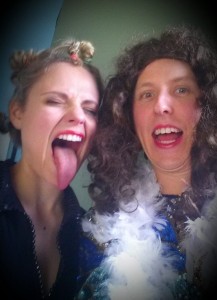 "As we were going to release weekly episodes, the bits came from the inclination to keep viewers active during the lull in-between each episode. They were originally supposed to be 15-second scenes and they've pretty much fallen within that timeframe, although some do go over a 'bit'. See what we did there?"
As time went on, though, Kinry-Ostro and Neslusan changed their distribution strategy when they decided to release all 10 episodes. Yet, the "bits" remained intact, and add even more depth and insight to their characters. "Now that we are releasing them all at once, they've become nice vignettes encapsulating the more day-to-day life of Syd & Stu."
Another unique touch that's found in each episode is the show's quirky and fun title sequence; one that's just as memorable as the stories and characters featured in them. "The first thing we shot was our stop-motion title sequence, with the help of the incredible Derek Schweikart. He was able to help us conceive and execute the original concept so it looked top notch. That took about two days; one day of prep, where we took the space and designed it to look like two completely different rooms, and then the following morning we shot it," the show's co-creators remember.
The next step was filming all 10 episodes, and it was a task that was made easier thanks to the leadership of its talented and experienced director, Daniel Applegate. Applegate, who had prior experience directing Kinry-Ostro on the web series BURNS, was the actor's preferred choice in large part due to his on-set demeanor and his emphasis on a fun atmosphere.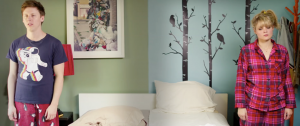 "Ed approached him to direct ROOMIESS about a month before we shot. He's a pleasure to work with. He really creates a relaxing environment that allows everyone to feel comfortable and confident it their given roles. Our crew was fearless and fun. There were ten of them so we got really close – literally! It was one of the best times any of us had had on set. We hope it translates on screen."
Through the hilarious adventures of two roommates who share beds – and their lives – together, ROOMIESS will appeal to viewers who've become well accustomed to the distinctive, and sometimes edgy, humor found in shows like IT'S ALWAYS SUNNY, INSIDE AMY SCHUMER, and PORTLANDIA, among others. It's a comedy that promises to brighten even the most dull days of all those who watch.
"ROOMIESS is really a silly little escape. We hope to bring just a few minutes of laughter to our viewers. Life can all get overwhelming, but when you've got good friends by your side it makes this tiny little dot that we call Earth just a little bit brighter. Sorry, was that nerdy? Naw, just cheesy. Okay, just watch it. And then follow us. And then tell everyone you know. Even your mom. Yeah, we mean everyone."
(Note: The series is not currently closed-captioned, but Neslusan and Kiniry-Ostro say they're looking into adding that feature to each episode.)
ON THE WEB: www.roomiess.com
YOUTUBE: http://bit.ly/WNfs5F
FACEBOOK: http://on.fb.me/1tBiJlM
TWITTER: @stuandsyd