Fran and Penny are two women who are as different as you could possibly imagine. They come from different backgrounds and lifestyles, yet they both have one thing in common: they're seriously strapped for cash. However, a chance meeting between these polar opposites leads to both women becoming closer than ever before (and possibly as thick as small time thieves) in the new comedy web series FRAN AND PENNY.
Created, written and produced by Marshall Woodworth, and co-produced/co-written by series co-stars Michael Martin and Stylist B, FRAN AND PENNY recently released a special preview episode on its official YouTube page, and is currently seeking to raise $5,000 for a possible 4-6 episode first season on IndieGoGo. (A link to the show's pilot episode and its IndieGoGo pitch is below). If successful, Woodworth also says that a feature length version of the series is a possibility.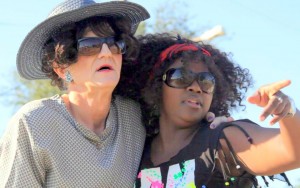 Fran (Stylist B) was raised in one of the poorest parts of New Orleans. She grew up without her biological father, and lived with her single mother. After her mother married an extremely wealthy man, Fran's once poverty stricken existence was transformed into a life of luxury and privilege.
Sadly, Fran's seemingly charmed new life would soon turn tragic due in large part to the husband's violent and abusive behavior. As a result, her mother was hospitalized and Fran nearly suffered the same fate due to his physical and verbal abuse. After being left penniless and destitute when the husband died, Fran and her mother found themselves depending on the kindness of strangers.
Unfortunately, that didn't stop Fran from falling in love with men who seek to take advantage of her, and after finally leaving her latest abusive boyfriend, she now lives her life as a homeless woman who despises wealth (especially because of her own personal travails). Desperate, Fran now seeks to make money the only way she feels is best: by stealing it, and having the proceeds go toward building a new shelter for victims of spousal abuse.
In contrast to Fran is Penny (played by Martin), who grew up as the oldest child in a poor family in Georgia, and who never enjoyed a stable household thanks to her father struggling to find any job he could; a quest that took him and his family all over the country. Now having lived alone in a slightly run down cottage for many years after the death of her lover, Penny has transitioned into a woman, though her distant family is not yet aware of it. She makes a decent living, but just how she does it is also a mystery.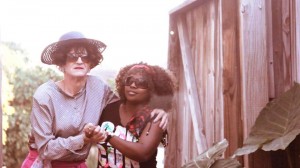 Having been tired of living a solemn, sad existence, Penny decides to take matters into her own hands by becoming more physically active through exercise.
One day, she meets Fran, and they gradually become friends. In future episodes, though, their friendship soon evolves into a partnership in petty crime.
Originally shot as a scene (featuring the Penny character) for a long abandoned film called SCREENPLAY (produced by New Orleans-based Foster/Bear Productions), Woodworth created Fran as Penny's unexpected counterpart. As he explains, that one scene, which ended up becoming both the show's first episode, and the basis for his web series, didn't just grow out of a long abandoned film project; it also grew from his own personal life.
"I wrote the dialogue directly from my own experiences, since I'm not a natural born writer. It's difficult to write screenplays. So, to not get bogged down with writer's block, I just write about what I know best – my own experiences."
Woodworth hopes that the show's distinctly dark brand of comedy and its portrayal of one of the world's most unique cities will give viewers plenty of incentive to watch FRAN AND PENNY, as well as support it through its IndieGoGo campaign.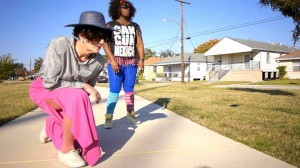 "We want to capture some of the grit and grime of New Orleans, while still making you laugh. Just the sheer chemistry, the raw juxtaposition, between this older, Southern belle transexual and the younger and whimsical, high energy, black woman from the hood. We discover that Penny is an enormously generous person and Fran possesses an abnormally high IQ, the genius behind their capers to be 'morally righteous' thieves," he adds.
Overall, FRAN AND PENNY is a story about how sometimes, the most unlikely people can come together to unite as friends, and quite possibly, to work towards a common goal – even if, in the case of the show's protagonists, it's not necessarily one that's on the up and up. "I really do think it's about how these unlikely people have become attached to each other and how much they really do love each other. It's about team work and companionship," Woodworth says.
To watch the first episode of FRAN AND PENNY, visit:
http://www.townspot.tv/new-orleans-la/videos/2949/fran+and+penny
FACEBOOK: https://www.facebook.com/franandpenny
For more info on the IndieGoGo campaign, watch the embedded video below: