These days, trying to be a responsible adult is harder than ever. It's especially difficult when you're managing to keep a roof over your head, when you're trying to keep your bankbook balanced, and when you're making some semblance of an attempt to make an honest living – even if you hate your job to the point where you're ready to quit as soon as you walk in the door the next day!
In a nutshell, that's how life is for most young adults in 21st century America, and around the world. TV series and web series have depicted this reality in humorous and unique fashion, and continuing the trend is the new comedy COST OF LIVING, created by Shannon Bowen and Dave Binegar, and named by influential TV comedy news site Splitsider as one of its Top 5 Web Series To Watch this past May.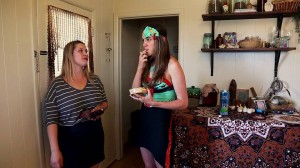 The series' first 2 episodes premiered in March of 2014. After a successful Kickstarter campaign which raised over $10,000, 8 more were shot, thus constituting 10 full episodes for its first season.
All episodes of the series are now streaming via its official web site, Vimeo and Youtube pages. Episode 1 can be viewed at the embedded Youtube link located at the end of this article.
COST OF LIVING's story, which comprises the first 2 episodes, begins at the end of a failed relationship – that of Marisa (played by Kate Elson), an up and coming journalist who somehow manages to find herself in some awful romantic relationships despite wanting to live the single life. After she decides to break up with her vegetarian boyfriend, the overly judgmental Marisa struggles to rebuild her life while searching for a new place to call home in San Francisco.
Meanwhile, Marisa's best friend Jules (played by Meghann Hayes) takes a no-nonsense approach whenever she sees Marisa making her problems worse. In contrast to the newly single Marisa, Jules has a steady relationship with her main squeeze, Dylan (Sean McQueen), a man whose dreams of success are compounded by his frustration with San Francisco's reluctance to change with the times.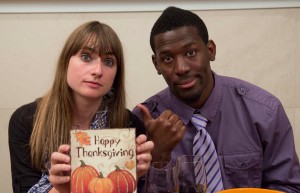 Dylan's romance with Jules is also complicated when she starts a new business venture as she enters the world of custom rubber stamp making. Unfortunately, it's not exactly a very profitable one, as she is somewhat unwilling to admit how broke she really is.
The series also stars Julianne Fawsitt as ex-environmental lawyer turned full time housewife Hamilton "Hammy", a woman who thinks and cares way too much about things that other people wouldn't necessarily think or care about, and whose husband Timothy (Daniel Martinez) seeks to quit his job as a software engineer and pursue his dream career – that of a mixologist.
Finally, the only seemingly sane member of this eclectic group of friends is Ezra (Eric Bryant), who loves having a good time just like Marisa and Jules do, but is somehow more grounded and more realistic about his life despite his often way too dramatic misadventures in bisexual romance.
Both childhood friends and longtime residents of the Bay Area, Bowen and Binegar knew all too well the personal and professional challenges that young adults face whenever they try to make it on their own in today's society.
Both creators were inspired by their own real life struggles, and by the goal of creating a comedy that featured a more realistic portrayal of just how complicated life can be in an upscale neighborhood; one that contrasted heavily with how most people saw it in popular TV and movies.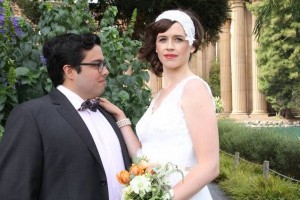 "Our co-creator, Shannon, definitely had a Jules-esque period of being SUPER in debt. She also saw many of her friends trapped by mounds and mounds of student loans and credit card debt unable to move forward with life, especially in an expensive, urban area," they say.
"However, in mainstream TV and movies, most adults are living in fancy apartments while working as freelance writers or small business owners. We wanted to write something more realistic about what so many adults in their 20's and 30's were dealing with."
Their own experiences, plus a strong emphasis on bringing viewers female characters with a steady friendship that viewers could instantly relate to, guided them as they set about creating COST OF LIVING.
That factor was discussed in further detail in a recent Indiewire article, written by Bowen, about how she was inspired to create the series itself in response to TV's seemingly disappointing record of portraying closely knit female friendships in a consistent manner.
"From the beginning, we knew we wanted to have a close female friendship at the core of the show and wanted to delve deep into the complexity of that friendship. We also wanted to have characters navigating the ever-increasing rent of San Francisco without a financial safety net," the show's creators say.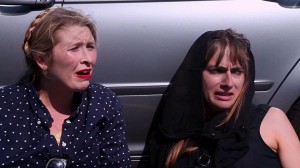 Along with the portrayal of both its characters and of modern life in one of America's most famous and most thriving cities, COST OF LIVING also stands out from other shows in its approach to narrative storytelling. It's a style that lends a distinctively dramatic edge to the show's episodic storyline.
"COST OF LIVING has a long-form story arc that provides a dramatic backbone to a comedic story. The dilemmas we set up in the pilot have shocking dramatic end points in the finale. This style is more similar to serialized TV shows than most web series, which often feature sketch-based comedy. Our goal from the beginning was to produce a comedic story that is driven by deep wounds, and grounded in reality," they add.
As San Francisco, Oakland and the surrounding Bay Area has experienced a boom in tech sector jobs, the consequences of that reality as it relates to the region and its people are also reflected, albeit in humorous fashion, throughout each episode of the series. As Bowen and Binegar explain, that dramatic contrast is on full display through two of its wackiest characters.
"Through the Hammy + Timothy characters, we wanted to have a stark contrast to the financial failure Jules and Marisa are experiencing by having this couple living in a swanky North Beach apartment (with a view of the Transamerica building!) on only one income. The tech industry has brought a jarring socio-economic divide to San Francisco and we wanted to highlight that through Hamothy."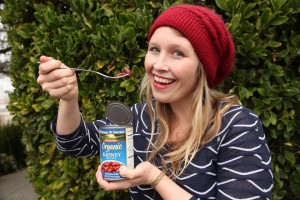 Although the aforementioned goals Bowen and Binegar hoped to achieve were important as they began pre-production on COST OF LIVING, the biggest goal that both creators sought to accomplish was to give viewers a unique sitcom that was unlike any other on over the air, cable or streaming; one with a multilayered set of characters and storylines.
"Overall, our process for creating the show was looking at the voids in storytelling on TV and on the web, build themes based on those voids, and then layer the story through our own personal experiences. The icing on this beautiful web series cake was having a cast of experienced improv actors who brought a natural style of comedic delivery to the script," Bowen and Binegar add.
With an all local production crew, and with much of the cast having been veterans of improv comedy in the Bay Area, production on the show's first season ensued after an extensive and intense pre-production process which allowed the cast to perform at their very best during filming.
While the formidable comedic talents of the show's core ensemble were evident, and added to a successful shoot, the same difficulties that so many web series creators have encountered in the past emerged throughout the production.
Even post production was difficult, since Bowen and Binegar required four different editors, working in four different spaces, to edit the mounds of raw footage into cohesive and concise episodes in time for COST OF LIVING's Fall launch.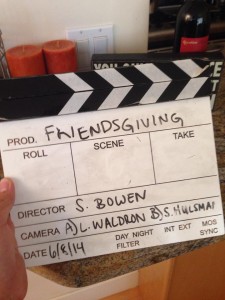 "Because most of our crew had full time day jobs, we had to condense what should have been 6-7 days of shooting, into 4.25 days. An average TV show might shoot around 6 script pages a day, we were averaging at least 11 pages per day, which made for very long days, with a very, very hard working, but slim crew," the show's creators say.
In addition, the task of trying to obtain permission to shoot in locations specific to the scripts was also a challenge. "…Locations became problematic as we didn't have much money for location permits, which can be prohibitively expensive in San Francisco, so two of the episodes prominently featuring exteriors were re-written in pre-production to be shot on private property, where permitting is not an issue," they add.
Those experiences taught Bowen and Binegar a very valuable lesson about shooting a web series on a low budget, and it's one they seek to pass on to all filmmakers – no matter where they might be in their careers: "Our advice to other low budget filmmakers: shoot exclusively in spaces you can control whenever possible, make sure your cast and crew have time to break and hang out throughout the day, and ALWAYS have coffee…copious amounts of coffee…and breakfast bars. People love breakfast bars."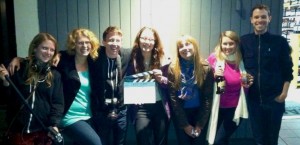 COST OF LIVING also stands out from many other film/TV productions in one very important aspect – the people behind the camera who brought it from script to screen:
"…We had a female and/or queer production crew, which is virtually unheard of in this industry. Because the creators are a woman and a gay man, having opportunities for underrepresented individuals was a priority for us," they add.
Along with the show's talented cast, Bowen and Binegar also feel that the biggest stars of COST OF LIVING may well be the city, businesses, and equally talented people, of San Francisco and the surrounding Bay Area itself.
"We have 15 musicians who are local to the Bay Area featured throughout the season. Because the show is about struggling to afford San Francisco, we really wanted to share this opportunity with other artists struggling to afford living here. Having this focus, also helped add a truly San Francisco flavor to the show."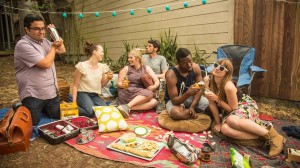 Overall, COST OF LIVING will appeal to viewers who not only enjoy hilarious comedy, but also viewers who know all too well what it means to be a young, independent, and often broke, adult in today's society.
Bowen and Binegar describe it as a combination of "the dramatic story of The Outs, with the dark, grounded humor of High Maintenance, mixed with the hilarious, zany friendship of Broad City."
Adds the show's creators: "We think anyone who has struggled to afford adulthood will watch this show. This is not GIRLS — there are no parents to pay for their apartments, there is no safety net, there is only stealing beans to get you through your soul-crushing debt. We feel that COST OF LIVING appeals to both men and women — but we definitely feel that this show appeals to women because of the strong female friendship at the core of the show."
Above all, though, COST OF LIVING proves that no matter how hard your life is, or how difficult it is just to stay employed, to stay in a decent home, or to just plain get by without very much to get by on, the daily struggle of growing up and growing older is made a whole lot easier when you've got friends on your side.
As stated by Bowen and Binegar: "it's about those moments when you feel like you've failed adulthood, but you have this amazing friend family to pick you back up, hand you a drink, and laugh about the whole damn thing with. At it's core, our web series is about friendship. So many of us are transplants in big cities with our families thousands of miles away. COST OF LIVING is about the friend family you create that helps you get through all of the successes, failures, and major holidays in one piece, mostly sober."
(Note: Regarding closed-captioning, the show's creators say: "There are no plans currently, but if there is demand for it, we will accommodate!")
ON THE WEB: http://www.costofliving-series.com/
YOUTUBE: https://www.youtube.com/user/costoflivingshow
VIMEO: https://vimeo.com/channels/colseason1
FACEBOOK: www.facebook.com/costoflivingseries
TWITTER: @CostOLivingShow
INSTAGRAM: @costofliving.series
To watch episode 1 of COST OF LIVING, watch here:
http://www.youtube.com/watch?v=S6P8W2bzD5s