Romance. Passion. Betrayal. Revenge. For a recently divorced woman who's struggling to rebuild her life after her husband destroys their once blissful marriage, those aforementioned words become equally prominent in every aspect of her daily life. They also continue to be a huge part of season 2 of the acclaimed drama/soap web series SPLIT, co-executive produced and co-written by Rebecca Norris and Gabrielle Glenn.
The series debuted its first season of 6 episodes last November on its official web site and Youtube page, with season 2's first of four episodes premiering on September 18th. Two have aired, and two more will air in the next few weeks. In addition to writing/producing/directing duties, Norris also appears in the show's ensemble cast (more on that ahead).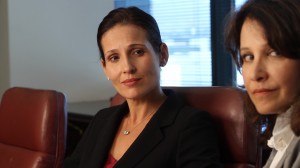 SPLIT focuses on the life of Dana Lafferty (played by the Indie Series Award nominated Lisa Roumain), a woman who thought she had it all: A rich, supposedly devoted husband in James (Tim Lane) whose career as a doctor provided for her, her young son, and her teenage daughter, adding to a life with unlimited potential.
Unfortunately, that once promising life is instantly shattered when Dana receives a mysterious letter, revealing James' secret affair with an equally mysterious "other woman" (played by Olivia Dunkley). Desperate to have a family of her own, she plans not only to wreck Dana's attempt to rebuild her own life, but also to take away the children she loves and to reunite them with their father.
Yet, Dana's children also have plenty of drama in their own personal lives. Already struggling with the emotional damage of Dana and James' separation, 16 year old Katie (played by Chloe Golden) excels in the classroom.
However, her devotion to making the grade gradually takes a back seat to her equally secretive, and potentially destructive, romance with Brad (Justin Sorvillo). Older, and attending community college, Brad lives life on the edge, but can't understand Katie's determination for staying on the straight and narrow.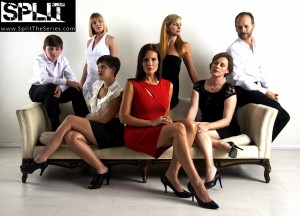 8 year old Brian (played by Logan Prince) is the resident troublemaker of the family, especially towards Katie. Unfortunately, when Dana and Katie argue, the devastating impact of their fights impacts Brian the most.
Norris also appears as Dr. Schneider, a psychotherapist who's been trying to guide that "other woman" on a path toward a stable life, but who also harbors concern over the woman's own emotional and mental well being.
In addition, Dana's sister Cheryl (Sara J. Stuckey) does her best to support her, as well as the rest of Dana's family, through working at a full time job. Yet, her overly witty suggestions and advice sometimes tends to rub Dana the wrong way, making their relationship an occasionally tense one.
SPLIT's ensemble cast also features Tammy Kaitz as divorce mediator Michelle, who's charged with the daunting task of making sense of Dana and James' nasty divorce, but whose real intentions aren't as clear. Season 2 of SPLIT introduces the cunning, yet sordid private detective Peter (played by Douglas Dennard), who soon proves to be a new enemy for Dana.
Having gained considerable attention from media outlets like The Tangled Web We Watch, Web Series Today and Script Magazine, plus winning the Outstanding Achievement Award for its musical score at LA WebFest, SPLIT has already become a hit with both female and male audiences alike. Although it's got plenty of dramatic elements, both Norris and Glenn say its characters and storytelling style make SPLIT a show with wide appeal for audiences of all ages.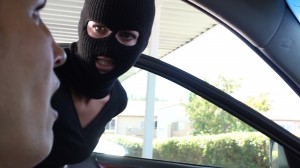 "It's a soapy drama, which sets it apart from most series, and it has multiple storylines that can appeal to a broad reach of people—young kids, high school kids, and adults—both men and women," Norris says.
"Although it's got a soapy aspect to it, there's also quite a bit of comedy, which makes the writing grounded, real, and reflective of real-life situations."
"A lot of web series have niche audiences, and SPLIT is geared toward a more general audience, so there's something for everyone," adds Glenn. "Even though SPLIT has a heavy female focus to it, we get messages from men who say they enjoy our show, and ask why episodes aren't longer. That was a pleasant surprise."
As Norris explains, the concept, story and characters for SPLIT gradually developed from a compelling short film which she created as part of an assignment for a film production class she took. Her task was to write and produce a film with little to no dialogue, and high visual action (in this case, a chase sequence) while on a next to nothing budget.
Norris accomplished this by choosing two prime locations she had unlimited access to: a conference room and a parking garage inside the building she once took up residence in. As she remembers, it was here that the concept truly began to take shape.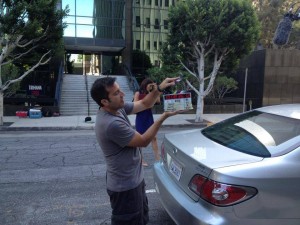 "I thought – what interesting things could happen in these two locations? That's where the idea of a divorce mediation came in – the main character, Dana, and her husband, James are divorcing after she finds out he's had a long-term affair. She's gotten custody of the kids and they sign the divorce papers," she says.
"As Dana's walking back to her car in the parking lot, she gets chased down by the 'other woman' in James life, who wants to kill her and prevent her from getting custody of James' kids. The short film ends on a cliffhanger, and the story can continue. I thought if I expanded the world to include Dana's kids and other characters, it would be a solid premise for a web series."
While both seasons of SPLIT were shot concurrently, the production process for each episode remained virtually unchanged. "We shot season one and two at the same time, so both seasons are similar in terms of production value, writing, character, and such. What's good about that is that we were able to create a lot of content in a short time and on budget," Norris says.
Glenn says that thanks to adding extra scenes with even greater production values, viewers can look forward to even more drama and suspense in season 2. "Rebecca and I sat down and realized that we didn't enough drama to keep an audience hooked for season two, so we found ways to amp up story lines, by shooting new pick up scenes," she says. "I think the new scenes in season two have more punch to them and give the season more life. They're great and have a more cinematic look."
Even though Norris and Glenn hope to continue SPLIT for a third season, they feel that the true success of their series lies not in its potential profitability, but in how it impacts its viewers and how it truly stands out amid the crowded atmosphere of the web.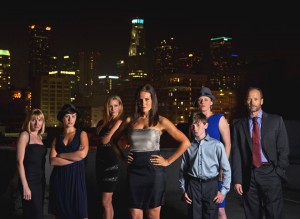 "I knew going in when I first imagined the series that it could be a challenge to find viewers since it's a drama, and the episodes are longer than the typical viral video traditionally shared on YouTube and Facebook," Norris says.
SPLIT is also a textbook example of how level the playing field has become for filmmakers thanks to the advantages of the web.
"I didn't go into this project thinking we'd be making many thousands of dollars – that's difficult for any web series, no matter how popular," Norris adds. "However, this was the story that we wanted to tell, and that's the beauty of making a web series. You can tell the story that's in your heart without needing to ask permission."
A show filled with plenty of drama and mystery that will keep viewers hooked, SPLIT is one of the rare web series that truly does have something for everyone, regardless of audience demographics. Through its story and characters, SPLIT demonstrates just how far one woman is willing to go to fight for her family and for her way of life in the midst of insurmountable odds. As in real life, that may be the biggest challenge any of us can ever face.
(Note: Regarding closed-captioning of SPLIT, Norris says: "It isn't yet, but once all of Season Two is posted I can focus on things like adding closed-captioning.")
ON THE WEB: www.splittheseries.com
YOUTUBE: www.youtube.com/SplitTheSeries
FACEBOOK: www.facebook.com/SplitTheSeries
TWITTER: @SplitTheSeries
INSTAGRAM: @SplitTheSeries