Welcome to Hell. Michigan, that is. It's not just the name of a real town in the Midwest, but in the new Stage 17 comedy web series WHAT'S YOUR EMERGENCY, Hell is a real state of mind thanks to the constantly incompetent staff of its 911 emergency call center. Together, their ineptitude makes life a living, um, nightmare for anyone who urgently needs a cop, a fireman or a paramedic.
Created, co-written by and co-starring Ryan Spahn and Halley Feiffer, and directed by acclaimed Broadway/TV/movie actor Michael Urie (best known for his role on the popular ABC series UGLY BETTY, in addition to guest roles on MODERN FAMILY, THE GOOD WIFE and others), WHAT'S YOUR EMERGENCY's six episode first season debuts on Stage17.tv on January 27th with its first of 6 episodes. Two additional episodes will air each Tuesday beginning on February 3rd, with the season finale airing February 17th.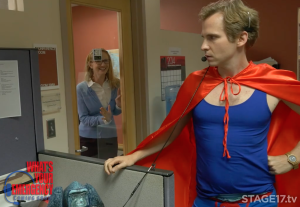 WHAT'S YOUR EMERGENCY stars Spahn as Sammy, the downtrodden son of Walter (Reed Birney), the man in charge of Hell's 911 call center. Sammy's pretty much reached rock bottom, and finds that the only opportunity he has left is to work for his father.
While each day is filled with its own set of embarrassing problems, Sammy's got something to look forward to amid the chaos: seeing his beautiful, yet painfully anxious co-worker Janice (played by Feiffer).
Overly competitive, while possessing a strong penchant for booze and a strong-arm management style, Walter oversees the inept staff of that call center. Unfortunately, like his employees, Walter is equally incapable of doing a good job, and his 'leadership' skills prove to be a liability for everyone who works at the center.
That staff includes the outspoken Chrissy (Sierra Boggess, from the recent Broadway production of PHANTOM OF THE OPERA), whose sex drive, combined with her tendency to wear overly revealing clothing and her desire to 'get it on' with everyone she comes into contact with, overshadows the more important job of serving the community; one that she is also not very good at doing.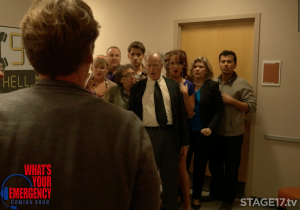 In addition, the motley crew of 911 Hell includes its oldest employee, Betty (Rene Houtridés), who's never at a loss for words – especially the dirty ones.
There's also the peppy Shanna (Erin McCarson), whose love for aliens and zombies is matched only by her love for co-worker Kent (Kevin Covert). Although he's gay, Kent steadfastly insists he's not, and constantly brags about his marriage to his wife whenever possible.
WHAT'S YOUR EMERGENCY's talented ensemble cast also features Daoud Heidami as Akram. While of Pakistani descent, Akram is a lifelong native of Hell. Yet, he gets some unwelcome ribbing from his co-workers due to his habit of inverting words, and decides to make those who insult him feel ashamed every time he mentions that he suffers from Lyme's disease.
Rounding out the cast is McKean Rand as Bart, whose good looks and sex appeal belie the fact that he is perpetually dumb, and Sekou Laidlow as Tim. Unlike the rest of the wacky staff, Tim is perhaps the only person who has any sense of sanity amid the ridiculous working atmosphere he finds himself in – or any idea what he's doing.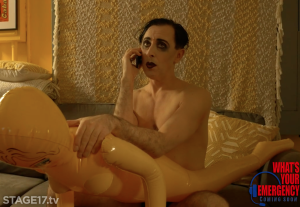 WHAT'S YOUR EMERGENCY features guest stars Alan Cumming (THE GOOD WIFE, Tony winner for CABARET), David Krumholtz (NUMBERS, TBS' MEN AT WORK), America Ferrera (UGLY BETTY, THE SISTERHOOD OF THE TRAVELING PANTS films), Richard Kind (SPIN CITY, GOTHAM), and Lynn Cohen (THE HUNGER GAMES: CATCHING FIRE, SEX AND THE CITY, THE AFFAIR) as several of the frustrated callers to Hell's 911 service.
In addition, Tony and Emmy award winner Debra Monk and MTV star JERSEY SHORE's Mike "The Situation" Sorrentino appear in hilarious guest roles; the latter appearing as one of the call center's various operators.
The key moment in the development of WHAT'S YOUR EMERGENCY came during Spahn's improv studies at the legendary Julliard acting school. It was during one such class that Spahn created a character that would serve as the basis for what would eventually become a full fledged comedy web series about the most inept 911 emergency call operators around.
"Ryan was asked to bring a character into his improv class at Juilliard that he might use for an SNL (Saturday Night Live) audition. He came up with an idiot 911 Call Center Employee who's more interested in getting your name right than helping you with your emergency," the show's creators say.
As a result of that audition, Stage 17 decided to take a chance on the concept. "From there, we were commissioned by Stage17 to develop a comedy web series with a six-episode arc following the misadventures of the inept rescue workers of Hell, Michigan as they fail at running a 911 Call Center." Spahn and Feiffer add.
Thanks to Stage 17's professionalism and commitment to producing a quality product, the production of WHAT'S YOUR EMERGENCY ran smoothly, despite some unexpected, and scary, moments.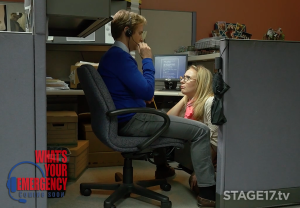 "…We did find ourselves entangled in a bomb scare and a deafening sound check during our shoot in South Orange, New Jersey, but none of that derailed us from delivering a stupidly funny web series," Spahn and Feiffer say.
A large part of what makes WHAT'S YOUR EMERGENCY so hilarious lies in the direction of Urie, whose incredible eye for comedy benefitted Spahn, Feiffer and the rest of the show's cast tremendously throughout the 6 episode shoot.
"When you assemble a hot cast such as ours, and place them in the hands of the comedic genius that is Michael Urie, there's no end to the brilliance that ensues," adds Spahn and Feiffer.
For Urie, a veteran actor who's won acclaim for many memorable roles on stage and screen, the vast potential for storylines and characters that became possible thanks to Spahn's primary concept was very intriguing. In fact, he adds, he decided to sign on to direct the series as a result of Spahn's original character.
"I have actually been a part of this project since its inception, and basically gave myself the gig," he recalls. "Ryan Spahn told me about a character he'd come up with in an improv class, and I thought it could be a whole show, so I suggested that he and Halley Feiffer come up with one. So, I kinda had 'dibs' on directing."
"Most of the cast was in place before Halley and Ryan began writing the show, we wanted awesome hilarious actors, and since we know so many, we just went with who we knew. I don't think auditioning is fun, from either side of the table, and actors are happier and more creative when they feel ownership.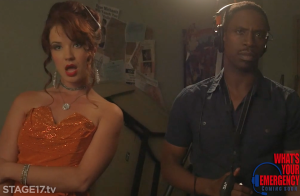 Working behind the camera on WHAT'S YOUR EMERGENCY has also benefited Urie during his time in front of it.
"Directing always makes me a better actor – it's so hard to know what you're putting out there as an actor, the size, the truth, etc – but as a director, you're constantly observing and can't help but learn about process from other actors, especially when they're as good as these."
WHAT'S YOUR EMERGENCY has not just been a dream fulfilled for Spahn and Feiffer. It's also one that's been fulfilled for Urie. "Though I try not to hold out on showbiz dreams (Romeo, anyone?), I have always had a visceral love for funny television characters and how their creators show them – so to be at the helm of choosing and presenting all aspects of this group of funny characters is, sigh, a dream come true," Urie says.
The opportunity to direct WHAT'S YOUR EMERGENCY has also given Urie an incredible sense of personal satisfaction. "From the clothes, to their cubicle decoration, to the way we introduce them in the opening credits, I am never happier than when I'm make believing with my very own TV characters," he says. In fact, he hopes to be at the helm of future projects. "I so enjoy directing, and feel the two things really help inform one another. "
Described by Spahn and Feiffer as "a dash of THE OFFICE with a sprinkle of RENO 911 and just a tinge of PORTLANDIA, WHAT'S YOUR EMERGENCY distinctively and hilariously proves that when seconds count, and when life and/or property is at stake, it's pure hell (for lack of a better term) when you're at the mercy of people who suck at their jobs.
Says Spahn and Feiffer: "WHAT'S YOUR EMERGENCY is at once dark, funny, and touching. Throughout the season, viewers develop a love for characters that, despite good intentions, just can't seem to get it right. In matters of life of death, the viewer learns, you just can't trust the employees from Hell."
ON THE WEB: http://stage17.tv/series/whats-your-emergency-0