Submissions close in five days for the IAWTV Awards Sunday, February 15th. Submit now at iawtv.org.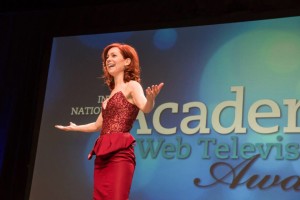 The International Academy of Web Television helps gain major exposure for web content creators. In 2014, Carrie Preston hosted and drew 65,000 live viewers, plus many more after the fact.  This year, the IAWTV has teams of jurors composed of a diverse mix of specialists in every category who will view submissions, so all shows get a fair chance at a nomination. So if you plan to submit, now is the time!
The IAWTV Awards nominees for all categories will be announced live via YouTube on a Special Edition of Super Geeked Up on Monday, March 2nd. Keep an eye on @iawtvawards on Twitter for links to watch. In case you miss the announcement, the list of nominations will be posted on iawtv.org on March 3rd.
The IAWTV Awards will be held on April 15th, 2015 in Las Vegas at the Pavilion Ballroom of the Westgate Hotel. The Red Carpet begins at 4:30pm and the ceremony will follow at 8pm. The 2015 awards show has a theme, "Pioneers," hence this year's Special Award for a Pioneering Female in New Media.