Chloe Henderson seems to have an average, uneventful life. She works a tedious job at a local taco eatery. Her relationship with her family is filled with conflict and bitterness. She's never attended college, nor has she accomplished anything of significance in her short lifetime. That's all about to change as she receives a mysterious briefcase from her late grandfather; one that contains startling evidence of extraterrestrial beings.
Utilizing innovative transmedia elements, most notably first person "vlogs" (video blogs), the new sci-fi/suspense web series SON OF SOMERSET FILES does more than just bring viewers a powerful story of a young woman's quest to understand her family history, as well as how that history was impacted by close encounters with alien life in UFOs (unidentified flying objects).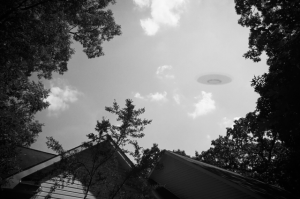 Now streaming its first season on Youtube , SON OF SOMERSET FILES fully involves viewers in that quest through supplemental interactive content on social media sites like Facebook, Twitter, Instagram and Tumblr (see links below, more on that later).
It's content that draws viewers further into the story, and gives them a deeper look into the mind and life of Chloe herself. 20 episodes of its 26 episode first season have already aired, with 2 more episodes premiering this week (today and Friday).
Created, written and directed by Elizabeth Hagale, SON OF SOMERSET FILES stars Rhiana Howell as Chloe Henderson, the young woman who finds her life turned upside down as a result of discovering a briefcase that once belonged to her grandfather. When she opens it, Chloe learns more about who she really was, as well as the world of UFOs she became involved with.
In an effort to make sense of that information, Chloe seeks the assistance of amateur ufologist Terry Knot (played by Jay Burleson, who also serves as the show's director of photography). Before her death, Terry's mother, Meg, was forever traumatized by her experiences in the secretive group that Chloe's grandfather ran.
Along the way, Chloe experiences a harrowing alien encounter of her own, which further heightens her sense of fear. Now, Chloe and Terry team up to uncover, as well as understand, both the mysterious history her grandfather left behind, and especially, the secret world of aliens he managed to document during his lifetime.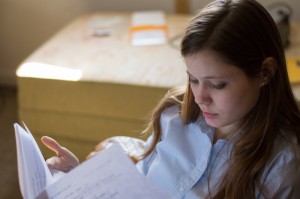 During her senior year in college, Hagale took a close look at how one popular web series employed elements of social media and video blogs (vlogs). With that knowledge, she set about developing the concept for what would later become SON OF SOMERSET FILES.
"I studied THE LIZZIE BENNET DIARIES for my senior project in college, specifically transmedia and adaptation, so that allowed me to build up knowledge about the storytelling method," Hagale recalls. "I was able to use what I had learned from this project when I developed SON OF SOMERSET FILES after I graduated."
In addition to the "vlog" (video blog) posts that comprise each episode of SON OF SOMERSET FILES on Youtube, viewers can experience the show's transmedia storytelling through popular social media sites like Facebook, Twitter, Tumblr and Instagram. While both Chloe and Terry's characters use Twitter, Chloe posts a variety of different content through each of those aforementioned platforms.
"Twitter is used more for Chloe's thoughts and commentary on events that are happening to her. It's used as a way to give a play by play to the audience in real-ish time," adds Hagale. "I say real-ish because Chloe might tell the audience what happened after she's experienced the event. She's not forever attached to her phone."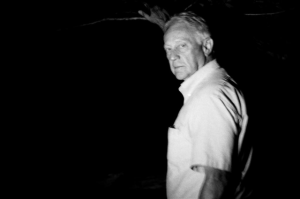 Chloe also incorporates Facebook and Instagram as sources for transmedia content, though much of it is also posted via Twitter and Tumblr.
"Facebook is used mostly for posting pictures and episodes (also posted on Twitter), and Instagram is used for photos, such as the file photos and some photos to flesh out Chloe's world," Hagale says. "Tumblr is used to show more about Chloe's interests, like reblogging images of space, aliens, things like that."
However, the meat of SON OF SOMERSET FILES' content is the vlogs, posted on Youtube and also available through the show's social media sites. "Of course, Twitter, Tumblr, and Facebook are all used to promote the YouTube videos, since those are the most important in terms of content," Hagale says.
As Hagale explains, the transmedia feature of SON OF SOMERSET FILES has many benefits for the viewers. "(The) strengths for these transmedia elements would be more immersion for the audience and a more in-depth look at Chloe. Also, if I ever need to explain something more, I can just use Chloe's social media accounts!"
While all that extra content enhances the effectiveness of SON OF SOMERSET FILES, that isn't to say there aren't some drawbacks as a result. Chief among them – the fact that not everyone who watches the series may visit either or all of its social media sites, and also the challenges of making everything run in a timely manner.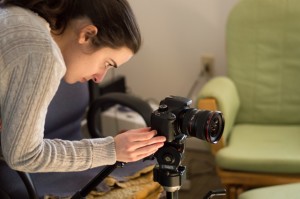 "One of the weaknesses of the transmedia elements is that not many people may be looking at the social media content. People might be missing out on the bigger picture. Not very many people interact with Chloe, although the opportunity is present," says Hagale. "There's also the difficulty of timing, making sure social media elements come out at an appropriate time in relation to the story."
When it came to casting, finding the actors to play alongside Howell in each episode of SON OF SOMERSET FILES was a relatively easy task. "My DP, Jay Burleson, is also an actor, so having him onboard to play Terry was great. Many of the side characters were either people I know or know of who are actors, who have been in local projects that we found, or responded to my pleas on social media," Hagale remembers.
Finding the right actress to lead that cast was a different story, however. "Now Chloe was the really difficult person to cast," adds Hagale. Finally, that actress arrived, thanks to a little help from a friend. "We went through so many possibilities before we finally found Rhiana Howell! A mutual friend suggested her. We met, and the rest is history!"
Although SON OF SOMERSET FILES uses the popular "vlog" format most synonymous with shows like THE LIZZIE BENNET DIARIES, the production process was rapid, yet always beholden to the clock. "I would schedule according to availability (something difficult to do when your lead has a job where her hours vary), and then we would shoot one or more episodes a pop," says Hagale.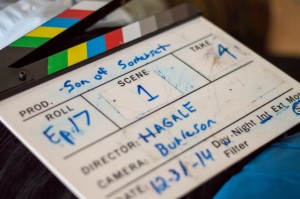 Despite the challenge of finding time to work around Howell's often unpredictable job schedule, Hagale says that the actress's incredible talents proved pivotal to the success of SON OF SOMERSET FILES' production.
"We started production in July 2014 and just finished this month," she says. "Since the videos are vlogs, there are a lot of monologues, but Rhiana was great at picking up lines quickly. So it went pretty darn well."
SON OF SOMERSET FILES proves that sometimes, no matter how well you think you know your family (or not), some of the biggest secrets they left behind don't always stay buried. However, that doesn't always mean that those secrets will destroy the lives of those left behind to make sense of them all.
Says Hagale: "The overall message (of the show) would be that your family's mistakes can sometimes come back to haunt you, but that they can be set right. (Very cryptic if you don't know the ending.) The show's theme would be about the mysteries in family histories…plus UFOs."
(Note: Regarding closed-captioning and subtitles for foreign audiences, Hagale says: "The show is closed-captioned! All of the episodes have subtitles, and we plan to continue this trend through to the end.")
Episode 1 of SON OF SOMERSET FILES can be viewed here:
YOUTUBE: http://youtube.com/user/sonofsomersetfiles
TWITTER: http://twitter.com/sonofsomerset (Chloe's page)
and http://twitter.com/terryknot (Terry's page)
FACEBOOK: http://www.facebook.com/sonofsomersetfiles
TUMBLR: http://spirosunset.tumblr.com (Chloe's page)
INSTAGRAM: http://instagram.com/sonofsomerset