At one point or another, and in one way or another, virtually everyone has been affected by depression. No one is immune to it, and it's even affected some of the most famous and successful among us. While many try to put up a brave front amid their sadness, few truly understand the sense of despair that those who suffer from depression feel each day.
Created by Luke Eve and Adam Grossetti, and now streaming on its official web site and Youtube pages, the award-winning 6 episode "black comedy" series LOW LIFE follows a young man named Jef (played by Henry Nixon) who seemingly has it all. His professional career is a success. He's startlingly handsome, and with a ton of charm and wit to boot.
He's got a loving, gorgeous girlfriend named Shelly (played by Claire van der Boom), and his longtime best friend Tom (Randy Jay Burrell). Although Jef's supposedly lives a charmed life, his inner struggle with depression overshadows the positive aspects of his existence.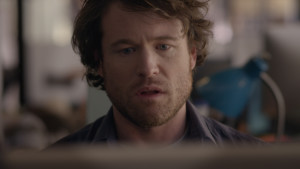 Practically in denial about the true extent of his unhappiness, Jef tries to seek help from Shelly, Tom and various other individuals he comes in contact with each day.
Unfortunately, their "solutions" often lead to bigger problems for Jef, who soon realizes that the only solution to his depression may lie within himself.
Having endured his own personal struggle with depression, Eve sought to learn more about his own problems and to understand the true extent of the issue through LOW LIFE. "I was going through a period where I was recognizing and coming to terms with my own battles with depression and learning to understand them. At the time, I'd never once spoken publicly about it, and this seemed like a way to explore it," he says.
Further exacerbating that depression was Eve's move to the States several years ago, and his struggles in the unfamiliar surroundings of Los Angeles. "I had also just moved from Sydney to L.A. and the extra alienation and isolation contributed to those feelings," he recalls.
It was there that the initial concept for LOW LIFE would take shape. "I shared those feelings with a writer friend of mine (Grossetti), and suggested we create a web series dealing with depression. But I wanted to make it humorous and awkward and positive," recalls Eve. "Adam loved the idea and together we began the process of developing the show."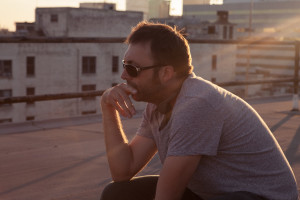 From there, Eve and Grossetti began what would become a highly productive period of developing the show's concept, characters and story.
"He wrote the scripts, I gave feedback and we back and forth-ed like that for a month or so. Often we'd develop and write over Skype, as he was based in NYC at the time," Eve says. "It was really a process of sharing stories and embracing others. It was tremendously collaborative."
While each episode of LOW LIFE is memorable due to its unique brand of dark comedy, plus its talented cast, Eve says that his series is truly one of a kind thanks to its emphasis on high quality production. As he explains, he sought to accomplish those high standards in every aspect of LOW LIFE's production.
"We wanted LOW LIFE to stand out from your usual web series. We wanted it to be like a series of indie films," Eve says. "So we concentrated a lot on performance and production values and production design and music. I assembled a great crew of Australians and Americans and we all worked brilliantly together."
For Eve, assembling his cast was both an easy and eye-opening experience. "I've known Henry Nixon, our lead, for many years, but we'd never really worked on anything together – although we had wanted to. Coincidentally we both just moved to the U.S. around the same time and I thought he would be perfect. So it was a very lucky and timely fit."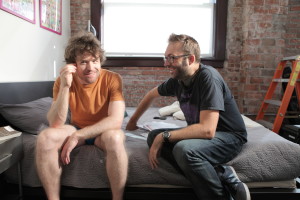 In addition, Eve also learned about Nixon's own struggles with depression. As a result, the actor's candor made their working relationship on set even stronger.
"Henry also shared a lot of personal stories with me about his own battles, and so the collaboration continued. It became the best actor – director relationship I've ever had."
Finding the show's main female protagonist would also prove to be easier than expected. "I had also always been a huge fan of Claire van der Boom's work and it just so happened that she was in LA and was close friends with a good friend of mine," adds Eve. "I approached her and she said yes. I think the material struck a chord with her as well. So the two leads fell nicely into place."
With Eve's multi-national cast (hailing from the U.K., Australia and the U.S.) now set, attention turned to filming all 6 episodes of LOW LIFE. The process of shooting each episode proved to be surprisingly, and incredibly, enjoyable for Eve, his cast and crew. Looking back on his experience, Eve marvels at just how seamlessly it came together for his team on-set.
"The (production) process was the most fun I've ever had. Perhaps it was because it was a personal story, perhaps it was because it was my first production in the U.S.A., perhaps it was because people really responded to the subject matter and what we were trying to achieve. I don't know," he remembers. "Everyone just gelled. I joked that the production felt blessed in many ways."
While Eve believes that LOW LIFE will appeal to fans of smart, yet humorous and touching indie comedies and dramas, he knows that his series has made quite a positive impact on the lives of those who suffer from depression and other mental illnesses.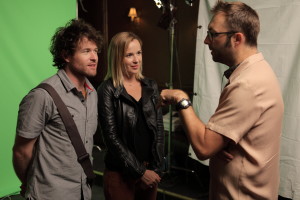 "I also think it has a large audience of people who are interested in, or suffer from, mental health issues. I receive letters regularly from people that feel affected in some way by watching the series. It's incredibly rewarding."
While some shows tend to offer simplistic portrayals of life's difficulties, LOW LIFE doesn't claim to present an easy fix to their problems. Rather, it takes a humorous and realistic look at the daily struggles of those affected by mental illness.
Through its characters and story, LOW LIFE demonstrates that while there's no easy fix for depression, it's important to understand its impact on people – including those we love and care for.
Says Eve: "We consciously steered clear of trying to offer up a solution. For me, it was that everyone is different. People love and fight and feel differently to each other. That's what makes life amazing. Sometimes we label others and sometimes we struggle to define our own problems. Everyone is unique. There's no set solution."
(Note: The series is not currently closed-captioned, but Eve hopes to add that feature to each episode soon.)
Episode 1 of LOW LIFE can be viewed here:
ON THE WEB: www.lowlifeseries.com
YOUTUBE: www.youtube.com/moresauce
FACEBOOK: www.facebook.com/lowlifewebseries
TWITTER: www.twitter.com/lowlifeseries