Art is hard, but trying to survive the apocalypse is harder. In season 1 of the acclaimed comedy series WHOLE DAY DOWN, two down on their luck actors/fine art aficionados find out just how difficult it can be to succeed in both tasks as they attempt to keep a fledgling art gallery alive – while inadvertently setting in motion the demise of Tinseltown and the entire world!
Created by Tai Fauci and Patrick Breen, and co-starring Willie Garson (WHITE COLLAR, SEX AND THE CITY) and Breen (MADAM SECRETARY, ROYAL PAINS) as hilariously exaggerated versions of themselves, season 2 of WHOLE DAY DOWN continues their wacky misadventures in the world of art and commerce.
The series' second season is now streaming on its official website and Youtube page, with new episodes airing each Tuesday. In addition to all 6 episodes of WHOLE DAY DOWN's sophomore season, each Friday brings viewers the supplemental series TOWN CAR WILLIE.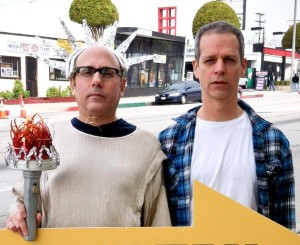 All 7 episodes feature Garson as an Uber driver who finds himself shuttling some of Hollywood's most talented and respected stars safely out of town amid the danger of the apocalypse.
All of this comes as he struggles to seek gainful employment as an actor. (More on that later).
WHOLE DAY DOWN's cast also features Missi Pyle as Nadine, Patrick's long-suffering wife, plus Francesca Fauci as the gallery's deranged, demonic receptionist Franny, whose love for Willie seemingly knows no limits. Rounding out the cast of regulars is Steve Bloem as Patrick's love interest, Hunter.
New characters debuting in season 2 of WHOLE DAY DOWN include Saint Anne (also known as Lesbian Satan, played by Suzy Nakamura) and Ester (Lesbian God, played by Laura Harris). Over time, both Saint Anne and Ester develop a strong romance, despite Ester's often abrasive personality.
As Fauci explains, season 2 of WHOLE DAY DOWN brings viewers even more heightened situations for both Willie, Patrick and the people they're surrounded by. Even more so, it resolves last season's cliffhanger in spectacularly amusing fashion.
"At the end of Season 1, Willie revealed to Patrick that he had sex with his wife, Nadine. Now, Nadine has given birth, (and you can) see where this is going," Fauci says. "This conflict is mostly resolved in episode 201 when we learn that Willie and Patrick may have a super human ability. What is it and why? You'll have to watch and find out. But let's just say they are very hard to kill."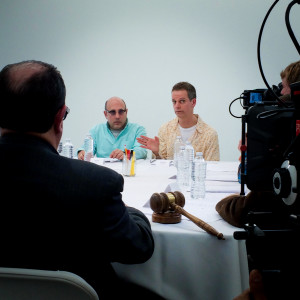 WHOLE DAY DOWN was a true family affair for Fauci, whose father Dan also stars in the series as Mr. G, and whose sister Francesca plays the art gallery's demon-possessed receptionist, Franny.
Having passed down his lifelong love of art to his daughter, Dan proved to be the catalyst that set in motion Tai's development of the series with Breen.
"My dad (Dan Fauci) is an artist and collector. He exposed me to the art world from a young age," Fauci remembers. "Modern art and it's controversy have fascinated me ever since. It was actually my dad that originally suggested that Patrick and I write a film satirizing the art world."
As time went on, though, Fauci and Breen decided that a different approach would be needed to bring the concept and characters of WHOLE DAY DOWN to life. Given the popularity of movies and TV series (plus a few web series) that revolve around the apocalypse, Fauci and Breen felt that combining that popular theme with the episodic nature of TV and web series would be ideal for WHOLE DAY DOWN.
"I had just worked on a web series (PALISADES POOL PARTY) and thought we could tell more stories if we made it an episodic. Patrick was hellbent on incorporating apocalypse and the series started to take shape," she says. "After that, it was the two of us fleshing out the stories with the help of our other producer, Jack Monroe. We shot two episodes and we liked them so much, we made 4 more. That was season 1. Zany art with a little super natural twist."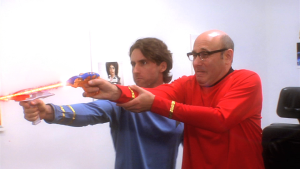 The success of season 1 led Fauci and Breen to continue the show's hilarious story for another season. This time, they decided to raise the stakes, and the laughs, for season 2 of WHOLE DAY DOWN.
"We had a blast making the show so Patrick and I started developing a second season with even crazier art. Much more the peril for our characters, with the apocalypse quickly approaching," Fauci adds.
Because of Fauci and Breen's longtime relationships – both professional and personal – with the show's cast and crew, plus her own family's involvement, Fauci found that casting WHOLE DAY DOWN was much easier than expected.
"I grew up with Willie and Patrick as my big brothers from other mothers (and fathers, let's not speculate on that). My literal family is also in the show. My father plays Mr. G and my sister, Francesca plays Franny, the demonic receptionist," Fauci says. "Most of the cast is friends."
While shooting each episode of both WHOLE DAY DOWN and TOWN CAR WILLIE was relatively a smooth process, there were a few difficulties that arose along the way.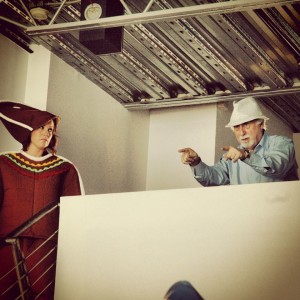 "It's (working on the series) all generally pretty easy. The only difficulty is making a final decision," Garson says. "We are experimenting, so it's often hard for someone to say 'that's the perfect line', or "we have that, let's move on.' Obviously, we have like 2 seconds to shoot the whole thing."
The talents of WHOLE DAY DOWN's cast also made the production process for all 6 episodes of season 2 even more efficient, and entertaining. Adds Breen: "At the risk of sounding sincere, the easiest part was having this cast of character actors tearing it up," he says. "We really just had to know where to put the camera."
WHOLE DAY DOWN's supplemental series, TOWN CAR WILLIE, almost didn't happen. Yet, as Fauci adds, the potential for comedic storytelling and situations presented in its overall story proved to be more than enough to convince her, plus her cast and crew, to take a chance on the concept.
"We didn't originally set out to do a companion series. TOWN CAR WILLIE was originally to be an episode of season 2. We had too much gold so the episode ended up clocking in at over 20 minutes," Fauci recalls. "I was quickly convinced it could be its own show. It was pretty easy convincing everyone else."
TOWN CAR WILLIE features guest appearances by actors Elisa Donovan (CLUELESS), Rob Morrow (NUMBERS, NORTHERN EXPOSURE), Hunter Parrish (WEEDS), and Evan Handler (CALIFORNICATION, and the upcoming THE ASTRONAUT WIVES CLUB).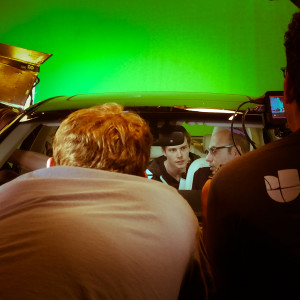 In addition, the series features impressive "apocalyptic" backgrounds combined with wacky visual effects, making for both a hilarious and visually interesting experience.
For Fauci, bringing viewers TOWN CAR WILLIE serves two important purposes that enhance the overall value of both it and WHOLE DAY DOWN: "It doubled the amount of episodes we could release, and it gives people the chance to really see the great work that Willie and our guest performers contribute."
Although both WHOLE DAY DOWN and TOWN CAR WILLIE's episodes were shot over a period of 6 days, they were not completed within a relatively short time frame as one might expect. In fact, both shows were produced between 2013-2015. As Fauci explains, the extensive time in between shoots came as a result of varying external factors.
"Because of other projects and schedules, it was really spread out," she says. "We also spent a lot of time in post production. Whether it was due to hectic schedules or being sequestered in a Bio-Dome, I will never tell."
Regardless of how extensive or how long it takes to produce any web series, the production methods are pretty much the same as any big budget movie or TV series. For Garson, a veteran of each medium, his experience on WHOLE DAY DOWN proved to be much more liberating – for a variety of reasons.
"Anything you film is "similar", but of course this is more relaxed and 'experimental', to put it kindly," he says. "We can literally do whatever we want, without answering to any budget or advertisers or even numbers of viewers. Other than that, it's the same, just without any money of course."
However, adds Breen, there are some major differences between the relatively independent, small budget nature of web series and the deep pocketed studio projects.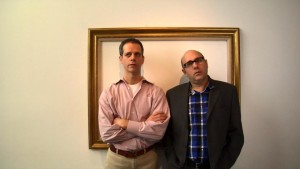 "In web series work, there is very little repetition, or redundancy, or things occurring more than once," he adds. " I also notice there is more begging and borrowing in web series, but much more stealing in regular TV."
Yet, Breen says that there's one thing that he experienced during filming of WHOLE DAY DOWN that seemingly no other regular TV show's production set has been able to duplicate. In fact, one major talent possessed by members of the show's production team proved to make the end of each day's shooting just as memorable as the shoots themselves.
"The strangest difference is a preponderance of people involved in WHOLE DAY DOWN who had studied opera at one time or another," Breen remembers. "Our director of photography, Jorge Luis Urbina, sang "Nessun Dorma" when we wrapped each night. It became a tradition on our set. This tends not to happen on network shows."
Although the future isn't certain for future seasons of WHOLE DAY DOWN, Fauci feels that season 2 may be the best yet. With its hilarious comedic storytelling, plus the heightening stakes for Willie, Patrick and all of its characters, WHOLE DAY DOWN proves that the apocalypse – and modern art – can be very funny.
"We don't have a plan for another season but who knows," Fauci says. "Season 2 has an even more definitive ending than season 1. The final scene of the series is my favorite scene we have crafted this season. It is all heart."
(Note: Regarding closed-captioning, Fauci says: "I hope that it will be (closed-captioned). We really need to get on that. I love/hate the YouTube auto captions. They can be hilariously bad.")
The season 2 premiere of WHOLE DAY DOWN can be viewed here:
ON THE WEB: www.wholedaydown.tv
YOUTUBE: https://www.youtube.com/channel/UC3djCMUB4xupiei3GehnupA
FACEBOOK: https://www.facebook.com/WholeDayDown
TWITTER: https://twitter.com/wholedaydown