As people, we are often defined by what, as well as who, we believe. Believing in something or someone is a large part of that, and a substantial part of the world's population strongly believes in the existence of a higher power. Of course, there are also those among us who just believe in getting high.
In the new comedy series DEVOLVE, the world of religion clashes with the world of "stoners" in hilarious fashion, as a motley band of upstart warriors team up to do battle against the wickedness and snares of the Devil. Together, they must learn to overcome their lack of faith in God, and to help Him win back hearts and minds as the fate of the world hangs in the balance.
Executive produced by Daniel Arthurs and David H. Schwartz, directed by John Mossman, and with its first season of 4 episodes having premiered on July 4th at approximately, and obviously, 4:20 PM Eastern on its official Youtube page (see links below), DEVOLVE stars Rich Cotovsky (STIR OF ECHOES, LITTLE FOCKERS, SHAMELESS, CHICAGO FIRE) as the most supreme stoner of all, God.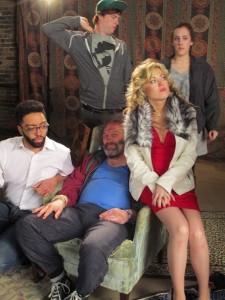 With the threat of an apocalypse looming, and with his popularity waning in the face of a changing society, God recruits perhaps the most unlikely man to fight for the survival of all mankind – a young, intelligent, yet often overlooked college film student/pot smoker, Evan (played by Morgan Maher).
Reluctantly, Evan decides to recruit some of his fellow students to join the fight against the evil of Satan. That disparate, and in some ways delusional group, includes Patsy (Kylan Conroy), a beautiful yet outspoken young woman who continues to hold out for that special someone – and by special someone, we mean the one man who will help her bring the son of God into the world.
Meanwhile, Candace (played by Alex Madda) has a budding romance with Patsy, but the experience she had as a child growing up in a fundamentalist Christian household, and her parents' disapproval of homosexuality, continues to affect her life, as well as her decisions on just who she should fall in love with.
This wacky team of saviors also features Adam (played by Dan Olsen), whose overwhelming dedication to fighting for God and for the continued existence of the free world is so extreme, he literally thinks he's leading the charge in the ultimate Holy War.
In addition, there's Ben (played by Rashaad Hall), a devoted conservative struggling to overcome the looming shadow of his more successful father. Rounding out the cast is Edwin Wilson as Texas' brave, fearless Governor, Rick Perry.
The wacky concept of a group of spiritual stoners suddenly recruited by God to save the world grew dramatically over the course of DEVOLVE's writing process. "My partner, Dan Arthurs, came up with the core idea of a band of evangelical misfits who meet God. He created a first draft of the script," says Schwartz.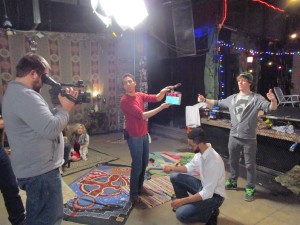 While Arthurs' initial draft of DEVOLVE showed promise, both he and Schwartz quickly realized that there was much room for improvement.
It was then that they turned to three acclaimed writers who brought plenty of experience in comedy: Paul Pedito (who also co-produced DEVOLVE with Boris Wexler), and veteran comedy writers Lizz Leiser and Ricardo Delgado (head writers for the New York-based theater company The Serious Theatre Collective).
"When we brought Paul Pedito on board, Paul felt that the script needed some polishing from a skilled comedy writer," Schwartz adds. "As soon as we saw the level of writing that Lizz Leiser and Ricardo Delgado brought to the table, we realized that the whole thing needed to be re-written. So, it was our concept that became highly evolved once Lizz and Ricardo got their hands on it."
Thanks to the involvement of Leiser, Ricardo and Pedito, the story and characters for DEVOLVE truly began to take shape. The end result was a distinctive world where both "potheads" and true believers could take up arms against the most demonic force known to man.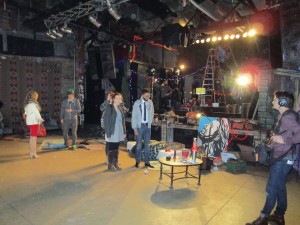 "I think we were able to create a compelling 'world of story'. We have these crazy characters who exist in a world where God exists incarnate and where he behaves in a very quirky way," Schwartz says.
DEVOLVE's unique blend of comedy and fantasy elements makes for a series that may be unlike any ever attempted for TV or online viewing. "I think DEVOLVE is unique in its ability to bring this fantasy world together in a situation comedy setting," adds Schwartz. "I don't think that's being done much anywhere – on television or on the web. It brings to mind THIRD ROCK FROM THE SUN."
DEVOLVE is a series that seamlessly combines traditional sitcom style storytelling with the free-wheeling, unpredictable nature of sketch comedy; a potent mix that Schwartz feels could easily attract viewers to the series. Yet, he also seeks to draw them in further through the show's satirical view of religion and the ongoing debate over marijuana legalization.
"The show is pretty slapstick and, because of Lizz's background in sketch comedy, has some sketch aspects to it. I think those features might draw a younger audience (15-25)," says Schwartz. "But we also hope to draw some older, more sophisticated viewers with some of the political themes."
When it came to producing all four episodes of DEVOLVE, Arthurs and Schwartz knew that having a steady hand overseeing it all was crucial to the series' success. A large part of that success came thanks to the experience and talent of director John Mossman, whose acting background helped bring out the best in DEVOLVE's cast on set.
"We were so lucky to have a skilled and experienced director like John on board," Schwartz says. "Being a talented actor himself, John knew how to work with actors. That camaraderie helped to maintain a really great tone in rehearsals and on set – lots of experimentation and a very open atmosphere."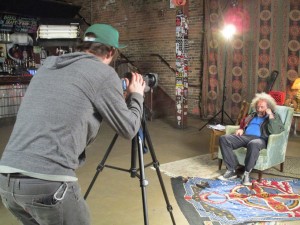 That atmosphere also benefitted the rest of DEVOLVE's production team. "Also, our line producer, Jacquelyn Jamjoom was incredibly organized and had every detail of the schedule locked down," adds Schwartz. "(It was) really a very smooth and professional process."
Although there are only four episodes of DEVOLVE scheduled for its first season, Schwartz has bigger plans for the series' second season – both in its storytelling approach and in its portrayal of its characters. "We hope to be shooting a longer second season that will be more episodic and will explore God's character arc," he says.
Regardless of who, or what, you may believe in, or how strongly you believe in something or someone, DEVOLVE proves that when it comes to fighting for a common cause, we're all in this together – despite our differences and disagreements. Through its mix of comedy, fantasy and satire, Schwartz feels that DEVOLVE has the potential to do much more than give people a good laugh.
"The show uses absurd situations to challenge people's views on conventional ideas surrounding religion and politics. We want to use satire to shine a light on knee-jerk reactions to current social issues and make fun of them using absurd situations," says Schwartz, who cautions that in the fantasy world of DEVOLVE, where stoners believe in a higher power, faith without works is dead. "I would summarize the show's theme as: belief is not enough."
(Note: Schwartz says that all four episodes of the series will be closed-captioned.)
The first episode of DEVOLVE can be viewed here:
YOUTUBE: https://www.youtube.com/channel/UCtGAEgABVdQVkHL1HcmNzhA
FACEBOOK: https://www.facebook.com/devolvewebseries/
TWITTER: https://twitter.com/devolveseries