Whether it's seemingly relentless teasing by classmates, that first crush, never-ending homework, or overbearing parents, being a kid is never easy. In fact, such difficulties could easily make children wish they had a special, yet invisible friend who secretly fights their most important battles. While such a situation isn't exactly likely in real life, at least it can make for some fun storytelling.
Having premiered the first 2 episodes of its 6 episode first season on July 6th via its official web site and Youtube page (see additional links below), GEMMA AND THE BEAR focuses on an awkward young woman named Gemma (played by series co-creator Eevin Hartsough), who's lived her life with something of a split personality; one that she's not necessarily aware of, but one that's always served her well in the tough times.
How so? When Gemma goes to sleep every night, she wakes up in the overnight hours as someone completely different – a gay, adventurous black man named The Bear (played by series co-creator Kevin R. Free, best known these days as a voice actor on the popular audio drama WELCOME TO NIGHT VALE).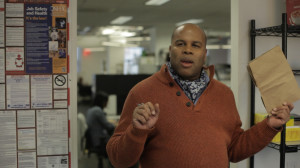 Since Gemma was a little girl, The Bear has helped Gemma overcome the torment of schoolyard bullies through grade school and even college.
Now that she's reached adulthood, The Bear has become an even stronger presence in Gemma's life. However, things get complicated thanks to her desire to fall in love, and her ambition to become a more mature woman.
GEMMA AND THE BEAR's cast also includes DeBargo Sanyal as Gemma's handsome childhood friend turned co-worker/rival Tom, and Natalie Kim as Gemma's boss Karen, whose outgoing and outspoken personality stands in direct contrast to the reserved, often uptight mannerisms Gemma possesses.
In addition, veteran actor Ray DeMattis (also in THE FANTASTICKS with Free) portrays Gemma's father – and the Bear's longtime drinking buddy, Hank.
Both veteran theatre performers in New York City, Hartsough and Free created GEMMA AND THE BEAR as a way to expand their collaborative partnership beyond the stage.
"We worked together doing theatre here in the city, and we knew we wanted to work together some more, which meant writing together, which was exciting and fun," recalls Hartsough. "I wanted to do something for the web, as opposed to the theatre."
As hilarious as it may seem, though, the biggest inspiration Hartsough and Free had in bringing GEMMA AND THE BEAR to life came from a persistent, yet long-running gag the two shared.
"We had a long, dumb joke for a long time about how we rhyme, because he's Kevin and I'm Eevin, and we're both partners with men named Carl (so it's Eevin and Carl and Kevin and Carl)," says Hartsough.
Further elaborating on the unusual, yet highly effective source of inspiration, Hartsough adds: "We were joking and brainstorming about how we're like the same person, but obviously not. I thought, instead of being naturalistic about that, why not take it to a really literal place, and have us be actually the same person? That was sort of the spark that kicked off the whole thing."
Over the course of the show's first 6 episodes, viewers will get to understand in greater detail the backstory of the friendship between Gemma and The Bear. As Free explains, it's a relationship that's grown from written journal entries into full fledged, face to face encounters in Gemma's adulthood.
"The Bear's always been her protector. We've been explaining where he came from, because Gemma needs someone to take care of her, and to protect her," Free says. "The actual relationship between Gemma and the Bear does develop as an adult. We find that when she was a kid, she didn't really have much of a relationship other than he was a protector."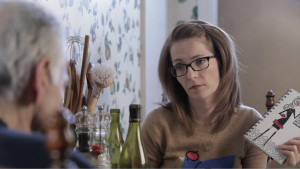 As time goes on, though, Gemma hopes that she can become a self-reliant adult, but her relationship with her once invisible protector is still a huge part of her life.
"They communicated through her journal, but now that she's an adult, she's trying to stand on her own two feet," Free adds. "She has things to say to the Bear, and we find that Gemma and the Bear actually get to communicate with one another as things progress."
After extensive work on the show's scripts, Hartsough and Free set about finding talented actors who would fit the additional roles they wrote best, while reflecting the diversity of the world they lived in.
It was that commitment to diversity that's an important, yet distinctive aspect of GEMMA AND THE BEAR. "Our super-integrated diversity is more unique than I wish it were. A lot of web series still don't reflect that, and I'm very proud that we do," Hartsough adds.
While most web series comedies rely on standalone episodes that could easily be watched interchangeably, GEMMA AND THE BEAR is different thanks to its use of a serialized narrative arc throughout all 6 episodes of its first season. That style of storytelling comes as part of Hartsough and Free's goal to tell a larger story over time.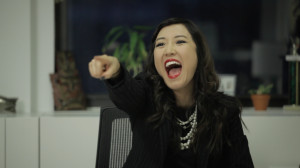 "The first season hangs together a little bit more like a miniseries, and a little less like a string of standalone episodes. We have a bigger story to tell," Hartsough says.
Concurs Free: "We were more interested in doing a short form narrative arc (in GEMMA AND THE BEAR) than we were with just doing 6 standalone episodes. We wanted to tell a complete story."
As a result of the serialized narrative, the production process for each episode of GEMMA AND THE BEAR had to be tailored to the demands of a building character arc. Given the small budget (most of it raised during its successful IndieGoGo campaign), the show's co-creators decided to take a more extensive approach to filming all 6 episodes of its first season.
"We just felt like if we wanted to get it made, our best bet was to shoot the entire episode location by location. A lot of episodes have a format where they shoot one or two episodes at a time. We shot our whole season more like a short film," recalls Hartsough. "We shot one very long weekend in an office. We shot another weekend in a house, and another in a school to get all of the stuff. After we shot all the footage, we began to edit."
Although the IndieGoGo campaign raised just over $10,000 last December, that didn't make the job of getting all 6 episodes in the can any easier for Hartsough and Free. In fact, there were many more responsibilities that they had to take on throughout the production; tasks that would normally be done by others, but in this case, were overseen by the show's creators.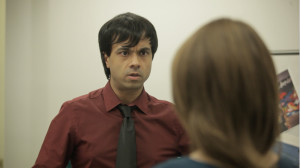 "Obviously, we raised the money, but we were shooting on a shoestring. We were relying on ourselves, our actors and our crew to get themselves to places," says Free.
"In episode 2, we cast a bunch of children, so we went through the process of hiring children and getting them rides to the places where we were shooting."
Despite filming GEMMA AND THE BEAR on a very limited budget, and despite the extra responsibilities that Hartsough and Free were tasked with on-set, both knew how important it was to maintain an efficient, professional atmosphere during production. As it turned out, the two talented actors/writers/producers would meet that challenge impressively.
"In many ways, we tried to run as professional a set as possible. I was doing a show, and one weekend I was only going to be available early in the morning until about noon so that I could get to my matinee," Free remembers. "Eevin was doing craft services for everybody. We did our best. I think that we took care of everybody really well."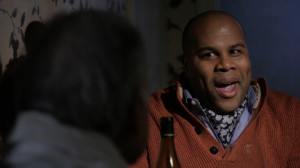 The rest of the show's cast also had words of praise for the working environment and hospitality provided by Hartsough and Free during production.
"I talked to some of the actors, especially giving them rides home at night," Hartsough says. "They said explicitly what a positive atmosphere they felt on the set, and they felt like it made a really big difference on a project like this, on such a small budget, having everybody feel good and getting it done well."
GEMMA AND THE BEAR is a show for anyone who's ever needed an extra helping hand to get through life's biggest challenges – even if they don't realize they've already got help.
With strong audience appeal to young adults, including those in the LGBTQ community, its potent mix of hilarious comedy and great characters that viewers can easily relate to makes GEMMA AND THE BEAR a series for all those just trying to make sense of life itself.
"I've been watching a lot of web series, and enjoying so much of them. Although there is some type of sexual content, there's no sex (on GEMMA AND THE BEAR). It has so much heart," says Free. "We're a show that is about sex and gender, and it has those elements, but we're really just a show about this young woman finding her place in the world, and trying to figure out how to be secure with who she is."
(Note: Hartsough and Free say that the show is not closed-captioned yet, but they will be working on adding that feature to all 6 episodes soon.)
Episode 1 of GEMMA AND THE BEAR can be viewed here:
ON THE WEB: http://www.gemmaandthebear.com/
YOUTUBE: https://www.youtube.com/channel/UC6iTRci9SrSJfHPFKjZf4Zg
FACEBOOK: https://www.facebook.com/GandtheB/
TWITTER: https://twitter.com/GemmaAndTheBear