While the automobile continues to dominate roadways across America and the world at large, more and more people are forgoing the creature comforts and high gas prices that come attached with them in favor of a far more economical – and healthier – alternative: walking. Along with those benefits, there's the extra added perk of experiencing the natural beauty and distinctive landscape of the neighborhoods we call home.
Those aspects are captured each week in the acclaimed, entertaining documentary series CITY WALK. Airing on Los Angeles' KCET every Tuesday night at 10 PM Pacific, with weekly airings on KCET's national satellite platform LinkTV, and streaming via the station's web site, CITY WALK can also be seen as in-flight features on Virgin America flights, with several segments available on CityLab.org.
CITY WALK features profiles of some of the world's most walk-friendly cities (Los Angeles, Boston, Las Vegas, New York, just to name a few), plus interviews with celebrities and other notables who've fully embraced walking itself. Recently, the series was nominated for a Los Angeles Area Emmy Award (in the L.A. Local Color category) for its episode featuring actor Luke Wilson ("Satellite Beach").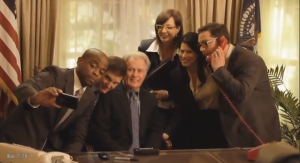 CITY WALK began its journey as a hilarious video for Kaiser Permanente's Every Body Walk! health campaign, featuring the cast of the acclaimed NBC political drama THE WEST WING.
The video humorously touted the tremendous exercise benefits of walking, and became a viral sensation when it premiered on the popular comedy video platform Funny Or Die. As series executive producer Thomas Rigler at Pasadena production company Rigler Creative explains, that was only the beginning.
"In some ways, the Funny or Die video showed us that the subject of walking can not only be informative but also entertaining. Very entertaining. The video went immediately viral, and is still getting hits," he says. "We decided to take one more step and see if other stories about walking could be equally entertaining. This time, instead of a scripted format, we chose the documentary form and the result was CITY WALK."
As Rigler and his production team soon learned, there was much more than just walking going on in the City of Angels and across the country. "Our cities are evolving away from the car and towards more walkable communities. And then quite unexpectedly we heard numerous references from urban planners and developers that Los Angeles was poised to become the walking city of the future," says Rigler.
In fact, Rigler and his crew would find that the walking culture was already a huge part of Los Angeles' fabric. "When we returned to L.A., we documented the exciting change happening in our own backyard. We uncovered a wealth of stories that contradict the cliché 'nobody walks in L.A.' Favorite cases in point are the local car-free extravaganzas CicLAvia and The Big Parade."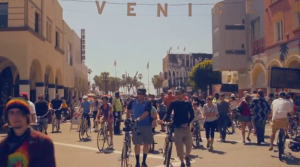 Determined to document this unfolding 'revolution' of sorts in their own hometown, the team at Rigler Creative decided to take their concept for a series that captured the emerging culture, lifestyle and obvious health advantages of walking in an entertaining, colorful format to public TV station KCET.
"We came up with a format that took viewers on a grand tour by foot, with six to eight stories in varying lengths that comprise each half-hour episode. The self-contained segments feature strong music that drives the editing, rhythm, bold graphics and a broad context of urban storytelling," adds co-executive producer Steve Reich. "CITY WALK is bright, colorful, loud and poetic with a stream of consciousness through line that flows through each story without an on-camera host."
Thanks to the distinctive, free flowing style of production found in each episode, KCET executives lead by SVP of Development & Production Juan Devis, were instantly won over by CITY WALK's vivid presentation. "As soon as we showed them a 20-minute pilot, they were immediately on board," Rigler says. "Juan and KCET have been incredible partners on this journey, and we couldn't have gotten this far without their support."
CITY WALK is well designed to adapt to both online and TV viewing thanks to its relatively short vignettes, which can easily be separated from the original half hour shows they first premiered in. Described by Rigler and Reich as a "fresh new take on the magazine format," CITY WALK slowly began to expand its storytelling scope over the course of 2 seasons and 16 episodes (so far).
"In the beginning, our focus was on a variety of cities across the country, but in season two, we decided to take a closer look at Southern California, and also add a few international stories to the mix," he says.
Along with an increased emphasis on SoCal came new enhancements to CITY WALK, including dedicated segments that both inform and entertain viewers.
"We began experimenting with different types of segments to expand the show including CITY WALK: M.D., which focuses on healthy living and the benefits of an active lifestyle, and WALK STARS, which allowed us to feature celebrity guests," adds Rigler. In addition to Wilson, other WALK STARS segments feature Oscar nominated animator Bill Plympton, legendary magicians Penn and Teller, and composer/drummer Stewart Copeland (The Police).
Wilson's short film ("Satellite Beach") was part of an episode that KCET submitted to the Los Angeles Area Emmys, serving both as an outstanding example of the quality production found in CITY WALK, and as a measure of the station's continuing support of the series itself. Most of all, Rigler says, it was CITY WALK's distinctive portrayal of Los Angeles that won over Emmy voters.
"We have to thank KCET and the Television Academy for that. KCET submitted one of our episodes that focused on Los Angeles and the voters thought that the show's unique take on our city was one worthy of an Emmy nomination," he says. "Needless to say, we were thrilled and look forward to our next nomination and win."
Working in tandem with Reich and Devis, plus a team of young and veteran filmmakers, Rigler set out to develop the overall template and agenda for each episode of CITY WALK.
Combined with seeking and researching stories that capture life in all its forms in our metropolitan areas, CITY WALK's extensive production process also involves developing the show's impressive visual look and sound, including original music by some of Los Angeles' up and coming bands.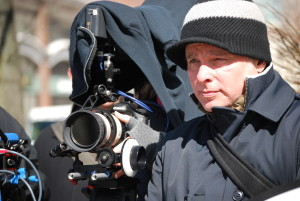 "Directors of Photography Arlene Nelson and Roman Jakobi bring their own signature styles of music documentary filmmaking, high-end commercials and Hong Kong action movies to the mix," Rigler adds.
"Additionally, our talented forward-thinking music supervisor Silvia Ryder regularly connects with local bands who provide an ever-changing soundtrack."
Having wrapped season two, and with its Emmy nomination already secured, Rigler hopes to continue CITY WALK's success by expanding it far beyond the boundaries of Southern California – both in terms of the destinations it explores, and the overall reach of the series' weekly broadcasts.
"Our next step is to expand syndication beyond KCETLink – currently in 60 million homes – to include other PBS stations across the country," he says. "An international distributor is on board to take CITY WALK abroad, most likely to Europe first. We are looking at opportunities in several foreign cities as we map out season 3, which starts production later this year."
For anyone who's looking to make a flawless transition from online to mainstream TV, Rigler offers this advice: "As most web series creators know, content is king, and when the content is solid and true, the transition from web to television will be seamless," Rigler adds. "The only advice we can offer is to stay focused on the purpose of your show and set your sights high. The rest will follow."
Thanks to the station's continuing support, Rigler and his team know that the future of CITY WALK is already secure. Even more so, the experience of producing a show that exhibits the lifestyle and health benefits of walking in an entertaining and compelling way is something that Rigler and the rest of CITY WALK's production unit can truly take pride in. It's a show that's fun, inspiring and informative, while seamlessly combining the resources of TV and the web.
"Because of our incredible working relationship with KCET, we've been able to experiment and improvise and create television that gets better with each episode," says Rigler. "Working on the series has been a real gift for all of us. How many filmmakers get to present their work every week on TV with the trust and support of a network? Even better, what we create is positive content that's designed to entertain and enlighten."
To watch CITY WALK online, visit:
http://www.kcet.org/shows/citywalk/
To see the Funny Or Die video that inspired CITY WALK, watch here:
http://www.funnyordie.com/videos/3dc51a407a/walk-and-talk-the-west-wing-reunion