Every family has, at one point or another, taken part in competitive activities for the sheer fun of it. However, there are some families who take the games they play very seriously – so much so that it's become a way of life.
The hilarious mockumentary comedy BOCCE BALLERS documents the story of the Bianchis, a family whose steadfast devotion to the game of bocce has given them both pride and embarrassment in equal measure.
Now streaming 2 seasons worth of episodes (8 total, 4 for each season) on its official website and YouTube pages, and co-created by series co-stars Amanda D'Aquila and Jill Pinnella Corso, BOCCE BALLERS stars Peter Mele as Sal Bianchi, the brilliant but hot tempered patriarch of the bocce playing family.
Having his legendary career interrupted thanks to a humiliating incident which kicked him out of a prestigious New York league, Sal finds solace in his marriage to Patrizia (played by Carla Nager).
Together, they hope that their two grown sons – hotshot lawyer Julian (Chris Domig) and New York area social worker Michael (Matt Hurley) will keep the Bianchi bocce ball tradition alive.
At the same time, Sal seeks to exact revenge against his old rival, Manfredi (Raffaello Perfetto).
The show's cast also features D'Aquila as Julian's wife Lindsay. Having achieved her own success in corporate communications management, Lindsay isn't yet at the point where she feels ready to have kids with Julian. Given her busy schedule, Lindsay tries to find some room for quality time with her spouse, with the occasional bocce game thrown in for good measure.
Meanwhile, Kristen (played by Corso) is the youngest member of the Bianchi clan, and is also Lindsay's best friend. Having met Michael during Lindsay's wedding to Julian, Kristen eventually married Michael and now carries on a dedicated relationship with him. However, both she and Lindsay find themselves caught in the middle of the elder Bianchis' battle to keep their bocce dynasty afloat, no matter what it takes!
Having developed the concept for their series in a UCB (Upright Citizens' Brigade) improv comedy class, D'Aquila and Corso found that when it came to producing a wacky series about an uber-competitive family's long standing obsession with winning at a game many would otherwise view as recreational, the game itself had to fit the scale of the show's production.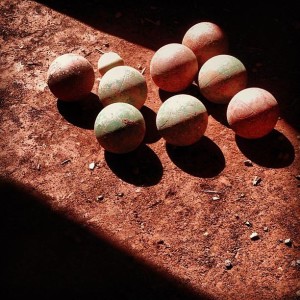 With the fictional Bianchi clan somewhat inspired by D'Aquila's own in-laws, it was bocce that would tie their dysfunctional dynamic together in each episode.
"Bocce was a happy surprise. In an early draft, we had just a scene where the Bianchis were going to play in a charity bowling tournament," they recall.
"Knowing that we couldn't afford a bowling alley location, we switched to bocce, then noticed that the bocce scene was our favorite, and we changed the structure of the show to always be centered around a bocce game."
For D'Aquila, it was the success of a friend and former classmate's web series that would also drive her and Corso to create BOCCE BALLERS.
"Outside of who the show was inspired by (Amanda's in-laws), we were inspired by EASTSIDERS," Corso says. "Amanda went to school with John Halbach, actor and producer on EASTSIDERS, and partner to the creator Kit Williamson. Hearing about how they got through their season one, and how fulfilling it was for them, made Amanda think: I want that. I could do something like that."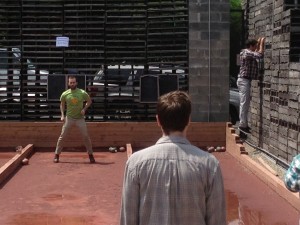 After working on the scripts for BOCCE BALLERS' initial season of 4 episodes, it was time to find the best people who would comprise the show's talented ensemble cast.
Having already signed on to the project, D'Aquila and Corso relied on their own connections and relationships within the acting community to cast the remainder of the wacky Bianchi family.
"Amanda and Jill were in from the beginning, (and) next was Sal, played by Peter Mele. Amanda had known Peter for years. Next, we offered Carla the role of Patrizia. We had seen her in a web series that was shown at the NYTVF in 2012," the show's creators remember. "We held auditions for the roles of Julian and Michael, and felt very lucky to have some great actors come in–and to have Matt and Chris (our first choices) say yes!"
D'Aquila and Corso would find plenty of help and encouragement from BOCCE BALLERS' talented cast and crew as production commenced.
"Neither of us had made a web series before–so we made plenty of mistakes, but I think we also dealt well with a step learning curve. It also helped us delegate and trust our production team. We never felt like we knew better than them," they say. "We had the most wonderful collaborative team, and there was nothing better than being in production. We loved making this show and working with these great people."
Described by D'Aquila and Corso as THE OFFICE meets THE LEAGUE, BOCCE BALLERS has been a real hit with a demographic that's been often overlooked by most web series creators these days.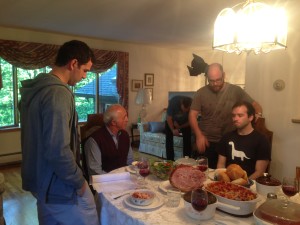 "We feel that what really sets us apart is that our show appeals to an older audience. We weren't really expecting that, but people 40+ love this show–and that doesn't seem to be the case for many web series," the show's creators respond. "There is an inclusive and warm feel to the show. It's okay to not be cool, hip or tech. You'll still get this show."
BOCCE BALLERS demonstrates in outrageously humorous fashion a simple, yet undeniable truth: the family that plays together, stays together, no matter what games they partake in or how passionate they approach them. It's a show that D'Aquila and Corso feel will reach a wide range of viewers, even if they don't play bocce at all.
Yet, the show's creators add, there's much more to BOCCE BALLERS than mere fun and games. "The theme of the show is about family," they say. "You can't choose your family, but as adults, we can make our own family with our partners, and how to have that be a different family than the one we grew up in (basically how not to turn into your own father/mother)."
(Note: The show's creators say that BOCCE BALLERS is not yet closed-captioned.)
ON THE WEB: www.bocceballers.tv
YOUTUBE (playlist): https://www.youtube.com/watch?list=PLvourJvjTgVJ1UWp4SveLgqGwZr9O559T&v=MxqNX4Hs_7w