In a day and age where the cost of college tuition continues to climb, and the level of student debt continues to rise, it's hard enough for students to make the grade and make a living at the same time. As the new crime drama series MAINTAIN shows, some people will go to desperate, and deadly, measures to accomplish both goals.
Produced by Ana Quiroz and Yari Olivo-Camacho of Delaware-based Las Mijas Productions, and with its first season of 10 episodes airing each Tuesday at 2 PM Eastern via its official Youtube channel (see additional links below), MAINTAIN revolves around the hectic life of a young man named Danny Torres (played by Nicholas Pontrelli).
Having grown up as an orphan, and having worked his way into college by taking any job he could, Danny struggles to make sense of his new life as a college student. Along the way, he gains much needed encouragement, assistance, and a part time janitor's position at the school, thanks to Professor Katherine Bishop (Dionne Williford).
In addition, Danny begins a close personal relationship with recently graduated co-worker Summer Lawrence (played by Rosemary Lynne). Having being raised by an absentee mother, and with a father she admired until his death, Summer shares much in common with Danny – not just background wise, but also in terms of personality.
Just as it seems like Danny is beginning to adjust to life on campus, he becomes caught in the middle of a shocking murder when he tries to repay Professor Bishop for her help.
Suddenly, his life, and his newfound bond with Summer, are both put in jeopardy as Danny finds himself trapped in an equally devastating moral conflict that challenges his values, and his desire to achieve his personal dreams.
During their childhood years, Quiroz and Olivo-Camacho learned first hand the importance of creating compelling storylines and characters by watching telenovelas (Spanish language soap operas). Combined with the key elements found in each series, both soon-to-be filmmakers would employ many of those same aspects in their own future projects – including MAINTAIN.
"Yari and I are first generation Latinas, so we grew up with telenovelas playing in the background at all times. Those telenovelas were our introduction into the world of storytelling and filmmaking," remembers Quiroz. "Creating dramatic moments and using music in our narratives to portray emotions was also something that I developed by watching telenovelas," adds Olivo-Camacho.
Another key part of modern day television inspired Quiroz and Olivo-Camacho to create MAINTAIN; one that helped Quiroz gain a greater understanding of the heights and depths of human nature.
"Aside from telenovelas, I draw a lot of inspiration from the true crime documentaries that I used to watch with my dad. He used to make me watch them because he wanted me to learn about both the good and bad in the world, (and) we continue to do that to this day," she recalls.
While Olivo-Camacho and Quiroz worked on lighter comedic fare in the past, they sought to take their skills as filmmakers to the next level through MAINTAIN. As they worked on a class assignment during their senior year in college, the first seeds were planted for what would become their first major web series; one that would serve as their entree into a completely new genre of storytelling.
"Ana and I were discussing MAINTAIN while filming another project. During that time, we were working on filming footage for a promotional campaign of a local community theatre company," Olivo-Camacho says. "It was then when we realized that wanted to explore the suspense and crime drama genres. It was a big leap for us, but we knew we wanted to show people we can create suspense, mystery and dramatic films."
"It all really started from the fact that Yari and I had to do a senior project and it grew from there," adds Quiroz. "We decided to both jot down some ideas and see if we could come up with something."
As it turned out, the concept of MAINTAIN would finally come together in perhaps the most imaginative way possible. "A few days after that I had a dream about a young man leaving a crime scene, and I started writing a story around that."
As their college education continues, Quiroz and Olivo-Camacho seek to provide young student and minority actors and filmmakers greater opportunities to display their talents. It's a goal that they hope to achieve not just through MAINTAIN, but through every project undertaken by Las Mijas Productions.
"Another inspiration (to create MAINTAIN) was to show the world that just because we are still students, (it) doesn't mean that our work is any less than someone who graduated," Olivo-Camacho adds. "We want to show people that there is a lot of potential not only within Las Mijas, but other students and minorities trying to make it within any industry, not just entertainment."
Quiroz and Olivo-Camacho cite a number of legendary filmmakers whose overall style has influenced their own works, including MAINTAIN.
"We are also inspired by some of the best people working in the entertainment industry: Robert Rodriguez, Alejandro González Iñárritu, Guillermo del Toro, Alfonso Cuaron, Quentin Tarantino, Penny Marshall and Shonda Rhimes. They are all innovative storytellers and bring a lot of heart and passion to their projects," Quiroz says.
Their success, plus the continued growth of the Latino film industry, also serves to inspire the producers of MAINTAIN.
However, after reading Rodriguez's own stories of struggle, success and perseverance in the world of low-budget filmmaking, Quiroz and Olivo-Camacho were even more inspired to explore their own creativity through film.
"The growing Latino/Latina filmmaking market is another big inspiration," says Olivo-Camacho. "Ana and I both read Robert Rodriguez's book REBEL WITHOUT A CREW, and it was, by far, one of the most inspiring books I have ever read. It taught me that no matter how much money you have in your pocket. If you want to make a film, just do it."
Tarantino's unmistakable fusion of unforgettable characters, larger than life plotlines, arresting visuals and a memorable soundtrack, also made quite an impression on Olivo-Camacho. It's something that viewers can expect to see throughout each episode of MAINTAIN.
"Watching his movies gave me the feel that the storyline, editing, and music are very important parts in your film," she says. "You will definitely see those influences show in our episodes."
While today's web series landscape is filled with shows that feature outstanding production quality and compelling performances, comedy remains perhaps the most dominant genre of scripted online content.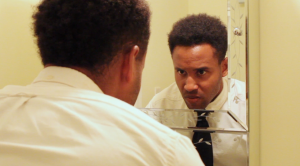 For Quiroz and Olivo-Camacho, the objective of creating and producing a powerful, entertaining drama through short webisodes was crucial to MAINTAIN's success.
"We watched a lot of web series and saw that the majority of them were comedies. MAINTAIN is a crime drama in web series format as opposed to the traditional TV format, so we had to find a way to tell the story and make the mystery within a few minutes," says Quiroz. "So for us, finally going beyond not only our past experiences, but also what most viewers are used to, is what really makes this so unique," adds Olivo-Camacho.
Another important element that helps MAINTAIN stand out is one that, despite the challenges that came with it, proved beneficial to Quiroz, Olivo-Camacho, and their entire cast and crew: location.
Although Delaware is not necessarily known as a hotbed for film and TV production, and that there are relatively few career options as a result, the show's producers made the most of the people and resources that were already available to them as filming approached.
"The community in Delaware is small, so once we reached out to a few people in our networks, the project started coming together," recalls Quiroz. "Like all productions, we had our ups and downs, but with our hard work and a little luck we were able to put something together that we are all extremely proud of."
Collaborating with New York-based associate producer Andrea Higgins (Quiroz's high school friend and fellow classmate), Quiroz and Olivo-Camacho worked side by side to organize and coordinate multiple elements of the show's production.
Despite multiple logistical and schedule challenges they faced throughout the shoot, season 1 of MAINTAIN was finally completed over two months after principal photography began. For all involved, the hard work and long hours paid off tremendously.
"Ana and I both have 9-to-5 jobs, Andrea lives and works in New York, and all of the actors also have jobs and other projects that they too were working on, so MAINTAIN was basically produced in the evenings, after work and weekends," Olivo-Camacho remembers. "We didn't sleep for a while, but it was so worth it!"
The show's producers hope that the skills they learned throughout the long process of transforming MAINTAIN into a full fledged web series will benefit them throughout their careers.
"MAINTAIN expanded our knowledge in every aspect of filmmaking– from filming to editing, from financing to marketing, and from casting to wardrobe," Olivo-Camacho says. "We plan to incorporate all the lessons we have learned from this producing this show to continue to achieve our mission and become better known within the industry."
With a potent mix of memorable characters, drama, suspense and mystery in every episode, MAINTAIN is a series that Quiroz and Olivo-Camacho say will appeal to fans of each genre.
In fact, they add, people who may or may not already be familiar with the over-the-top melodrama of telenovelas will also gravitate toward the series; one that focuses on characters whose lives and decisions are suddenly dictated by the terrifying life and death situations they find themselves in.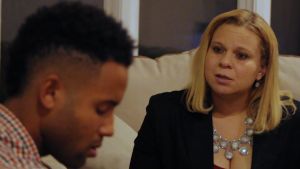 "Our show has an equal audience of men and women who are interested in the overall mystery and the dynamic of the mentor/men-tee relationship between Katherine and Danny," the show's producers explain.
"One of the viewers described it as a 'telenovela with a touch of HOW TO GET AWAY WITH MURDER'. Anyone that loves a good mystery, drama, and has always wanted to watch a telenovela, but has not had the time to learn Spanish, will love seeing the journey of Danny Torres."
Through MAINTAIN, Quiroz and Olivo-Camacho have begun to fulfill the mission objectives they set when they formed Las Mijas Productions: "to tell compelling stories, break down barriers, and to entertain audiences from every walk of life."
While they hope for even greater opportunities for their company's success, and for every project they create regardless of size, Quiroz and Olivo-Camacho have already gotten off to a tremendous start with MAINTAIN.
"We want to continue to gain a solid audience and fan base for our work through MAINTAIN," Olivo-Camacho says. "We have many other films that we would like to show the world, and we would love to dig deep into other genres of film, like action and the martial arts sub-genre. And we also would like the industry to be familiar with our work and Las Mijas."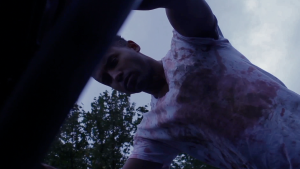 MAINTAIN is a crime drama that shows just how desperate some people can be in their attempts to live an ideal life, and the equally risky measures they will take to achieve personal happiness.
Thanks to its memorable characters, heart pounding suspense and human drama, MAINTAIN has already made a major impact on fans of whodunit thrillers and soaps alike. Most of all, it's especially impacted Quiroz and Olivo-Camacho – both as filmmakers and as people.
"MAINTAIN is a show that shows how far one person is willing to go to get what they want out of life," says Quiroz. "We hope that people would understand that things are not always what they may seem, and after making this production, I personally I wouldn't be taking life advice from either Katherine or Danny since their decision making skills are…questionable."
Adds Olivo-Camacho: "If the right opportunity comes along, some are willing to do anything necessary to sustain a way of life they are comfortable with.  
(Note: Regarding closed-captioning/subtitling of MAINTAIN, the show's creators say: "As of this moment the show is not closed captioned. Although we have not set a time frame for this, it is definitely something we want to do in the future. In addition, we have been gaining a large Latino audience and would also love to facilitate those viewers with Spanish subtitles, along with the English subtitles for the hearing impaired.")
ON THE WEB: www.lasmijasproductions.com
YOUTUBE: www.youtube.com/LasMijasProductions
FACEBOOK: www.facebook.com/MaintainWebSeries
TWITTER: @LasMijasPro