In New York City, one of the world's biggest hubs for the performing arts, it is hard for young thespians to get their first real shot at the big time and to see their names in lights. It's even tougher for actors who've suddenly found themselves on the outside looking in as a result of being cut loose from the roles they've been used to playing, or just finishing the performances they were hired for.
Now, add an already unpredictable friendship, plus hysterically funny meetings with a wide array of characters to the picture, and you've got season 2 of the critically acclaimed, award-winning comedy series METHOD OR MADNESS. The season's five episodes were created by and co-star (as themselves, but enhanced and exaggerated for comic effect) Nikki Gold and Gerard Bianco, Jr., through their production company Rare View Films.
Having premiered in 2013, the series, currently available on its official web site and Youtube pages (see additional links below), follows the hectic lives of Nikki and Gerard, two best friends/out of work actors whose comedic interactions with each other, coupled with equally memorable encounters with various individuals in their everyday lives, form the basis for METHOD OR MADNESS' hilarious brand of comedy.
While Gerard displays a strong tendency to sweat the details on just about everything, Nikki's decisions are driven by emotion – even if the choices she makes aren't necessarily the best ones.
As season 2 unfolds, fans of METHOD OR MADNESS will experience more of the humor and character dynamic they've come to expect between its two protagonists, plus some new and familiar faces which add to the wacky hijinks found in each episode.
Whether it's attempting to babysit a cute, yet incredibly obnoxious child, or playing the speed dating game with people who seemingly have nothing in common with them, or even trying to get through a routine table read that gradually becomes way too personal, Nikki and Gerard do their best to keep their wits about them – no matter how often they drive each other crazy doing it.
"Nikki and Gerard do their best to not complicate their friendship, but they are still co-dependent. Viewers can expect to see a new set of hilarious conflicts for Nikki and Gerard, both professionally and romantically," explains Gold and Bianco. "We introduce a lot of crazy characters, but some characters from season 1 do return, such as Nikki's arch nemesis Ashley (played by Kelly Vrooman, host of the Sprout cable network children's series THE CHICA SHOW)."
What about those crazy new additions to METHOD OR MADNESS? Let's let the show's co-stars/co-creators describe them. "Season 2 features a lot of funny New York City characters, including a pretentious little girl Nikki babysits on the Upper West Side (Vanessa, played by Claudia Coloma), an eccentric Brooklyn playwright Nikki and Gerard work with on a play reading (played by Will Cooper, TV Land's YOUNGER), and an over the top host of an indie New York City Film Festival (Bob Greenberg, HBO's VINYL, Netflix's THE CHARACTERS) where Nikki is screening a film."
Both well accustomed to the demands of being actors, the hectic atmosphere that comes with working in various productions, and the constant waiting for that next big role to come, Gold and Bianco were inspired to create METHOD OR MADNESS based in large part on those experiences, and the colorful characters they often came in contact with – both on-set and off.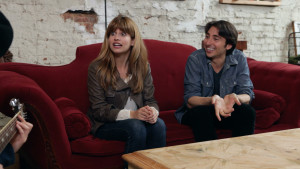 "We worked on many sets together, and found we shared a similar sense of humor. We started to spend a lot of time together all over the city and found comedic inspiration everywhere we turned," Gold and Bianco say.
It was those elements that would come together for Gold and Bianco, as they began taking the concept for METHOD OR MADNESS through various stages of development. "At first we wrote a play together, then talked about doing a short film, and finally we realized the great benefits of having our comedy live through the medium of the web series," they say. "It was really the best way to produce our own work on a budget and have it seen by a larger audience."
METHOD OR MADNESS's first season left quite an impression on viewers, and on the show's co-stars/co-creators, who quickly mapped out a plan for its sophomore season as soon as production wrapped on the show's first 8 episodes. Of course, as they explain, it helped that they also had some story concepts, and some extra cash in the pipeline as filming began for season 2.
"We actually started filming Season 2, before we launched Season 1. We had an insurance policy that was about to expire, and at the same time, came into some funding, so it seemed like it was something we just had to do whether we were ready to or not," recall Gold and Bianco. "Luckily, we always have a lot of episode ideas written down, so fairly quickly we compiled ideas for five episodes and filmed Season 2 over the course of five consecutive days."
In contrast to its first season, METHOD OR MADNESS' overall speed, method and quality of production would ramp up considerably in season 2. "Filming consecutively like that was a big evolution for us from Season 1," Gold and Bianco explain. "Season 1 was filmed over the course of twelve months, shooting a day here and there when we could get a crew together. We really stepped it up on the production side of things for Season 2, and we think it shows."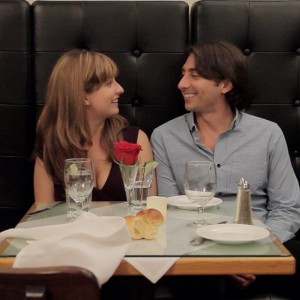 As a result of their hard work, and the lessons they each learned while making METHOD OR MADNESS' first season of shows, Gold and Bianco were committed to amping up its overall visual aesthetic, and of sharing the work load with their behind-the-scenes crew.
"We were very happy with the content of Season 1. For us, Season 2 was mainly about stepping up the production value," they say. "We were a lot more organized in our pre-production for Season 2, and we better delegated duties between our production team."
Even though METHOD OR MADNESS is currently on hiatus, Gold and Bianco are already working on a spin-off of that series. Yet, they hope to continue to build on the success of both seasons of METHOD OR MADNESS, while building an even greater audience base in the process through its comedy. "Our overall hope for this season would be to get more viewers and people interested in the show," they say. "And to spread laughter…lots and lots of laughter!"
(Note: Regarding closed-captioning of METHOD OR MADNESS's second season, Gold and Bianco say: "As of now, some of the episodes are closed-captioned. We are working on making all episodes of season 2 closed-captioned.")
ON THE WEB: http://www.methodormadness.com
YOUTUBE: http://www.youtube.com/user/RareViewFilmsProject
FACEBOOK: https://www.facebook.com/MethodOrMadness/
TWITTER: https://twitter.com/methodormadness