Institutional racism in America's police departments has resulted in a disturbing trend of deadly confrontations between African-Americans and rogue, corrupt cops. Along with the criminal justice system being disproportionately stacked against minorities, the increasing militarization of police departments has also contributed to a climate of distrust and fear among residents of cities and communities throughout this country.
While these problems continue to persist in law enforcement, so does the issue of racism experienced by cops in majority white departments. It's a subject that every episode of the new comedy series DARK JUSTICE tackles head-on in its own unique, memorable style.
The satirical comedy is now streaming its first season of 6 episodes on its official web site, plus through various streaming networks including Stream Now TV, Youtube, Funny or Die, and AfroLand TV (for viewers in the U.K. and South Africa). Links to those sites are available at the end of this article, and funding is currently being sought for season 2 of DARK JUSTICE.
Produced by Rochester filmmakers Mike Gerbino and Travis Cannan, and with a talented cast of actors from Rochester and Buffalo, New York, DARK JUSTICE stars Che Holloway as Amir Johnson, the first, and only, black cop in an otherwise all-white small town police department. Amir's efforts to serve and protect the community are complicated when his dimwitted partner, Officer Stanton (Tim O'Connor) shoots him during what would have been a routine service call.
As a result of the incident, Amir's already difficult attempts to create change within his department, as well as among his fellow officers, become even more complicated as he finds himself the subject of civil rights activist Reverend Charles X. Maxton (Jon Cesar)'s latest campaign for social justice; a campaign that has also attracted the support of a few naïve (and white) young adults.
Combining witty, edgy satire with relevant social commentary, DARK JUSTICE was developed by Gerbino and Cannan in 2014, a year that saw Americans riveted, as well as divided, by the shooting of Michael Brown by a white police officer in Ferguson, Missouri, and the ensuing violent confrontations between city residents, activists and law enforcement; an event that further inflamed existing racial tensions between minorities and whites.
For Gerbino and Cannan, finding a balanced approach between the extremes of DARK JUSTICE's subject matter, and the comedy found in each episode, was always present as they began working on the series. That balance, says Gerbino, is also crucial to DARK JUSTICE's effectiveness, which he feels makes it truly unique from other socially conscious comedies.
"I think the show is surprisingly level-headed for how absurd and seemingly controversial it is. I really don't know of any other shows like it, and I think that's because we've attempted to tackle an extremely complex and nuanced issue in a fictional world, where neither complexity nor nuance can exist," he explains. "It is impossible to watch DARK JUSTICE and get what you were 'expecting'. I don't know what the expectations are upon viewing, but it certainly is nothing like it seems."
As for Holloway, working on DARK JUSTICE provided him not only with the opportunity to display his comedic talents, but also the chance to use those talents to take on an issue that continues to impact society at large: the continuing epidemic of racism in America. "As a young black male who was born and raised in the inner city of Rochester, N.Y., it feels like I'm using what I have to help speak out on such relevant issues," Holloway says.
In fact, Holloway adds, working on a series that combines humor with relevant social perspective has also given him the impetus to take greater chances as he expresses himself through his acting. "DARK JUSTICE has challenged me to be bolder in my choices as an artist. It empowers you and everyone around you, when you take on something daring, and dive in it armored with fearlessness," he says.
Nevertheless, Holloway explains, the way he approaches similar experiences in real life contrasts heavily with the way his character does in DARK JUSTICE. "I feel that I would respond entirely different than Amir Johnson (Holloway's character in DARK JUSTICE) would, in almost all of his racially charged encounters."
While the task of balancing social satire with uproarious comedy was an obvious challenge for Holloway in each episode of DARK JUSTICE, working with a talented and dedicated team of actors and production personnel truly pushed him to bring his A game every time. As it turned out, the entire experience of filming each episode, as well as working on a show that takes a measured approach to its subject matter, proved to be incredibly rewarding for Holloway.
"I found the whole season to be challenging, but only because it was very hard staying in character in most of the scenes, due to how funny the cast and crew was," he says. "I found it slightly challenging, being that we hit close to home with some of the scenarios in DARK JUSTICE, (but) the show makes you laugh and think. It's one of my very favorite qualities about the show."
Although most sitcoms are traditionally structured to be one-off, interchangeable episodes, that wasn't the case with DARK JUSTICE. With each of its episodes following a continuing, serialized storyline, including one that ran longer than most web series comedies (more on that ahead), Gerbino and Cannan had a difficult time trying to build viewers for their series.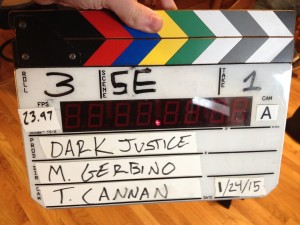 "We're still trying to figure out what a web series is, and who watches it. I think one mistake we made with season 1, though I don't know how we could've known, is that we made the show a slow-burning, serialized story that feels more like traditional television in its pace," explains Gerbino. "That has made it very hard to hit a stride on the internet. Everything is so fast-paced, and the fact that Episode 4 is a six minute episode that doesn't make sense out of context means we can't push episodes individually."
For those who hope to achieve the same results through creating a web series of their own, the co-producer of DARK JUSTICE advises filmmakers to carefully examine the advantages and disadvantages of the episodic approach they hope to take, while thinking about how their series will work in the already competitive landscape of new media.
"I'm not saying a serialized web series can't work (obviously there are many examples of it working), but I suggest considering the format and tone of the show in the context of the world wide web prior to production," says Gerbino. "I don't regret doing Season 1 the way we did it, but I do wish I had considered the medium a bit more."
Although Gerbino and Cannan have already employed a serialized approach to season 1 of DARK JUSTICE, that won't necessarily be the case for its second season. "We're making a plan for Season 2 that is a bit of a departure, and lends itself more to the way people watch content in 2016, which is exciting and actually a huge benefit to us content-wise," says Gerbino.
Despite those difficulties, DARK JUSTICE has already struck a chord with viewers, so much so that it's already found a home on popular comedy video site Funny or Die, and on the growing indie-centric streaming platform Stream Now TV, in addition to the above mentioned networks. For Gerbino, it was that partnership that would ultimately save the series itself.
"Stream Now TV might be the reason the last four episodes even exist," remembers Gerbino. "We shot the first two on a whim, mostly to see if the show felt like it worked and was funny. And, even though we were vindicated by those early episodes, we weren't totally sure it was worth pursuing more."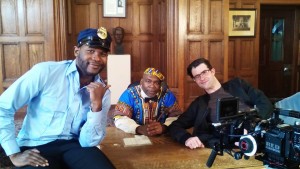 Just when it looked like Gerbino and Cannan seemed bearish on its future, DARK JUSTICE would get a major boost thanks to Stream Now TV's head honcho. "That's when the president of Stream Now TV, Ron Valderrama, found the show on a Reddit page and asked about hosting it on his site," Gerbino says.
From there, DARK JUSTICE would become a major success for the young network, and for the producers who brought it to audiences. It was all made possible by their partnership with Valderrama. "The response from him and his viewers was enough to reassure us that the show was good," recalls Gerbino. "It has been great to work with Ron, and we're so happy to have him in our corner."
The benefits of that partnership are already evident for Gerbino and Cannan. "Obviously, it is wonderful to have someone host the content for a different audience, but Ron also sees the mutual benefits of co-promoting and cross-promoting when both sides really do like the other's product," Gerbino says. "I think Stream Now is just a great service, and it is the more well curated version of our show, and the best way to watch it, so we have no problem telling people to see it there."
Even though the reaction to DARK JUSTICE among viewers has ranged from outright praise to extreme disgust, Gerbino hopes that the series will do more than merely provoke passionate reactions on either side. "DARK JUSTICE isn't really a 'message' show, but nothing pisses me off more than people who denounce their point of view, even though they've created art that clearly has a point of view," says Gerbino. "So, I guess this is what I was trying to say with the show: racism in America is real, and the issue is nuanced and complicated and personal."
In fact, he hopes that its viewers will truly take time to discuss the ramifications of race in America, while taking the opportunity to better understand themselves and their neighbors. "The reason some people laugh at the show, while others write angry hateful things about it is because we're not doing a very good job listening to each other," he adds. "I hope the show starts conversations, even if the conversation is about how much the show sucks. To me, that's progress."
Bringing viewers a powerful, potent mix of cutting edge satire with a pertinent perspective on the epidemic of racism in law enforcement, DARK JUSTICE is also a series that Holloway says will make them think about the real consequences of the issue in an effective, yet highly entertaining way.
"Aside from the entertainment aspect of it all, we are exploring and shining light on the injustices and unfortunately, with everything that has happened in departments around the world through- out history," he says, adding that DARK JUSTICE's distinctive humor also gives it an even more realistic view of today's police climate, and the problems that face people in our 21st century world.
"The show isn't an attack on police departments. With every bit of good, there is a little bit of bad lurking around the corner in your department. Some of the jokes aren't too far from the truth," Holloway adds. "The edge we bring is that we aren't here to stir up a revolution, (but that we're) just poking fun at the realities of the social system present in the world today."
(Note: Regarding closed-captioning of DARK JUSTICE, Gerbino says: "The show is currently not closed-captioned, but this feature should be available on our Youtube channel by the summer.")
ON THE WEB: http://darkjusticeshow.com/
YOUTUBE: https://www.youtube.com/channel/UCTcQjhpLpxkKFYzJZDXIEuw
STREAM NOW TV: http://streamnowtv.com/browse/comedy/dark-justice/
FUNNY OR DIE: http://www.funnyordie.com/darkjustice
AFROLAND TV: http://afrolandtv.com/dark-justice/
FACEBOOK: www.facebook.com/DarkJusticeShow/
TWITTER: https://twitter.com/DarkJusticeShow