Just as our daily lives can be filled with moments of happiness, love and satisfaction, they can also be filled with moments of intense fear and apprehension for those who suffer from severe anxiety and depression. However, as the new comedy web series PAIR OF NORMALS proves, facing those difficulties with humor and bravery can go a long way towards achieving an ideal life – even if you have to deal with a few oddballs every now and then.
Created by Jason Hood, produced by Marzy Hart, Victoria Negri and Stacey Maltin, and now in the final days of its crowd funding campaign for production of its first 10 episodes via Seed and Spark (see link below), PAIR OF NORMALS serves as an extension of vlogs, a short film and vignettes (all available on its official web site, see link below) that introduce viewers to a recently divorced woman named Iris Belvedere (played by Lucy Cottrell).
While she's established herself in the real world as a librarian, and in the virtual world as a psychic on Youtube, Iris' personal and professional life is upended when she's hospitalized for severe anxiety.
While Iris tries to get back on her feet after leaving the hospital, she's dealt another blow soon afterward due to the death of her beloved grandmother. In addition, Iris now faces the task of trying to find an ideal roommate for her to live with in New York City.
She finds one in Betty (Megan Reilly), a vlogger who uses her expertise in ASMR (Autonomous Sensory Meridian Response) to help all who are stressed out achieve an undeniable sense of serenity – including fellow vlogger Ramona (later known as Xööüëë, or Zoe – played by Connie Saltzman). At the same time, Betty's quit college, lacks finances, and is in search of a steady job.
Meanwhile, Iris' ex-husband Christophe (played by Jonathan Rentler) has suddenly reinvented himself as an EDM (electronic dance music) DJ named C-Biz. Having managed to create a bizarre new EDM craze called "horsecore" (sounds of horses mixed with driving dance beats), C-Biz is also known for his equally unusual tendency to wear a horse mask in public.
The short film WHAT WOULD YEEZUS DO? (also streaming on Vimeo, see link below) serves as the unofficial first episode of PAIR OF NORMALS. Before that, Iris' struggles with anxiety, and the awkward moments she experiences in public as a result, are humorously depicted in the 5 episode prequel series IRIS VS. ANXIETY (also on Youtube, see link below). In addition, Reilly stars in a series of ASMR vlogs that appear alongside IRIS VS. ANXIETY on that same Youtube platform. 
As Hood explains, the short film and the 5 Iris-focused vignettes follows in a straight path towards the start of PAIR OF NORMALS. "It's a linear timeline – IRIS VS. ANXIETY, followed by WWYD (episode 0 of PAIR OF NORMALS), followed by episodes 1-10," Hood explains. "The librarian we see in WWYD has already been through a lot! In 'Iris vs. The Phone Call' (part of IRIS VS. ANXIETY), she says she's 'this close to getting fired', and in WWYD, she flat out quits."
A project over 2 years in the making, Hood's memories of his own search for the ideal living space in New York City proved influential as he developed the series.
"I had just been forced out of my apartment by shady new landlords, and an acquaintance who I'd only met twice before offered me an opportunity to share her apartment," remembers Hood.
"We were able to help each other out because she needed money after leaving a decent-paying job, and I badly needed a place to live. It was a transitional period for both of us," he adds.
After developing the characters, stories and comedic situations that would comprise the entirety of PAIR OF NORMALS and its prequel short film/vlogs, Hood began working with Hart, Maltin and Negri to work on the tasks of planning, assembling and refining each phase of the series' production.
"I started writing the series about two years ago and have consistently workshopped the project with the New York film collective, The Filmshop, of which all three producers are also members," Hood says. "I brought on Stacey about a year ago, who immediately began the budgeting and casting processes, which got preproduction really moving. Victoria and Marzy were brought on early this summer as we started preparations for crowdfunding."
As he assembled his talented cast, Hood culled from some of New York City's most renowned comedy hotspots for PAIR OF NORMALS. For him, it was one of the most enjoyable parts of the pre-production process. "I love casting because I get to meet some really amazing actors, and it feels like the possibilities are endless," he says. "The lead actresses Lucy Cottrell (Iris) and Meg Reilly (Betty) I found through contacting New York's improv theaters (UCB, The PIT, Magnet Theater) and sending out calls to their community."
Crucial to the success of PAIR OF NORMALS, and the impact it makes on viewers, is its approach to depicting the struggles of those living with depression, mental illness and anxiety.
Concurrently, its humorous and realistic portrayal of life and friendships in a hectic and unpredictable place like New York City adds another layer to the depth of Hood's series.
"Iris deals with anxiety symptoms such as intrusive thoughts and panic attacks and tries her best to not let her anxiety define her," explains Hood. "She and Betty try really hard to build relationships with the weirdos around them in New York, a place where you have to be strong, but also a little crazy to survive."
Perhaps the greatest goal that Hood hopes to achieve through PAIR OF NORMALS and its surrounding prequel content is for viewers of all backgrounds to understand the problems, and the battles, that their friends and family face when confronted with life's most devastating setbacks. Through the series' characters, Hood believes that those who watch PAIR OF NORMALS will identify with those struggles – and help their loved ones get on the road to recovery.
"I want this series to be a relatable and cathartic experience to people who are going through a lot, whether it's mental health issues, the death of a loved one, unemployment, homelessness, or even creative unfulfillment," Hood says. "I think that mental illness and homelessness are two of the biggest stigmas still around, and seeing characters like these triumph would challenge people's views on them."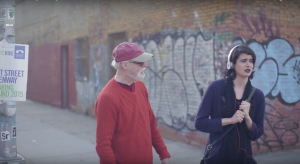 Hood describes how watching the challenges and successes of PAIR OF NORMALS' protagonists can benefit people facing difficulties of their own. "Despite everything that happens to them, Iris and Betty do experience victories in their lives. They're able to accomplish things in Episode 10 that they'd never be able to do in Episode 1," adds Hood.
Thanks to its hilarious comedy, and its multi-layered portrayal of people who do their best to live and deal with the ups and downs of living, PAIR OF NORMALS is a series that does more than just prove that laughter can be the best medicine. For anyone trying to overcome depression, anxiety and life's adversities, laughter – and the love of friends and family – can make all the difference in the world.
"Despite the dark-sounding concept, it's ultimately an uplifting series," says Hood, describing PAIR OF NORMALS. "I think people dealing with things like anxiety, unemployment, and feeling unfulfilled will feel empowered by these characters."
To contribute to PAIR OF NORMALS' Seed and Spark campaign, visit:
https://www.seedandspark.com/fund/pair-of-normals
ON THE WEB: pairofnormalstv.com
YOUTUBE: https://www.youtube.com/channel/UCIRG_L_IS953TVjXUSwCwGw
VIMEO: https://vimeo.com/172358885 (WHAT WOULD YEEZUS DO?)
FACEBOOK: https://www.facebook.com/hashtaghorsecore
TWITTER: https://twitter.com/apairofnormals