Combining hand-crafted puppet characters and sets with decidedly modern technology that spans multiple online platforms and storytelling styles, the innovative fantasy web series THE EYES OF QUEEN LUCIA brings viewers the thrilling tale of a Nutcracker's quest to win back a valued and important part of her brother's body: his eyes, which have been stolen and hoarded by the malevolent title character. In her pursuit, she joins forces with a memorable set of allies to retrieve those eyes, while encountering some equally formidable villains.
Created by Beau Marie of Mariefilms, and distributed by Brian Bernhard's Blight Productions (the company that brought you the clown-centered docuseries A FOOL'S IDEA and A FOOL'S IDEA PRESENTS), THE EYES OF QUEEN LUCIA is a wide ranging multimedia experience for viewers. 15 series episodes (no more than 1 minute each) are now available on Blight's Youtube channel, with additional content on its Instagram and Vine pages. (See additional links below.)
The series premiered on September 24th, and is set to conclude its run on December 29th. When it does, the entirety of THE EYES OF QUEEN LUCIA's episodes, Vine loops and additional content will also be made available on MarieFilms' own Youtube and social media pages.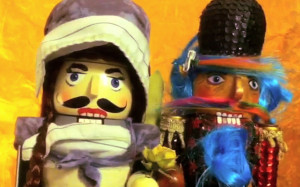 Along with that content, a special board game that pictorially depicts the story told throughout THE EYES OF QUEEN LUCIA is also available for viewers through the series' Instagram page.
Each animated interlocking panel corresponds to the episodes distributed each week, with new and exciting aspects of the show's plot line and characters being revealed gradually. (More on that ahead.)
For Marie, bringing to life THE EYES OF QUEEN LUCIA carries significant meaning – both for him as a filmmaker, and as someone who cites the famous works and legacy of a legendary filmmaker/puppeteer as among his biggest creative inspirations. That, plus how he and Bernhard first began their collaborative partnership, as well as how the show's specially crafted puppet characters and expansive storytelling approach came together, were among the topics Marie discussed recently about his series with Snobby Robot.
What (or who) inspired you to create the series, and how have the works of Jim Henson influenced/inspired you throughout its production?
Beau Marie (creator, THE EYES OF QUEEN LUCIA): Jim Henson was the main influence for the series, and that's why we released it to coincide with his posthumous birthday. His singular ability to infuse personality into inanimate creations, along with modernizing the story lines they conveyed, continues to be a real source of motivation. We can still watch his works, and do, not just for inspiration but for pure entertainment as well. It must be mentioned that his unconventional creations were something we drew from for the series, too.
Rankin Bass' THE HOBBIT, Stanley Kubrick's PATHS OF GLORY, the works of Terry Pratchett, and of course (famed British sketch comedy troupe) Monty Python, were also a few sources of inspiration. I don't think I could name all the sources though. As artists, we like what we like, and subconsciously it goes through our little filters and comes out in what we do.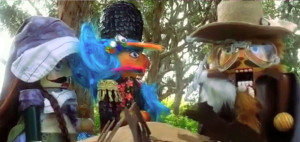 How did you and Brian first meet, and what advantages does working with him provide you and THE EYES OF QUEEN LUCIA as a whole?
BM: In 2002, I was working as a part time kindergarten teacher and looking for someone to film our 10 minute first and second grade production of MACBETH. Over the course of rehearsal, the scope of the little film grew and grew, until it became quite an undertaking. I think I spent about a year or so, making trips to Brian's various apartments in Virginia, re-recording the narrator, re-editing or working on cleaning up the first graders' Shakespeare!
The film went on to win first place at a local festival, and the parents of all the youngsters were very much pleased with the production, which ended up coming off a lot better than our play version. So after that, Brian and I have always been good friends. His motivation, in particular, has been something I greatly admire in him. Don't tell him I said that.
How did the original story of The Nutcracker ("The Nutcracker and The Mouse King") plus (if at all) the ballet version of that story, influence both the characters and storytelling found in THE EYES OF QUEEN LUCIA?
BM: Oddly enough, the characters and story of THE EYES OF QUEEN LUCIA drew very little from Tchaikovsky's Nutcracker Ballet, though it's my favorite ballet and a wonderful bit of fantasy. I'm currently editing a feature film about the nature of obsession and the fantasy of reliving past events which draws from Tchaikovsky's ballet. This series, though it is a world populated by nutcrackers, doesn't have anything else in common with the Nutcracker (capital "N"). I'd say it's more of George R.R. Martin's take on THE WIZARD OF OZ, if I was going to give it the elevator pitch.
Brian pushed me to re-edit the short film version of THE EYES OF QUEEN LUCIA into its current, much more palatable, form. He is much more knowledgeable than we are about social media. I love editing, so I won't say it was all painful to hack up the film. I miss some of the transitions and slower pacing, but I can spend whole afternoons going through video game/movie trailers, so I thoroughly enjoy a frenetic pace and had a lot of fun with that style, as you can see in the Instagram episodes of the series.
Regarding the extra content and additional versions of the series on other platforms (Instagram, Vine, etc.), what (or who) led you to take that approach?
BM: Instagram afforded me the opportunity to create the board game tiling effect for the whole series. Each thumbnail is a piece of the board game puzzle, which represents its unique episode while fitting into the grander artwork when all 48 tiles are assembled together! Inspired by Chris Ware of ACME Novelty Press, of course. Brian pushed me to integrate THE EYES OF QUEEN LUCIA into the different platforms.
How did Brian help you plan and refine the development and creation of that content?
BM: Brian and I went back and forth as I tried to figure out how media works on the different platforms. We were doing that right up until an hour before we launched, I think. Actually, I think I'm still learning new things as the series progresses now.
Besides the series on Youtube, how similar and/or different is the additional content (Vine/Instagram) from the main episodes?
BM: The series differs dramatically on all the different platforms, though its goal is the same on each: to tell a mini narrative. The Youtube episodes play out a lot like those old serials from the 50's where you had a recap, the episode and a cliffhanger at the end. There's a few moments here and there that are just a bit longer in those versions as well, where you linger a bit more on a reaction shot or have a touch more fighting or whatever, but each Youtube episode is still under one minute each, spanning 15 episodes.
The Vine episodes are much more abstract, telling a quick 7 second miniature version of the Youtube episode. Additionally, it has to work as a loop, so sound effects, music and all the visuals have to adhere to that structure to maximize the amount of loops. It's an interesting, (and) even hypnotic, format!
Instagram allowed me to separate the recap, episode, cliffhanger structure of the Youtube episodes into 3 separate "bites" which all get released in tandem with each other for better "digestion". You still lose some nuances and interesting character moments that the Youtube audience gets, but the work becomes something entirely different and exciting too. You get to play with form a lot more like you would in a good trailer. Also, there's the board game I mentioned earlier that the geek in me really wanted to create.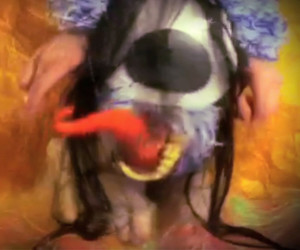 How was the board game version of THE EYES OF QUEEN LUCIA developed?
BM: Brian had mentioned he was playing with a creating a series of thumbnails for his Instagram videos which display as 3 stills from his videos. When uploaded one after the other, (they) look like 3 panels of one picture. The effect is called tiling, and I knew I wanted to do something with THE EYES OF QUEEN LUCIA's release utilizing that.
As it happens, I was working in Osaka, Japan at Universal Studios' Hogwarts as a Wizard and spending a lot of time doing nothing in the greenroom, waiting for my turn to perform again. I had exhausted all the Beauxbatons and Durmstraungs doing their portraits, and even our kind Japanese assistants were bored with their drawings of One Piece, or AmPanMan, or whatever, and I needed a new drawing hobby. So, I planned out this enormous undertaking. and started it. I think I finally finished the last panel one week before I was to hang up my wizard robe.
The board game is designed to work as a basic game that takes you through the nutcracker's adventures. Best of all, like the series, the board game becomes more and more playful with the idea of itself, and delves into existential themes towards the end. When all 48 panels are in place on Blight's Instagram account (and later Mariefilms'), then viewers may both play the board game and watch the entire series, in order or not, seeing how the panel artwork correlates to its respective video or makes an ironic counterpoint to it. It's all meant to be fun, in its own dark and compelling way!
Describe how you constructed the sets, costumes and puppets for each episode. What was that like, and were there any specific challenges you faced during that process?
BMEverything you see in the series was handmade from the Mariefilms team. It might be the best thing about the series, frankly. I love the detail and loving craftsmanship that went into all of it. Each character is unique. Their appearance, like our own, tells a story of who they are, (and) the life they've led. So much so that you don't have to have them go into their backstory much, since they do that job for you, mostly.
The backgrounds and sets were all also handmade. Ingenuity here, I think, pays off. The feedback I've gotten from the episodes so far reflects this. It's what people loved about some of Henson's creations too, I think. That resourcefulness that pushes you to invent. To add to that, no one is getting paid for any of this.
It's all about doing what you love and we love creating. So, yes, it was labor intensive, but there's nothing else we'd want to be doing. The most technically difficult thing was, for me, shooting on an iPhone. I'd never shot a film on one before, so lighting, movement, cropping, and even maintaining focus was a challenge for me.
Aside from the puppetry and set design, what was the rest of the production process like for each episode?
BM: Apart from the puppetry design and general art department genius that went on, the original soundtrack, script work and voiceover sessions were a lot of fun, but hard, work. We love what we do, but we also know when we need to do another take, or when something's funny for the wrong reasons (a Nutcracker's falls during a dramatic moment, etc.). 
I guess you could say that we have a 'vision' of the project. Not to sound pretentious, but I think I just did. I remember once, when someone was so tired due to their survival job, that during filming they'd be asleep with their gloved hand inside a nutcracker. You just have to laugh at that. Too funny.
For any future web series creators who want to maximize their reach through apps and platforms beyond Youtube, plus puppeteers who want to make visual content of their own (including web series), what advice would you give them based on your experiences making THE EYES OF QUEEN LUCIA?
BM: I think the key to reaching more people through social media might be brand awareness. Before social media, it used to be (that) independent works were discovered like jewels no one knew before existed. Dorothy Wallace, from MEET THE LADYBUGS, offered the practical suggestion of Facebook ads, as well, which, I think, demonstrates that brand awareness is tops.
Or, to put it another way, when you go online to, say, Yahoo's homepage now, you have several video ads playing and several still pictures from feeds all displayed on one page. Who do you pick? When you do choose, you're taken to a site that has tailor-made ads all over the place for you. Which one of those rabbit holes do you go down? If you know something, or feel you know something about the content, then you click.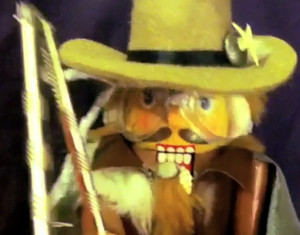 What audiences are you hoping to reach through THE EYES OF QUEEN LUCIA, and what (if any) movies/TV series/web series would you compare this to?
BM: Jacob Graham's CREATURES OF YES is a fantastic series, but I wish more people knew about it. If you're an artist that wants to get seen and has no following, find someone who has a following and collaborate, or build your own. There are books and classes, videos and lectures on how to do that.
Our audience for THE EYES OF QUEEN LUCIA is a very narrow niche, I'd say, which is great. That being said, I think they are, like us, avid content perusers. Content connoisseurs? Anyhow, they look online for days. We're not really shooting for an age demographic, as much as for any person who enjoys an entertaining story.
I'm also trying to reach a group that hasn't really found something like (this series) before. (It's) a small story told in sequential episodes on (different) platforms. If you like Tim Burton, Jim Henson, Edward Gorey, Terry Pratchett, Monty Python, Chris Ware or Neil Gaiman, you've found your series in THE EYES OF QUEEN LUCIA.
What are your overall hopes for the success of your series, and how would you describe its theme? Is there message you want to send to viewers through it?
BM: My hope for the series is that everyone has a good time watching our heroes' adventures! I hope they feel for our characters and care for them in that strange way we can instantly care for puppets and imbue them with feelings, hopes and dreams. It's my wish that the audience enjoys a return to the classic style of storytelling (mixed with modern and formalist indulgences, of course). I hope our audience grows and follows Mariefilms and Blight Productions, and that they are utterly entertained as they do so!
As to the theme and/or message of THE EYES OF QUEEN LUCIA, I think I'll have to cite a favorite filmmaker of mine who says that movies shouldn't have messages. Themes, if there are any, should be varied and complex, like they are in life. That being said though, I'm still ready to whip out my "George R.R. Martin's version of THE WIZARD OF OZ" pitch.
(Note: Regarding closed-captioning/subtitling of THE EYES OF QUEEN LUCIA, Marie says: "Currently the series is not closed-captioned, though if the response continues to be as positive as it is, that could definitely change in the future!")
THE EYES OF QUEEN LUCIA can be experienced through Blight Productions' various online presences:
YOUTUBE: https://www.youtube.com/playlist?list=PLGVaZOkf-AbjSbfu7U6AcyIJm0ESzUzkj
INSTAGRAM: https://www.instagram.com/blightproductions/
VINE: https://www.instagram.com/blightproductions/
The series will also premiere on MarieFilms' Youtube and social media pages after its initial run concludes on December 29th.
YOUTUBE (MarieFilms): https://www.youtube.com/channel/UCoHWFw9oKX47GVPgMp2cpZg
INSTAGRAM: https://www.instagram.com/mariefilms/
FACEBOOK: https://www.facebook.com/MarieFilms/
TWITTER: https://twitter.com/MarieFilms