Having produced such acclaimed web series as FAMILY PROBLEMS, IN THE BEDROOM, LUNGS, WORLD'S WORST DIRECTOR and RED CIRCLES (just to name a few), Seth Chitwood's award-winning production company Angelwood Pictures has developed a strong reputation throughout the digital media industry as a studio known for its commitment to making top quality content.
The latest addition to its prolific output is the horror/suspense series TESTING, created by Chitwood, executive produced by Charlie Alejandro (who also co-stars in TESTING, in addition to serving as EP of THE GIRL IN THE ATTIC), and now streaming its 7 episode first season on its official web site and Vimeo pages. A second season of the series is set to premiere on February 24th.
Set in 1959, TESTING revolves around a team of doctors who oversee a series of clinical trials to determine the potential effectiveness of a yet-to-be approved drug. A group of 8 men participate in the trials, unaware of how powerful the pills they've been given really are. As time goes on, the devastating impact of the mystery drug is felt by all who consume it, and a moral crisis is faced by the medical professionals who've been charged with administering it.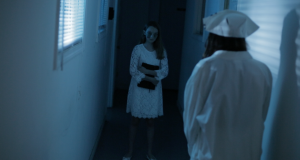 The series' ensemble cast features Casey Grace Murtagh as Head Nurse Jasmine Willow. While she's been put in charge of each aspect of the trials for the secretive Moloch Corporation, her professional responsibilities and loyalties are challenged as her patients gradually succumb to the potentially deadly side effects of the drug they signed up to test.
As she seeks the counsel of her predecessor, experienced yet loyal Moloch employee Nurse Purple (played by Alejandro), Nurse Jasmine is forced to deal with the unsavory practices of her superior, known only as "The Doctor" (Tony Ramos Wright), a man who's determined to achieve results through the trials –  no matter which of Nurse Jasmine's patients gets destroyed along the way.
TESTING is, in many ways, a passion project for Chitwood and his Angelwood team; one that has also proven to be the most elaborate and detailed undertaking ever embarked upon by his production company. The series was born out of Chitwood's desire to revisit the genre that first brought him and his studio to the awareness of the web series world, and of his ambition to create a series set far into the past.
"We've always wanted to do a period-piece as well as a horror/thriller mystery series. It's like returning to my roots since doing RED CIRCLES and THE DREAMER," Chitwood explains. "It's exciting to have come so far as a web series creator, and to be able to return to one of my favorite genres. We also really wanted to do a series that showcases how desperate people do desperate things, and how someone can extort that desperation. Although the piece takes place in the '50s, it really does connect to what is going on presently."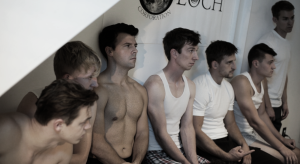 Speaking of connections, TESTING ingeniously uses its storyline to link back to the people and news stories that dominated public consciousness during the 20th century.
To that end, each episode begins with clips assembled from theatrical newsreels and other archival footage, establishing both the period setting of the series, and how some of history's most significant figures and moments are associated with the mysterious corporation depicted in TESTING.
"One of the fun things we get to do is use actual historical events in the '20's-'50's and add our own little spin to it. They all connect to the company who is running the experiments in some kind of way (i.e. the Vietnam war, America's space race with the Soviets, the 1969 moon landing, the Kennedy assassination, etc.)," replies Chitwood, who adds that season 2 will bring viewers portrayals of such luminaries as Walt Disney, John F. Kennedy, Richard Nixon, Cartha D. DeLoach (advisor to former FBI director J. Edgar Hoover), and more.
As production began on TESTING's first 7 episodes, Chitwood took the extraordinary step of keeping his cast in the dark about the show's storyline, and the arcs of his characters. Despite how intimidating that scenario may have seemed for the actors involved in his series, Chitwood says that there was a method to his madness.
"We have been very secretive about the series, only revealing a select amount of episodes to our cast/crew," he remarks. "The cast receives only their character's backstory to help them play the roles; however, we are very quiet about the content. It's one of those series where we don't want anyone to know anything."
During TESTING's writing process, Chitwood worked with his production team to determine just where and how the characters and plot lines found in each season would begin and end.
"When we met to originally start writing this series, we had our 'end games' for several chapters (or the season finales)," he says. "We then decided how many episodes it would take to get to that significant moment for the plot. It's been a very fun piece!"
TESTING serves as both a compelling, gut-wrenching exercise in terror, and as an examination into how people caught in highly perilous situations can often make equally risky decisions. Combined with its unique references to nostalgia, and its unforgettable characters, TESTING is perhaps the rare example of a horror series that has something for everyone.
"The series can easily be compared to AMERICAN HORROR STORY vs. FRINGE vs. LOST. It has that kind of feel to it. I think fans of those kind of shows would really find this interesting," says Chitwood. "I think it appeals to all ages. We have found that people who know the 50's and 60's have an appreciation for the series. The 50's (were) fun, and the content has a huge following."
With season 1 of TESTING headed towards a heart-pounding climax, Chitwood, his cast and crew are already upping the creative ante for production of its second season. However, his most important goal is to keep viewers coming back for more. "We really get to have some fun (in season 2). I think every episode ends with some pretty shocking moments," Chitwood says. "We have so many directions we can go with the series. We have so many interesting stories lined up. Right now, we just want to get this series out there and get people to watch."
Frights aside, there's a much deeper meaning and purpose behind TESTING. "As the series progresses, it really focuses on these five nurses. You really get to see strong women take control and demand change. It's a story about finding your voice, and never backing down," adds Chitwood. "I think America is heading in a direction that if we don't stand up for what we believe, and fight for the rights of others, we could really be heading in a dark direction. That's a major theme for TESTING. However, we also want to intrigue, or confuse, the hell out of you."
(Note: The series is not currently closed-captioned or subtitled.)
ON THE WEB: http://www.angelwoodpictures.com/