The joy of being in love is all too often outweighed by the heartbreaking agony of a breakup. That agony is later followed by the inevitable and equally tough road to recovery, which sometimes leads to the birth of a new and lasting union with that new "special someone". That is, if that old "special someone" doesn't stand in the way of that progress.
For those who've found themselves caught between both extremes, the hilarious comedy series THE VALUE OF EX provides a fascinating window into how some people manage to keep their pasts present while they try to work towards a beautiful future. Created by Bridgett Michele Lawrence, the award-winning series' second season (8 episodes total) will premiere later this Spring on its official Youtube page (see additional links below). Its first season can be seen on that channel, as well as on the new African-American centered subscription video service KweliTV.
THE VALUE OF EX's first season launched in 2014 with its acclaimed pilot episode; one that earned Lawrence's script the honor of first place at the 2009 Organization of Black Screenwriters (OBS)' Original Script Competition.
The series follows four college friends in search of their own new beginnings: Brynne (played by Donnabella Mortel in season 1, Amaris Davidson in season 2), Angela (Constance Reese in season 1, Sebrina Percell in season 2), Jessica (Julienne Irons), and Tyler (Tamara Goodwin).
On an absolute whim, the soon-to-be newlywed Brynne decides to invite her ex-fiance Christopher (Roger Payano) to serve as her groomsman when she officially ties the knot with her new catch/fellow teacher Michael (played by Welton Thomas Pitchford). Unbelievably, Christopher got cold feet prior to the exact moment he and Brynne were supposed to get married!
As for Angela, a psychiatrist who's dedicated to helping couples work out their issues, she finds herself unexpectedly "re-united" with her ex-husband/new patient Nathaniel (David Spates). Speaking of reunions, the recently evicted Jessica is soon forced to assume the same living quarters with Antonio (Michael "MicQuick" Davis), a big time athlete whose amorous ways ended up splitting them apart. Tyler's long hoped-for ascension to the top of corporate leadership is thwarted by her equally ambitious boss/former love interest Terry (played by Jason Moore).
Season 2 of THE VALUE OF EX continues to explore the give and take between those characters, while welcoming some interesting new faces to the story, whom Lawrence describes: "Winter, played by Crystal Lee Brown (from the Oscar-nominated HIDDEN FIGURES), shakes things up at Tyler and Terry's office. Nathaniel's cousin Juliet, played by Tabitha Brown, delivers some unexpected news to Nathaniel. Kenny Cooper joins the cast as Kevin, the new love interest of one of the ladies (you'll have to watch season 2 to find out who)."
Having herself overcome the painful aftermath of a failed romance, Lawrence developed THE VALUE OF EX as a series that explores the hardships and rewards of moving on from broken relationships. "The show was inspired (by) a real life break up that I went through," Lawrence recalls. "After the break up, the person remained a major part of my life, which caused me a lot of emotional turmoil that lasted for the next seven years. Although the show is not autobiographical, there are pieces of myself and people I know in each of the ladies."
A devotee of hit sitcoms like LIVING SINGLE, SEX AND THE CITY and GIRLFRIENDS, plus similarly structured web content like ROOMIE LOVER FRIENDS and AN AFRICAN CITY, Lawrence feels that THE VALUE OF EX's unique narrative approach to the multiple relationships it explores over its entire run will satisfy and entertain audiences.
"What sets my show apart, especially from the other web shows is that THE VALUE OF EX has such a large ensemble cast," she responds. "Rather than following one or two storylines, the show follows four couples, each with four distinct storylines that are well developed throughout the season. I try to make sure each storyline gets its due with a proper resolution. That's a major challenge by itself."
New characters aren't the only changes that THE VALUE OF EX's viewers will experience as its second season launches. "The episodes are much longer for season 2, the cast is bigger, we have more locations, and there are scenes that include the entire main cast. The story lines are much more intertwined," adds Lawrence, who discusses how the show's production approach was impacted by a variety of difficulties.
"For season 2, we needed to get a lot done in a short amount of time due to scheduling conflicts, so that was a challenge that we had to work and grow through," Lawrence remembers. "Conversely, production on season one was a bit more relaxed and spaced out. We shot some of it in May and June then came back and shot some more in October. For season 2, we started production at the end of June and needed to be done by the end of August. Plus, we only shoot on the weekends, so there was the extra challenge of that as well."
Love can be cruel, but it can also be funny, as proven by THE VALUE OF EX. While its characters and storylines will win over anyone who's both loved, lost, and laughed, the series shows how important it is for people to grow from the emotional toll that breakups can take on them – and how the first steps toward a new journey depend on who you choose to take them with.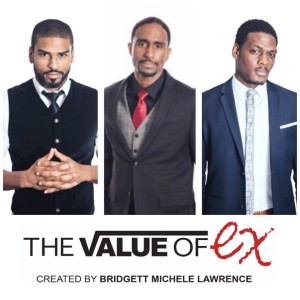 "THE VALUE OF EX is about determining the value of the people and relationships we allow in our lives," Lawrence says. "One major theme (of the series) is about recognizing the lessons learned from a relationship or a breakup. The women in the show have to determine whether or not these men add any value to their lives and whether or not these relationships are worth salvaging."
While it's ultimately up to viewers to decide if they want their old flames to flicker on in non-romantic ways, Lawrence encourages fans of THE VALUE OF EX to consider how useful they really are in their lives.
"There can still be value found in the experience even if the relationship is not salvageable," she says. "Obviously the show is about romantic relationships, but the principle can be applied in all areas of life. Only allow people in your life that add value to your life and who value you. If they don't, appreciate and accept the lessons learned, and move on."
NOTE: Regarding closed-captioning/subtitling of THE VALUE OF EX, Lawrence says: "Currently, the show isn't closed-captioned or subtitled, but that is something we plan to look into in the future."
YOUTUBE: https://www.youtube.com/channel/UCFpHpFl7-Wm9MzBPDUMVe9A
FACEBOOK: https://www.facebook.com/TheValueofEx/
TWITTER: https://twitter.com/thevalueofex
INSTAGRAM: https://www.instagram.com/thevalueofex/