In Hollywood, having a famous name practically guarantees prestige and privilege – except when you're a struggling actor who happens to share the same name with one of showbiz's most renowned stars. Having to deal with constant typecasting, as well as the entertainment industry's inherent inequality, doesn't make life in La La Land any easier.
Despite the complexities of that situation, a young biracial talent named Will Smith (no, not THAT Will Smith) is determined to follow in the Oscar-nominated actor/rapper's footsteps in the acclaimed comedy MY SO-CALLED CO-STAR LIFE.
Created by and starring Andre Boyer as Will, the show's first season of 7 episodes can be seen on its primary web site and Facebook pages (see links below). A full-length music video version of the show's Indie Series Award-nominated opening credits theme song, written and performed by Boyer, is also available on both platforms. (More on that later).
Memorably paying tribute to '90s sitcoms like THE FRESH PRINCE OF BEL-AIR and others, MY SO-CALLED CO-STAR LIFE follows Will's quest to become as big of a Hollywood superstar as his namesake. However, Will finds out that just having a famous name isn't enough to get by in the wild world of entertainment.
Professionally, Will deals with tone deaf casting directors, typecasting, and an incredibly inept agent (played by Bob Sherer).
As for his personal life, Will tries to win the affection of his would-be catch Danielle (Drucilla Perez), while being consistently embarrassed by his sex-crazed best buddy Jeff (Kyle Loftin).
Born in Japan, and having spent much of his childhood there, Boyer witnessed the differences between life in America and life in the Far East. Those memories were but one inspiration for MY SO-CALLED CO-STAR LIFE. "I came from an outside world (Japan) and Western culture was somewhat still new to me," he says. "Although I lived on a military base, we were still closed off from the U.S. in many different ways culturally. Some things you have to experience with your own eyes."
While living in The Land Of The Rising Sun may have opened Boyer's eyes to Japan's customs and traditions, a uniquely American part of life inspired Boyer's career path, and the development of MY SO-CALLED CO-STAR LIFE. "I've watched sitcoms since I can remember, and TGIF (the popular '90s-era ABC Friday night sitcom block) was the highlight of my week," Boyer adds. "I even smile now, thinking about it."
However, it was one classic '90s sitcom, and its dynamic leading man, that propelled Boyer to pursue his Hollywood dreams. "I always looked forward to watching THE FRESH PRINCE OF BEL-AIR. Will was an idol, and still is to this day," explains Boyer. "He had this charming, clever aura about him. After watching him in films and interviews, I knew that he was the real deal. Why not model myself and my career after someone like that?
Most of all, Boyer's admiration for Smith and his accomplishments is the biggest reason he put MY SO-CALLED CO-STAR LIFE together. "This show is definitely an homage to him. I hope he sees it and laughs himself. Will was a huge reason I wanted to be an actor in the first place. Living in L.A. was my dream come true."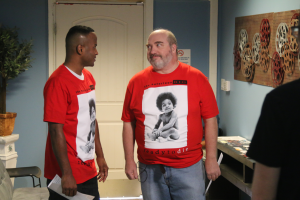 Although Boyer admits that MY SO-CALLED CO-STAR LIFE has much in common with the real Will Smith's sitcom breakthrough, he says that fans of such shows are sure to enjoy his creation. "I feel that anyone who grew up in the 90's could easily watch MY SO-CALLED CO-STAR LIFE and vibe with it," Boyer adds.
While MY SO-CALLED CO-STAR LIFE is sure to bring back memories of sitcoms past and present, it also spotlights the continuing challenges that biracial actors face in Hollywood. "I wanted MY SO-CALLED CO-STAR LIFE to not only show my comedic talents, but to give a voice that I felt needed to be heard," Boyer replies. "Yes, most ethnic actors all face a type of discrimination when it comes to the industry, like not being an 'enough' of a certain race."
With appearances on such hit series as VERONICA MARS, DEVIOUS MAIDS, EVERYBODY HATES CHRIS and GENERAL HOSPITAL on his resume, Boyer sought to expand his creative horizons as he started his first major filmmaking effort: the showbiz mockumentary short film turned web series VENICE BOULEVARD. It was on that set where Boyer found out what was required of him when it came to transitioning to the other side of the lens.
"Going into VENICE BOULEVARD, my acting experience at the time was somewhat decent. I already had some great TV credits under my belt. I decided that I didn't want to be just an actor. I want to be able to have the know-how to do everything," Boyer recalls. "I decided to make a short, which got some attention by IFC and some other companies at the time. My producing partner (and veteran actor) CJ Johnson decided to make it into a series."
Once VENICE BOULEVARD's episodic incarnation began production, Boyer and Johnson found themselves facing a steep learning curve. "Coming from an acting background, I am used to just showing up," explains Boyer. "Since CJ and I were the producers, we had to plan everything out. The script was very loose and fun, but finding out how to promote the show to our advantage was the hard part. There was barely any YouTube and Twitter at the time."
In the years since VENICE BOULEVARD's production, Boyer's body of work and industry connections have also grown, as well as his understanding of the power of social media in growing audiences for web series. Taking both elements into account, the talented actor/filmmaker was primed to make MY SO-CALLED CO-STAR LIFE a successful enterprise.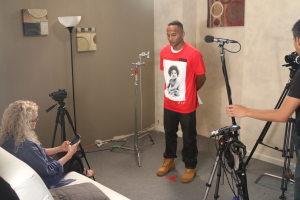 "Using social media to its advantage was the biggest lesson I learned while making VENICE BOULEVARD," Boyer adds. "I was able to be more prepared by the time I was making MY SO-CALLED CO-STAR LIFE. Not only were my TV credits even better, but my professional network and social influence grew by the time I was ready to make it!"
Boyer's preparation for writing, producing, acting in and directing MY SO-CALLED CO-STAR LIFE was thorough. "I gave myself a lot of time to compartmentalize each department. After I finished writing the show, I started casting. After casting, I looked for sets, D.P.'s (directors of photography), sound, etc. My A.D. (assistant director) did a phenomenal job helping with the whole process."
Guided by his experience making VENICE BOULEVARD, Boyer made sure his latest series would have all the aesthetic trappings of a typical sitcom. "I wanted it to look like a TV show, and not a web series with bad lighting and sound. So, I shot it on a sound stage. It was a little more expensive, but it was worth every penny."
When casting MY SO-CALLED CO-STAR LIFE, Boyer also strived to provide equal opportunities for actors of all backgrounds. "There are tons of actors out there, and I definitely wanted the cast to be as diverse as possible. I knew what I was looking for when I saw it," Boyer replies, adding that the collective talents of his series' cast and crew went a long way towards boosting his directorial efforts.
"As an actor, it was easy to direct for me. I gave the actors a lot of space to play, and when something didn't work, we tried something different," responds Boyer. "The cast contributed so much time, effort and energy to the show, and they helped me make it the best thing I could. They were amazing. The crew did the same, as well."
Boyer's love of THE FRESH PRINCE OF BEL-AIR carried over to MY SO-CALLED CO-STAR LIFE in another significant way. "Like Will Smith, I love music. I wanted a 90's-type theme song, like they have in all TV shows. So, I had to make one up. That was the fun part," he says. "The hard part was finding original music for it. I did it backwards. I wrote the song first, then I found a beat. The character's journey was exactly like mine, and I wanted the audience to understand where I was coming from before they even watch the first episode."
Boyer's original rap for MY SO-CALLED CO-STAR LIFE also got the attention of the Indie Series Awards, which recently nominated his theme for Best Original Song. That attention grew when Boyer performed the track live at this past April's ceremony in Los Angeles. As he looks to make MY SO-CALLED CO-STAR LIFE even better for its second season, Boyer remembers how he, his show and its memorable theme song, reached new audiences at the ISA's.
"I feel it was a big honor to be even nominated for something that had nothing to do with film festivals. It was just an awards show. It was amazing," he remarks. "I feel people were more curious about who I was after I got there, and after I got to meet everyone. Everyone was so loving and kind and open, so it made it very easy to be around them."
Hollywood is always intimidating to newcomers, even if your name happens to be Will Smith. Yet, MY SO-CALLED CO-STAR LIFE humorously proves that the road to becoming the next Will Smith can easily be navigated if you believe in yourself and your own abilities – no matter who you are, where you're from, or what your name is. "You just have to keep investing in you," says Boyer. "Don't ever give up."
(NOTE: Regarding closed-captioning/subtitling of MY SO-CALLED CO-STAR LIFE, Boyer says: "The show is not closed captioned or subtitled. I don't plan on it being that way in the future.")
ON THE WEB: http://www.mycostarlife.com/
FACEBOOK: https://www.facebook.com/mycostarlife/