In the '90s, British TV personality Dave Benson Phillips helped kids to serve up gooey revenge on parents and adult authority figures on the popular game show GET YOUR OWN BACK. After that series left the air, though, Phillips ended up back in the public eye – but as the far too frequent target of fame's cruel side.
False media reports of his death were followed by "slow news day" type stories about Benson's life. Hoaxes have become more of an epidemic in the digital age, with celebrities and common folk being victimized by much of the same disgusting tactics of tech-savvy scammers. That said, vloggers like Jake Paul, PewDiePie and others have perpetrated elaborate falsehoods of their own.
Given their prominence, one might think that a heavy dose of image rehab could help them. As it turns out, image rehab is what Benson attempts to provide to a disgraced Youtuber (Ryan a.k.a, #RyanoMarten, played by James Podmore) in the new mockumentary web series comedy GETTING BACK WITH DAVE BENSON PHILLIPS.
Created by Andrew River (who also plays Dave and Ryan's inept assistant Darren), the show's five episode first season can be seen on its main web site and YouTube channel (see links below). Additional content appears each week, including its behind-the-scenes prequel IN PRODUCTION, and wacky outtakes from each episode. In a remarkable accomplishment, GETTING BACK won the Best Mockumentary Series award at the inaugural Minnesota Web Fest in September 2017.
GETTING BACK takes a deep yet hilarious dive into the world of vlogging, the massive armies of crazed fans who live vicariously through such vloggers on social media, and the disturbing impact of Internet hoaxes upon innocent people.
From his uniquely comic perspective, River examined each of those subjects over the course of the series. "I was interested in the rise of social media personalities, and more specifically, the power of their followings," he explains.
Before GETTING BACK went into production, River created the show's fame-hungry vlogger for a project that itself spotlighted the problems of online notoriety. "I originally wrote the Ryan vlogger as a supporting character in an online mystery script idea that developed into a comedy/drama fringe stage play, 'Follow/Unfollow', that saw him overshadowed by a girl who criticized his pursuit of fame and lack of integrity, unwittingly made famous herself," River adds.
The idea of featuring one of British TV's most well-remembered kidvid presenters playing himself in a fictionalized comedic parody came as River got the word out on FOLLOW/UNFOLLOW. "In promoting the stage play, we did one of Dave's live game shows and had Ryan (Podmore) appear in character with the conceit that he was really this arrogant social media influencer," says River.

That "appearance" was followed by a memorable first meeting between Podmore and Phillips. "We filmed a cheap and cheerful interview afterwards between Dave and 'Ryan' and I later thought it would be interesting to take the Ryan character into a completely different setting," River recalls, explaining that their interaction helps to unite gen-X'ers and millennials who watch GETTING BACK.
"I felt that having the real-life character of Dave balanced by the fictional Ryan provided different ways into a new comedy show for different audiences. U.K. millennials who grew up watching Dave would have a nostalgic avenue in, and then anyone else familiar with the world of social media and particularly vlogging could have a way in through the Ryan angle."
The bizarre stories that Phillips unwittingly found himself caught up in are hilariously parodied in GETTING BACK, but it's all in good fun. "For example, articles have noted that Dave has several businesses and we've turned it into a positive aspect of the series with running joke about all the courses and companies he runs," says River, who stresses that Phillips' willingness to parody himself made his work on the series even more effective. 
"Another time, his son's balloon popped loudly in a store which was exaggeratedly reported in the press as Dave causing a terror scare so we've been able to incorporate those elements – seeing Dave run through the streets with a burst balloon. Dave's lovely performance in the show allowed us to push the weirdness of his fictional alter-ego, becoming less grounded in logic by Episode 5 which helped me pushed the silliness of the storylines."
Though not based on any one vlogger, Podmore's character has much of the same qualities you'd expect to find in today's social media influencers. Unlike them, explains River, "#RyanoMarten" doesn't really work that hard to establish a strong audience. "Rather than representing a particular YouTuber, Ryan really represents someone who expects fame or rather success without deserving it or putting in the effort. He could equally be a reality star – he's someone who hasn't earned notoriety for a skill and believes he can rely on a good haircut to get a following."
Underneath his uber-confident bravado, Ryan is ultimately someone who struggles to deal with the inevitable problems caused by overwhelming personal pride. Those struggles come to a head in GETTING BACK's season finale. Though all won't easily be resolved for him, Dave or any of the series' protagonists, there's still a chance for each of them to get closer to redemption.
"As we reach episode 5, what was really lovely to do was to show a glimmer of a human side to Ryan beneath the mask of arrogance," says River, "and I hope people enjoy that episode. As the series is a comedy, the characters are trapped by their own flaws so Ryan can never really make it back to his previous level of success and be properly 'rehabilitated', although we give him a chance to show a glimmer of hope at the end."
Like moths to an engulfing flame, devotees of traditional and new media celebrities always stay connected to their idols' doings on many social media sites. In GETTING BACK, River looks at how the power of celebrity is naturally matched by the power of fandom, and how the Internet has helped to shatter the boundaries between both forces.
"We have LouLou (played by Jill McAusland), a young Ryan fan, and Splish (Ewen MacIntosh, from the original U.K. version of the workplace comedy THE OFFICE), an older Dave fan, both with unrequited desires that each propel stories. Both of these elements are inspired by real-life social media in looking at trends and the various groups of people following particular real celebrities," responds River. "The central characters of Dave and Ryan are joined by Darren (who I play) to link the core 'family', and (he) shares a sort of unrequited friendship with both of them."
Social media itself uniquely compliments GETTING BACK, adding an extra layer of comedy inside and outside the series' linear episodes. "We have also incorporated a lot of Dave's previous tweets into the narrative of the show. There was an online gaffe that makes it into episode 2 that fitted perfectly, and showed Dave had a sense of humor about it," remembers River.
As you might expect from a comedy that features a fictional internet vlogger, said vlogger has his own wacky social media 'account'. "Ryan, the vlogger, is on Twitter as @ryanomarten and is tweeting occasionally," River replies. "For example, (he's) dissing the show because his name isn't in the title."
On a more realistic level, River takes a concise yet effective visual approach to promoting GETTING BACK via another popular social media outlet.
"I've been doing some Instagram stories to tell people when a new episode is out as they swipe through videos," he says. "It's a fun challenge in a 15 second format to tell people about the series in character, and it's nice that it's time limited, so it's a real bonus thing for people to discover."
In order to set up GETTING BACK's storyline, River created the series' five episode short form prequel IN PRODUCTION. It too features wacky characters participating in a supposedly 'serious' film project. "In developing the show, it was fun to fully embrace the elements of a documentary – we see Mary Barry (played by Gillian Hardie), the fictional documentary maker in the IN PRODUCTION series, motivated by her desire to win an award for making the best documentary about Dave Benson Phillips there's ever been," River remarks.
Another typical mockumentary element is front and center in GETTING BACK: the one-on-one interview. "We also have talking head characters in the main series, such as Ana Torre's 'Mrs. Benson Phillips' character in Episode 3, which adds another level to the show as they are being shown footage to provide commentary," notes River. From there, art imitates life…or is it the other way around? "We become very self-aware as the series moves along that the documentary crew are manipulating the narrative, which allows us to make it sillier." 
With both GETTING BACK and IN PRODUCTION being River's first big filmmaking projects, and with both series produced simultaneously, River relied on a quality group of on and off-camera talent to guide him through the inevitable rough patches that can consume such a large-sized project. In the end, their talents helped to ensure the success of season 1's production.
"The filming of both the main series and IN PRODUCTION was some of the most fun I've ever had, and I think the key to that is building a team of the right people," remembers River. "It wasn't easy to get the cast and crew (since they were) spread geographically across the U.K., but if you can get the right people who also care about the filming process, I do believe it shows on screen."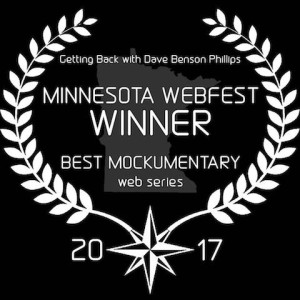 Both GETTING BACK, and its prequel IN PRODUCTION, will certainly conjure up obvious comparisons to classics in the mockumentary genre (the original and American versions of Ricky Gervais' THE OFFICE, THIS IS SPINAL TAP, etc). However, since GETTING BACK seamlessly blurs the lines between reel life and real life, River believes that his series is unique from its predecessors.
"It's fair to say there's a lot of mockumentaries out there – and so there should be. It allows people to make stuff and be creative on a tiny budget," River says. "I think what's unique about this show is the blend of fact and fiction, and that the audience does not particularly need to know which is which."  
While GETTING BACK'S references to British culture and media may fly over the heads of viewers from other parts of the world, River feels that GETTING BACK's good natured brand of comedy will bridge the generation gap among audiences while going beyond their geographical boundaries.
"If you like spoof documentaries, I do hope you would enjoy this series. This series is not cruel or mocking of real people but celebrating British eccentricity and silliness – something I hope appeals in other parts of the world," he says. "There's a weirdness and a darkness in parts (to GETTING BACK), but overall, there's heart to it and by the end of episode 5 – a sense of hope for the characters."
(NOTE: Regarding closed-captioning/subtitling of GETTING BACK, River says: "I've captioned the IN PRODUCTION miniseries, and each episode of the main series is captioned in English on release. Additionally, episode 1 is captioned in Spanish.")
ON THE WEB: https://www.gettingbackdbp.com/
YOUTUBE: https://www.youtube.com/c/GettingBackDBP
FACEBOOK: https://www.facebook.com/GettingBackDBP/
TWITTER: https://twitter.com/gettingbackDBP
INSTAGRAM: https://www.instagram.com/GettingBackDBP/