Already a comprehensive aggregator of diverse web series content, Stareable has expanded its service to current and aspiring filmmakers by introducing interactive community message boards and informative tutorials on webisode production.
Its latest, and most ambitious endeavor, merges each of those elements with the immeasurable value of face-to-face networking: the inaugural Stareable Fest, taking place from July 20th-22nd at Town Stages in Tribeca, New York City. With 3 days of screenings, classes, panels and networking sessions currently in the planning, Stareable Fest is actively taking show submissions through its FilmFreeway page (link below).
Entries are being accepted for seven different series categories: long-form comedy and drama (10 minutes max), short-form comedy and drama (no more than 5 minutes), documentary, unscripted/reality, and animation. Entries for best 90 second series pitch are also up for submission, and all series are eligible to compete for awards in various genre fields.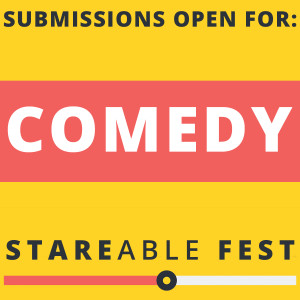 The festival's early bird deadline is February 28th. All submissions can be entered no later than April 30th, with submission dates determined by show length and date of entry.
Complete details on rules, plus an entry form to submit your series, are also available on Stareable Fest's FilmFreeway site.
More information on the festival itself can be found on its dedicated Stareable page (also linked below). Details on how site users can win free tickets to the fest are available here.
Like Stareable itself, and like the growing number of digital content it hosts, no great idea starts without talented people who work tirelessly to bring it to life. When it came to creating Stareable Fest, those people include Stareable CEO Ajay Kishore, plus community director Bri Castellini (actor/writer/creator, BRAINS, SAM AND PAT ARE DEPRESSED).
Equally influential in Stareable Fest's birth are the hundreds of filmmakers and actors who use Stareable's forums to learn from, and connect with, their peers. While the network previously held several small scale get-togethers and show screenings, Stareable Fest goes far beyond the limited scope of those past events by programming an expansive weekend of events and meetups. Kishore and Castellini describe how Stareable Fest will bring those elements together.
What (and/or who) inspired you to create and develop Stareable Fest?
On our platform and forum, we are dedicated to helping creators get discovered by audiences and industry, and connecting them to their peers online so they can learn from each other and find potential collaborators. Over the past year, we've also realized that there's a ton of value in connecting our community in real life, and have gradually built a calendar of in-person meet-ups and screenings to enable this. We see the festival as perfect way to combine our efforts in fostering discovery, education, and real-life connections for our creator community.
In your opinion, what sets Stareable Fest apart from other web series festivals?
We have two big focuses for the festival. For one, we want to bridge the gap between talented web series creators who are winning awards at festivals and the next step in their career. By enabling conversations between independent filmmakers and mainstream TV executives, we will get them the feedback and professional network they need. That way, whether it's with a revised version of their current series, or a new show a year later, they are learning how to best navigate the evolving landscape and build a sustainable career.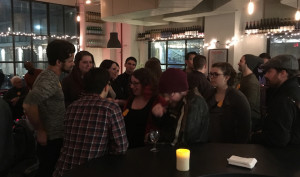 Secondarily, we're going to have a big focus on education and peer networking at the festival. Yes, we want to highlight talented creators. But we also want to put success stories in front of them, so they can learn from other independent filmmakers who have been through the process and know how to succeed.
We want to teach them skills they require, whether it's social media marketing, crowdfunding, or building a community around their content. We also want to have a ton of fun as web series creators come together to celebrate amazing independent television and meet each other.
How will submitting to/participating in Stareable Fest benefit web series creators/industry professionals? Describe the advantages they'll enjoy by being part of the festival.
Think of Stareable Fest as half conference on how to work more effectively, and half industry networking and marketplace to help understand where your show can and should live.
How has your experience in the industry, your experiences with other established web series fests, and the knowledge you've gained from developing and working on Stareable itself, helped you to create this festival?
We're structuring this festival in direct response to the feedback we've gotten from our community. We have great relationships with a number of independent TV and web series festivals, and there's no need to duplicate what they're already doing so well. We are putting this together because we perceive a real need in the independent television landscape for industry networking and education.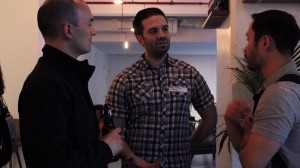 Will there be any live streaming of the panels/awards ceremony?
Yes, we're going to livestream a number of elements of the ceremony. We want to make the festival as inclusive as possible, and bridge the online-offline, as we do with much of our company's activities.
What panels, classes and other events are planned (or in the works)? When will they be announced, and what days/times will they take place during the festival?
Panels, classes, and workshops will take place Saturday, July 21st and Sunday, July 22nd. The final schedule is still in the works, but we're going to be focusing on tangible skills that creators need; think social media marketing, budgeting, community-building, crowdfunding, and conversations on under-representation in media and how to break through. Attendees can actually help influence this and win a free ticket to the event at the same time! Visit this link for more details.
Is there any information you can provide on the screenings schedule? If so, when are those set to take place, and what will the program for those screenings look like (I.e. genre-specific, dedicated collections, or just show screenings in general)?
The screenings, organized by genre, are going to run concurrently with the panels and workshops on both Saturday and Sunday. We want to bring in the filmmakers involved to do Q/A but also make it easy for attendees to participate in both their screenings and the workshops and panels we have going on. 
What are your overall hopes for Stareable Fest, and for how it will influence the future of Stareable as a whole?
We hope creators come away excited about their craft, with concrete connections to each other and to industry and a better understanding of their next career steps. For Stareable, the festival is a big step forward in our efforts to bring web series creators together as a community and help them get discovered. We plan to learn from the experience and the creators we meet so that we better understand how we should grow the company and the platform.
ON THE WEB: http://fest.stareable.com
FilmFreeway (for submissions): https://filmfreeway.com/StareableFest
For more info on how to win free tickets to this year's Stareable Fest, visit:
http://community.stareable.com/t/help-us-make-stareable-fest-amazing-and-win-free-tickets-to-attend/3434