When Joss Whedon's game-changing drama/horror serial BUFFY THE VAMPIRE SLAYER initially struck the hearts of TV viewers in 1997, they experienced a uniquely multifaceted look at teenage life. Though Buffy and her allies memorably faced off against gruesome monsters and devilish demons in every season, the series was about more than supernatural dangers. As a whole, BUFFY skillfully addressed the difficulties of growing up in a world that gets more complicated by the day.
Since its debut, and even in reruns, BUFFY THE VAMPIRE SLAYER continues to impact today's young adults as much as it did their predecessors. In addition to becoming a subject of academic study and discussion, the series has also been a creative influence on today's storytellers. Two of those storytellers are actor Christine Nyland and filmmaker Terence Krey, who've collaborated for two seasons of the critically acclaimed web series GRAVES.
Created by Krey and co-starring Nyland, GRAVES' third and final season brings down the curtain on its dark yet frequently funny tale of young adults who confront as many ghoulish freaks as they do unpaid bills. New episodes debut each Sunday on its official web site (link below), with eight total making up season 3.
Reluctantly but nonetheless bravely leading the fight against evil is Jane Stevenson (played by Nyland), who's honestly unlike "The Chosen One" that Buffy Summers became in BTVS. "Jane is the protagonist, even though she's not really qualified to be," Nyland says. "We've often talked about how she's only the main character because the camera happens to be in the room with her the most; in any other show she'd be a snarky sidekick, but the hero died ten years ago, so here we are."
While Jane and her friends thought that they'd continue their decade-long retirement from demon slaying, that rest gets rudely interrupted by a formidable trio of new monsters. (More on them in a bit.)
Meanwhile, Jane's sidekicks in GRAVES have to tackle some tricky problems of their own. "Rich (Rich Vience) is Jane's roommate and local high school gym teacher," responds Krey. "His girlfriend, Lilith, died ten years ago when the demons first attacked, and this season he makes some bad decisions to try and bring her back to life."
Also seeking to return to the living is another of GRAVES' eponymously-named supporting characters. "Jacob (Jacob A. Ware) is Jane's high school crush, who unfortunately has been dead and a zombie since season 1," Krey remarks. "Jacob is tired of being an undead corpse in the woods, and this season, (he) has to make a tough call to help his friends."
Another part of Jane's own team of "Scoobies" is someone who's now trying to deal with romantic strife and lecherous losers. "Kate (Kate Dearing) is snarky, no-nonsense, one of Jane's friends, and one of the gang from ten years ago that fought the demon," says Krey. "Since then, she's been bartending at the local bar and having an off-again/on-again relationship with Rich. This season, she finally decides to move out of town for good, but first has to deal with a cult of lame guys that want to sacrifice her to a demonic entity."
In season 3 of GRAVES, the three new villains that threaten to destroy Kate and her fellow slayers are equally formidable. "Astaroth (Hugo Lopez) is the big bad of GRAVES. His brother, Choronzon was killed by Jane and the gang ten years ago, and he's been looking for revenge ever since," Krey says of the character. "This season, he finally has the pieces in place to become corporeal and bring his demonic self to Earth, and the first thing he wants to do is kill Jane."
The second member of that demonic triumvirate is the newest star on the goth rock scene. "The Morrigan (Vanessa Cuccia) is Astaroth's sister, and a gothic, black-tear-stained, death goddess," as Krey describes her. "She brought Jacob back from the dead and loves pitting our characters against each other. This season, in true goth fashion, she has formed a band and is playing at the local music venue."
Uniting Astaroth and The Morrigan by blood is their equally evil patriarch. "The God Of Darkness (Rob Hinderliter) is an ancient, shape-shifting, demonic entity that is the father of Astaroth, The Morrigan, and Choronzon," Krey replies. "He makes deals with human and demons alike, all the while watching their fates play out to his amusement. This season, he has a very specific desire: the soul of a witch. Specifically, Jane's soul."
While the mature stages of our lives are filled with as many problems as there are possibilities, the emotional uncertainty of getting older is unavoidable for every young adult.
So it was for Krey, who created GRAVES to be a phantasmagorically tinted window on post-adolescent struggles; many of which he had first-hand experience with.
"GRAVES was inspired by a few things. It was originally conceived at a time in my life when I was approaching thirty and really starting to grapple with settling into what my adult life was becoming," Krey remembers. "I was unemployed, living back in my hometown, and really starting to question all the things from my past that led me to where I was. So, it was a desire to do something true to those emotions, but at the same time (we) had demons and zombies and leather jacket-wearing skeletons."
While Krey and GRAVES co-director Dan Fox channeled a shared affection for classic chillers like THE EVIL DEAD and others, Krey found his greatest creative influence in Joss Whedon's groundbreaking concoction of terror and teen angst. "BUFFY has always been my North Star in terms of filmmaking, as it was the first time I experienced something that was inherently supernatural and 'horror-esque,' yet really made you feel for the characters and their relationships," he comments.
Viewers have seen how prevalent that influence is on GRAVES, which compellingly spotlights how a 30-ish heroine's unexpected battle to save humanity from extinction also parallels the challenges of being an adult. Notes Krey: "GRAVES, like BUFFY, really leans into the concept of using the supernatural as a metaphor for growing up, getting older, and figuring out what to do with your life."
"The show is definitely a love letter to BUFFY THE VAMPIRE SLAYER in many ways," Nyland adds. "For me, the most important difference (between GRAVES and BTVS) is that BUFFY is about a woman who is chosen to stand against the forces of darkness. GRAVES isn't about chosen ones. It's about people trying to figure out what to do with their lives who somehow wind up fighting the darkness anyway, because we all do."
Krey's search for GRAVES' cast was helped by the existing connections he shared with the show's supporting players. "Some of them (the actors) we found for this project, but most of the cast were close friends and/or actors from other projects," he says.
Krey's familiarity with three members of GRAVES' ensemble was why he decided to create eponymous identities for their characters. "The reason Rich, Jacob, and Kate are all named after their actors is because they (their roles) were written for them. It's been a nice experience to create these character arcs with people you've worked with for many years."
Though GRAVES is the first time Nyland has partnered with Krey, Nyland decided to make a significantly pointed appeal to the show's head honcho. "I saw a breakdown for Jane and submitted, but the project really appealed to me and I knew there would be a million other actors, so I guessed Terence's personal email address and contacted him directly."
With GRAVES' storyline and production scale becoming more elaborate during its prior two cycles, Krey says that both parts of the series will be taken to unbelievable heights in GRAVES' remaining episodes. "As Season 3 is the final season, we really wanted to go out with a bang, which led us to some challenging set pieces: a concert episode, an abandoned high school, and the most demon characters we've ever had on screen," recalls Krey.
How did the creative forces of GRAVES pull those show-stopping sequences off? Experience, as Krey testifies. "I would say we only overcame these challenges because it was our third year doing it. Our cast and crew were so incredibly amazing at their jobs that it made things that seemed like a pipe dream 2 years ago 100% doable now."
While GRAVES obviously doesn't take place during the 1980's, viewers will instantly notice that every episode is delivered in an immediately recognizable visual look; one that's so familiar, they'd think it was actually recorded through technology that's become all but obsolete in 2018. However, Krey says, it's actually 21st century-style post-production techniques that help to recreate that look.
"Unfortunately, I would love to say we shot the show on VHS, but we decided that would limit us too much with what we could do in post, especially because this season has a considerable amount of VFX work. So the show is shot digitally and then affected in post to look like VHS. It's actually a really fun process to get into the specifics of which aspects of VHS to push/pull in each shot, from chromatic aberration to the noise level to even the tracking. That was an incredibly nerdy answer, but hey, you asked."
Spectacularly portrayed by Lopez, Cuccia and Hinderliter, GRAVES' diabolical demons are an outrageous counterpoint to the otherwise typical nature of Jane and her companions. "When it comes to the demon characters, it was usually our attitude to lean into the theatrical," Krey explains. "The human characters are so grounded and mundane, it was important that the demons were very over-the-top,"
With both Astaroth and The God of Darkness possessing undoubtedly wicked souls in GRAVES, their outer appearances look as ghastly as anyone would expect. Surprisingly, the construction of those appearances had familiar roots. "In terms of design, we really leaned into classical, almost mythological concepts, along with a flair of nostalgia and familiarity," adds Krey. "Someone once described it all as 'Halloween Store Horror' and I actually can't think of a better phrase."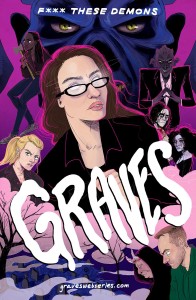 While Krey and Nyland believe that GRAVES will have a lot for fans of BUFFY, horror and supernatural-themed stories to sink their teeth into, the show's strength lies in how the real life issues it examines parallels our otherworldly fears.
"GRAVES is different both because of the demographic of our characters (I think being a thirty-something and being unsuccessful or not feeling like an adult is unfortunately a very real thing for older millennials), and because of the way it uses the supernatural as a very real and honest metaphor for trauma," Krey comments.
As GRAVES concludes its three season arc, Krey ultimately wants audiences to see the series as a representation of how to deal with the uncertainty of everyday life.
"I hope people will really engage with the story it is telling," Krey says of his ambitions for GRAVES. "Beyond the VHS (look), the cowboy skeletons, and the monologuing demons, GRAVES is a very genuine experience about getting older and figuring out what matters to you. It's been my way of coping with not knowing what my life is turning into, and I hope it can do the same for others."
(NOTE: Krey says that season 3 of GRAVES will be closed-captioned.)
ON THE WEB: http://www.graveswebseries.com
FACEBOOK: https://www.facebook.com/graveswebseries/
TWITTER: twitter.com/graveswebseries