Whether they're with people or with ourselves, the conversations we have are constant windows into our emotions and actions. Regardless of the topics explored or feelings expressed in these dialogues, the moments we experience in our lives dictate how and what we communicate.
Dramatizing that truth is the 8-time Daytime Emmy nominated/2-time Indie Series Award-winning Amazon Video series CONVERSATIONS IN L.A., where a fascinating yet relatable group of characters experience the diverse panorama of life's peaks and valleys in compelling "mini-plays" filmed in a single continuous take.
Created by and starring Anne Marie Cummings, CONVERSATIONS IN L.A.'s third season launched on March 15th on Amazon Video. As in seasons 1 and 2 of the series, season 3 continues its focus on two people whose differences – both in age and background – have proven to be no barriers for their love towards each other.
Cummings plays Michelle Macabee, a middle-aged former Amazon customer service representative-turned Starbucks commercial actress in the throes of a mid-life crisis. Once she meets the charming, 25-years her junior Gus Borrero (Velazquez) at a subway stop in season 1, Michelle begins a far-encompassing journey that takes her and Gus to remarkable heights and devastating lows during all 3 seasons of the series.
Season 3 of CONVERSATIONS IN L.A. recently won 2 Indie Series Awards: one for Cummings' direction, and another for guest star Lou Diamond Phillips (LA BAMBA, STAND AND DELIVER, YOUNG GUNS).
The series was also nominated for 6 additional ISA trophies, including for Best Drama Series, Best Lead Actress (Cummings), Best Writing (Cummings), Best Lead Actor (series co-lead/producer Gustavo Velazquez), Best Guest Actress (Terra Strong), and Best Cinematography (director of photography Sebastian Heinrich).
In addition to its previous five Daytime Emmy nominations, CONVERSATIONS IN L.A. picked up 3 more nods for its third season: two for Cummings (Outstanding Writing and Directing for a Digital Daytime Series), and another for Phillips (Outstanding Guest Performer in a Digital Daytime Series).
Along with Phillips and Strong, CONVERSATIONS IN L.A.'s brilliant cast also features Justin Kirk (Showtime's WEEDS and KIDDING, ANGELS IN AMERICA), Eric Balfour (SIX FEET UNDER, 24, SKYLINE, HAVEN), Amy Pietz (CAROLINE IN THE CITY, THE OFFICE, YOU'RE THE WORST), and Willie Garson (WHITE COLLAR, SEX AND THE CITY).
With all of its episodes shot in one long, uninterrupted take, CONVERSATIONS IN L.A. looks and feels as genuine as the chats we have with people – and ourselves – in real life. While the conversations experienced in the series may appear natural on film, the process of making these interactions seem as effortless as possible is a meticulous challenge for Cummings, her co-stars, and her small production team, including Heinrich.
However, as Cummings explains in this excerpt from a recent phone interview with Snobby Robot, the theatrical style of CONVERSATIONS IN L.A. has helped Cummings and her collaborators to perfect the tricky task of shooting a free-flowing, single camera drama that plays out like a stage performance – but before an unseen multitude of viewers watching at home.
CH: What inspired you to film each episode of CONVERSATIONS IN L.A. in one take? Was it your experience in theatre, or something else on top of that?
Cummings: I moved to Los Angeles four years ago, and I never had an interest in working in or writing for television until before I moved here. That happened a few years before I moved here. It just started to come together for me. I've always watched film and television on the side while I was in the theatre, and when I was producing Neil LaBute's work because Neil LaBute is a playwright and a filmmaker. I was also looking a lot at Ed Burns' work. He's a theatre person but his films were speaking to me. Same with Woody Allen.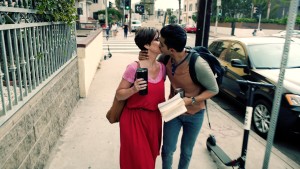 I've always been drawn to certain types of writers in film, and I just said, "I just have to take this risk." When I started to film my own work, this was a very organic process for me. I didn't even think twice. I just thought, immediately, these (episodes of the series) need to be one-takes.
I wanted, since I was putting myself in my work, the same experience that I had on stage, which was continuous. I've done many plays where I would be up there for two hours straight, so I wanted to give myself that same experience but with film.
There was no thinking about it. It was just an automatic, "okay, well we're just going to keep the camera going." This has been a process. The first few times we did it, the camera was completely still, which is not something you see in my work now. You don't see it, really, in season 1, 2 or 3, because we re-shot most of season 1. I was finding my footing, and I had people around me – my director of photography also saying, "you can't just keep the camera still."
Even though there are some movies to this day like THE WIFE with Glenn Close, where the camera stays still in some scenes, that's a choice and it does work. It certainly can work, but it's not really what I have found in this medium. It still is the same experience for the actors. They have this great experience. It's one moment that builds upon the next, upon the next, upon the next, so it feels like a play for the actors.
CH: In what ways have you, your cast and crew developed and perfected the single-take filming process from season 1 to season 3?
Cummings: It begins with the writing. The writing itself is more complex. We do more in the 30 minutes. The episodes are longer. Starting with season 2, they were 20 minutes. In season 3 they became 30 (minutes). They were longer episodes, but more complex, moving from one room to the other or inside to outside or in and out of a car. (We were) adding more to each of the episodes in that way, and also treating every episode like a mini-play, so you really do have a beginning, middle and end.
Each episode still progresses from one to the other, and increases in intensity. Each season has its own climax and turning points, if you will. In terms of the camera work, Sebastian, who didn't film most of season 2, came back full-on and did all of season 3. He and I worked together long enough where he understands that I have a certain way of communicating what it is and what I don't want.
We had to learn a lot of new things this season because I was looking for different things, so I had to also explain some of the language. For example, sometimes I referred to certain moments as "abstract filmmaking", which means that things are a little bit looser with a camera versus my specific, strict choreography.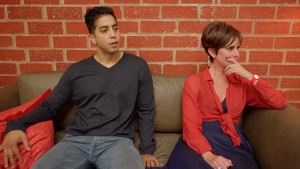 When I would communicate with him and say, "okay, from this page to this it's more abstract," he learned what that meant. That meant there was more freedom for him to find certain things that I didn't want to be so specific; that I wanted things to feel a little bit more open, (like a) French film.
There's a certain poetry to a lot of French films where the camera might just be focused on the abstract things: the hand, the back of the neck, the outside of the car window. It's not always about the actors. It's about the environment. Sometimes, the environment is a character, as well. Every scene in every episode is different. It has different demands. It has a different color.
CH: In terms of filming each episode of CONVERSATIONS IN L.A. in a single take: did those demands influence your work?
Cummings: Absolutely. We took one month to put together and film each episode. I didn't, in this case, do all the pre-production for every episode before we began. I had all the locations mapped out before we began, but I didn't have all the details mapped out. We would rehearse, we would do the camera blocking and bring in the stars, in some cases.
We'd shoot, we'd edit and then take a few days off and then come back at it and figure out all the details for the next episode. That's how it was done. It took a year to film one season. It was such hard work. I don't even know how I did it when I look back, but we stuck to a schedule as much as we could. We shot out of order for season 3, which wasn't that easy to do. My preference is always to shoot in order, but it was good.
CH: As an actor, writer and director on CONVERSATIONS IN L.A., how do you prepare for filming every episode of the show?
Cummings: I do it in stages. First of all, I already have the script, which is good. I usually start wearing the director hat. I alternate all the time, sometimes all three (actor/writer/director), but I do it in stages. I usually map out the camera blocking right away, and that's the first thing I tackle. I write all my detailed camera blocking into the script.
Then I start working with the actor, or actors, and memorizing my own lines if I'm in the scene. I like to get off-book as quickly as I can, but then I also want to start working with the actor. I change the lines here and there pretty much the first few weeks. It grows. It gets better.
Then I block the actor as we're entering that period of time. This is, of course, once we have our location. Then I start blocking the DP once the actor is blocked, and then we run and run and run the episode. He starts to get his ground and (he) brings his own stuff to the table. I'm providing him with a structure. Some of it's pretty specific.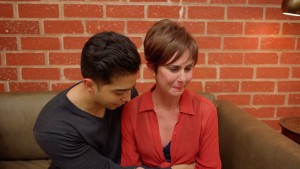 Then when we start running the episode, we start filming it. Then we start studying it and looking at it before we actually have our shoot.
We bring in the crew those last few days before we run, depending on the location. That's more or less the process, but it can be different. Where we rehearse is always different, whether it's in somebody's home or a beach.
CH: What do you hope people take away from watching the show, and from seeing the conversations depicted in each episode?
Cummings: First and foremost, I want people to identify with these characters. I want them to have empathy for where they're at, and what they're struggling with. It's a bittersweet story. Love is a very complicated subject for people, and it's heartbreaking. In a way, I think we all think about love. We question love, we love it and we hate it. The relationships are so difficult, but when you see two people fighting for a relationship and fighting to make it work against all odds, that's something to watch. They have every obstacle against them, but they still try.
That's the nature of relationships. They're complicated. I want people to identify with the work, but I want them to be entertained by it, too, and immersed, which is why I think the one-take style works. It's organic for me, but it also immerses people into the world. It's a very sensual experience. We're there in the room. We're really present. We're behind them. We're around them. We're in this world with these characters, and it doesn't stop. So once it starts, we're there, and we're pulled in. I want people to be pulled in to the end, just the way the camera is: to feel like a fly on the wall in some ways.
I have my one-take film (SINKHOLE) that I'm doing next, and that's going to be a project. (I want people) to be attracted to what it is and how I'm creating, just like someone would be attracted to any other filmmaker that emerges. I'm 51. I don't know how many (projects) I'm going to have in me, but I've got a lot of fire in me at my age. I want people to see this work. I want people to see what I'm doing, because i know I've come into my own. It's late in the game, but I've come into it.
(NOTE: All episodes of CONVERSATIONS IN L.A. are closed-captioned and subtitled.)
To watch all 3 seasons of the series on Amazon Prime, visit:
https://www.amazon.com/Conversations-in-L-A/dp/B075M22N63
For more information on CONVERSATIONS IN L.A., visit: