Acclaimed for its realistic look at the lives of gay men in an age group rarely explored by  LGBTQ-centric narrative content – 50 and older – and for the emotionally rich characters at its forefront, season 1 of the five time Emmy-winning digital drama AFTER FOREVER earnestly observes how the tragedy of human loss can instantly redefine the lives of those left to deal with it, and how love in all its forms can make a lasting difference for everyone during the healing process.
AFTER FOREVER's second season is scheduled to begin production later this year and is set for a 2020 premiere. Fans of the Emmy-winning series can catch up on its 8 episode first season on Amazon Prime (for United States and United Kingdom audiences) and BingeNetworks.TV (for viewers worldwide). 8 more episodes will be presented in season 2, and an official airdate for the season will be announced later.
Co-created and co-written by Emmy winners Michael Slade and series co-star Kevin Spirtas (DAYS OF OUR LIVES), and produced by Allison Vanore (VANITY), the first season of AFTER FOREVER centers around a thriving New York City couple: Brian, played by Spirtas, and Jason, played by Emmy nominee Mitchell Anderson. After nearly 15 years of marriage, Brian and Jason aspire to spend the rest of their lives joined at the hip, until their plans are shattered when Jason is diagnosed with inoperable cancer.
Leaning on family and friends during Jason's final days, Brian struggles to comprehend the immeasurable void that now exists after his spouse's passing.
Persuaded by his in-laws (portrayed by Emmy nominee Anita Gillette and Lenny Wolpe) to find love again while also honoring Jason's memory, Brian eventually makes a promising connection with a man he first chats with during a fateful phone call: David (played by Mike McGowan).
When season 2 of the series begins, it will do so with Brian and David being together for half a year. While their love for each other is solidly established, Brian still faces the difficulties of being in a new romance while he attempts to heal from losing Jason. Another challenge presents itself when Brian resigns from his longtime public relations outfit to start up a new firm from the ground up; one that also includes his former agency's co-workers, Daniel (Michael Urie, UGLY BETTY) and Brenda (played by Emmy winner Erin Cherry).
Alongside the characters that Spirtas and Slade introduced to viewers in season 1 of AFTER FOREVER, the show's second season presents some interesting new additions to its ensemble. "There are a number of diverse new characters who viewers will meet in season 2, primarily David's friends who will be brought into the fold. We will also get to spend more time with the supporting characters from season 1. And there will be a guest appearance by a major celebrity playing themself as one of Brian's clients."
From a continuity perspective, though, the methods Spirtas and Slade use to tell the story of AFTER FOREVER's leading couple span both the passage of time and the emotional state of Spirtas' character. "Structurally, AFTER FOREVER operates on three levels: the present (a year after Jason's death); flashbacks to the past during which we see the totality of Brian and Jason's relationship, and in Brian's mind where Jason continues to exist," Spirtas and Slade remark.
Having both worked on NBC's long-running daytime soap DAYS OF OUR LIVES – Spirtas playing Dr. Craig Wesley, Slade as one of the show's then-new writers – both men met to talk about a promising idea Spirtas had for a drama about an age group that has all but been ignored in LGBTQ entertainment: men like him who've either reached, or are on the cusp of, the big 5-0.
Immediately intrigued by Spirtas' proposal for a web series that would feature older characters in leading roles, Slade was thrilled to work out the concept for AFTER FOREVER with Spirtas. However, making the series was not simply a creative project for the former DAYS scribe. It was a way for him to therapeutically – through the show's two primary characters (Brian and Jason) and their story – express the grief he felt from seeing his late partner succumb to terminal illness.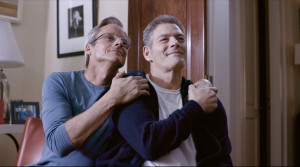 "I had lost my partner to a horrible cancer diagnosis a few years prior to Kevin and I meeting, and I felt I was ready to explore some of those emotions through my art," Slade says.
"When I talked to Kevin about it, we both quickly realized this gave us a whole host of wonderful possibilities around which to create the series. That said, the only 'autobiographical' part was the diagnosis and decision of how to proceed. Brian and Jason (and everyone else in their world) are completely fictional characters that we created."
In May, AFTER FOREVER became the winningest LGBTQ-targeted drama in Emmys history by earning five awards for the series, including the top honor of Outstanding Digital Daytime Drama. Combined with its two acting awards – Spirtas' for portraying the series' co-leading character Brian, and Cherry's for her role as Brenda – AFTER FOREVER also won Emmys for outstanding writing (Spirtas and Slade), and direction (Jennifer Pepperman).
The significance of those accomplishments continues to resonate with AFTER FOREVER's co-creators, though at first, neither of them imagined the possibility of their series ever being honored by the TV industry – let alone it making a remarkable connection with gay and straight viewers.
"The Emmy wins were surreal," Spirtas and Slade recall. "When we sat down to create AFTER FOREVER, Emmys weren't even on our radar. When we wound up with 8 nominations, we were over the moon. And then winning in 5 of the 6 categories for which we were nominated was unbelievable. It was also incredibly humbling: with those 5 wins, AFTER FOREVER made history as the most Emmy-awarded drama focused on gay characters."
Awards and praise notwithstanding, AFTER FOREVER's greatest success lies in the unbreakable emotional link its viewers have to the series. "Based on fan mail and other indicators, the demographics of who is passionately watching AFTER FOREVER show that it is appealing to audiences of all ages, sexes and sexuality," explain Spirtas and Slade. "Because it deals so honestly with relationships and with loss, the series has a universal appeal that speaks to everyone."
Proof of that appeal comes from the show's devoted fans, who've expressed their appreciation for AFTER FOREVER's true-to-life representation of the gay community, and the series' focus on the successes and challenges of older gay men (50-ish, according to Spirtas and Slade) in society; a demographic that both filmmakers say is rarely featured in-depth in indie or mainstream narrative entertainment.
"We love getting mail from gay men who are no longer 20 or 30-something, telling us how grateful they are for a series that portrays characters like them, who are not present to be comic relief, but rather as well-rounded, complicated, vital human beings. We also love getting mail from young gay (and straight) people telling us how moved they are by characters they see as models for their own futures, and we love getting mail from women and straight men who write about identifying with the emotions of our characters."
As AFTER FOREVER's audience continues to report to Spirtas and Slade how the show has touched their lives, two letters they received demonstrate why the Emmy-winning drama has helped people to cope with the tragedy of human loss. "A young gay man wrote to say how much he loved the show, and how watching it, made him better understand what his father had gone through when the young man's mother had died," the series' creators note.
"Another was from a man who, having lost his husband about a year earlier, was urged by some friends to watch the series. He wrote that not only did he love the story and characters, but that watching it was a cathartic experience that has helped him as he moves through his own grief. When we touch people in those ways, then we know we're doing something special; because that's the point of art."
AFTER FOREVER is a wide-ranging drama about life and people. It's a story defined by the emotions that carry people through tragedy and joy, and by the men and women who feel those emotions. For Spirtas and Slade, those facets of the series make for a compelling and relatable exploration of how everyone can rise above their most painful struggles with the guidance of good family and friends, and how people can find a second chance to love while honoring their memories of love – and life – lost.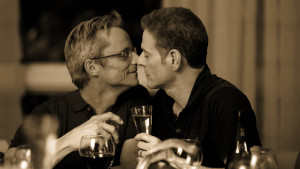 "First and foremost, we hope people will be entertained and moved," AFTER FOREVER's creators comment. The series is about dealing with loss, but it also about living and friendship and healing. And it has moments of great fun and humor. Ideally, gay men will proudly see themselves presented as honest, complex human beings, and everyone else will enjoy the series, as well."
Moreover, Spirtas and Slade aim for AFTER FOREVER to strike as much of a chord with straight viewers as entertainment with straight characters has with LGBTQ audiences.
"Gay people have always found ways to emotionally engage with and connect to movies and television series that focused on straight people. It is a sign of where we have come as a society, as we celebrate the 50th anniversary of Stonewall (the 1969 riots that launched the LGBTQ rights movement in America), that straight people engage with and connect to the characters and emotions we are exploring in AFTER FOREVER."
(NOTE: Spirtas and Slade say that season 2 of AFTER FOREVER will be closed-captioned/subtitled. Season 1 is already closed-captioned/subtitled.)
ON THE WEB: http://afterforevertheseries.com/
Amazon Prime (for U.S. and U.K. viewers): http://a.co/iVK8H4z
BingeNetworks.TV (for worldwide viewers): https://www.bingenetworks.tv/tvshow/206102
FACEBOOK: https://facebook.com/afterforevertheseries/
TWITTER: @AFTheSeries