The relationship between social media influencers and their fans can change in a millisecond, and the vivacious vlogger Tinsel Townsend (played by Aimee-Lynn Chadwick in season 2 of the transmedia series Tinsel's Town) learns how when a rude comment she makes to a loyal fan permanently destroys her digital reputation. Now confronting family strife, emotional despair and the end of her social media career, Tinsel must re-examine her own priorities while also trying to deal with the dramatic changes that have affected her psyche.
Tinsel's Town was created by David Christopher Barry and directed by music video pioneer Michael Lindsay-Hogg (The Beatles, The Rolling Stones). While Tinsel herself was birthed in Barry's comedic script The Lullaby League (more on that soon), Tinsel's Town started as a SoundCloud podcast before developing into a full-fledged transmedia project.
With Chadwick appearing as Tinsel Townsend at the 2015 Razzie Awards and the 2016 VidCon conference, Tinsel's Town's effective transmedia strategy increased the visibility of Chadwick's eponymous social media personality while boosting awareness of the show itself.
As season 2 of Tinsel's Town transitioned from a conversational vlog into a traditional narrative web series, the changing life path of Chadwick's YouTube star was reflected in the story's stylistic shift.
Picking up where Tinsel's Town left off, The Lullaby League shows Tinsel as a reality TV icon whose misbehavior results in her being ordered to perform community service at a Hollywood retirement home. As Tinsel gets to know the home's once-celebrated residents, she finds one important thing in common with them: the need to be understood.
With The Lullaby League presently in the scripting process, Barry takes Snobby Robot through how the storytelling format of Tinsel's Town's second season naturally evolved as it opened a poignant window into the unstable life of a once-popular digital diva. In previewing The Lullaby League, Barry also explains how the highly skeptical reaction to his concept by some closed-minded producers during the pilot episode's first public reading ended up giving him greater motivation to bring Tinsel's Town – and Tinsel – to audiences.
SR: Without going into spoilers, recap what happened last season and preview what viewers can expect during this season of Tinsel's Town.
David Christopher Barry (creator, Tinsel's Town): Last season, Tinsel loses all her followers and re-emerges from the social media lagoon as an almost menacing creature, clearly at a crossroads. The whole tone is shockingly different and kind of a cliffhanger, so it seemed like a good place to leave off, but this bonus season is pretty much back to basics for us; a return to form and the format. We stuck a pin in that ominous ending and went into the vault for some "undiscovered" vlog episodes that also harken back to the show's origins on SoundCloud. The new episodes are quintessentially Tinsel with lots of musing and music. She sings a lot.
SR: How has the show's quality of storytelling, and the arcs of its characters, progressed over the course of each season?
DB: We experimented a bit with the vlog format and how it could be used creatively to build those arcs. As the show progressed, we introduced some darker and more dramatic story elements in a series of increasingly personal "Diary Episodes", which take place at night when the character can't sleep. Since they're more pleas for empathy and understanding rather than Tinsel's typical demands for attention or admiration, they help to reposition the trajectory of the story and character arcs in an unexpected direction.
SR: When The Lullaby League (where Tinsel's character first appeared) had its first live reading, the reaction to that script from some parts of the audience was incredibly sexist and ageist. How did that experience, as well as the subsequent Ageism in Hollywood panel you organized after that performance, help you to reassess and redevelop the concept of that script?
DB: The audience and their response were fantastic, but there were a few producers in attendance who held a very firm and, in my mind, a very narrow set of opinions about women on TV and how old they should be, or should not be. But I didn't allow those opinions to undermine or alter the story I wanted to tell. That idea remains intact.
SR: In what ways did those experiences ultimately motivate you to refocus your efforts towards creating Tinsel's Town?
DB: They were rocket fuel, (and) a great motivation for me. I don't think I'd have sat down to write Tinsel's Town if I hadn't been told "there are already enough stories about women." Writing the show was my way of saying: "Nope."
SR: Tinsel's Town has evolved dramatically from a SoundCloud-based show to a YouTube-based transmedia series, and now to where Aimee-Lynn has appeared in character at public events. How has this helped the show gain more viewers, and more awareness for both Tinsel's Town itself and its title character?
DB: Each platform attracted a different sort of viewer and viewership. During that discovery process, there was lots of back and forth between platforms so that a listener on SoundCloud would become a viewer on YouTube. Or vice versa. The audience was built by accumulation, which in the end added up to around 2.3 million views for that first season on YouTube.
The live events, these collaborations with VidCon and The Razzie Awards, just magnified those efforts because of the heavy press presence at both venues. We got lots of coverage, and lots more potential viewers got to meet Tinsel and find the show as a result of that spotlight.
SR: In what ways has the production quality improved over time, and how did those improvements manifest themselves during the making of Tinsel's Town's final season? 
DB: In the final season, we abandon that single frame mode of storytelling when Tinsel's followers abandon her – without them, there's no one to talk to and no reason for that direct address. So, our production values at least appear to be a bit more elaborate and sophisticated in the final season when we switch to more traditional, multi frame modes of storytelling. They add variety to Tinsel's Town, but are also a stylistic segue to The Lullaby League, which is meant for television.
SR: What was it like working with Michael Lindsay-Hogg (legendary music video/film, TV and stage director) on Tinsel's Town?
DB: At first, it was a bit intimidating. I mean, this is the man who directed the original production of The Normal Heart at The Public Theater. So for me as a gay man and a theater buff, he was a big deal. Once we started to work together though – particularly during casting The Lullaby League reading– we realized that we made a good team. I enjoy his company and I enjoyed learning from him. Very lucky there. Plus, as a writer I trust him with what I've written, and that's everything.
SR: Given that the final episode of Tinsel's Town leads to a new comedy series called The Lullaby League, how will that new show build upon Tinsel's character and her own personal journey in a new setting?
DB: The Lullaby League is basically the resolution of Tinsel's story. We find out the path she's taken and where it's taken her – to worldwide fame and infamy as a reality TV star. At its core, Tinsel's story was always about identity; this struggle to figure out who she is and where she fits in. She'll be forced to grapple with these issues again in The Lullaby League, only on a bigger stage and with higher stakes.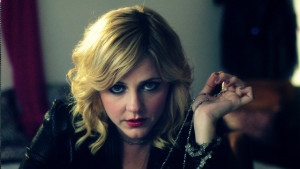 SR: What is The Lullaby League about, and what inspired you to create that show?
DB: It's about six women, all Hollywood veterans, who've been relegated to the periphery of the town and the business because of their age.
Their lives, which have already been upended, are upended again when a notorious reality star – Tinsel – is sentenced to perform community service in the retirement home they share. The story is also about identity and there are some Old Hollywood vs. New Hollywood fireworks at first, but in the end, Tinsel is exactly where she belongs, (but) she just doesn't know it yet. And neither do the women.
As for inspiration, I got the idea while attending a screening at the Motion Picture and Television Fund. All these industry veterans were busy handing out flyers, giving directions, just making themselves useful and an important part of the day. I started to think about all the women I grew up watching on TV and in the movies, and how sad it was that I saw less and less of them as I – and they – got older. So that was that. I wrote the idea on my lunch receipt that day: "story about older women in Hollywood home." I still have it, taped to my re-write folder.
SR: From your experiences working on the show, what advice/suggestions do you have for future web series creators who want to make their own content?
DB: Surround yourself with kind, creative, enthusiastic people. And also: create; don't cater. Don't ever cater. Unless you're a caterer.
SR: What do you hope viewers take away from watching this show, and from seeing how it portrays the rewards and difficulties of fame in the digital age?
DB: I hope people can see beyond the shiny, decorative veneer that Tinsel's name implies and realize that most of her energy is spent in ways that most of us can relate to: making earnest pleas to be heard and understood and trying to understand a world that sometimes makes little sense. Lots of social and digital media is built for all that, but I think it can also be a minefield and a very dangerous landscape to scour for fame – or even just to feel valued or valuable in any sincere, meaningful way. There's lots of outrage, but very little genuine empathy there. And that's never good.
NOTE: Tinsel's Town is currently in the process of being closed-captioned.
Watch all episodes of Tinsel's Town at:
FACEBOOK: https://www.facebook.com/tinselstown/

TWITTER: https://twitter.com/TinselsTown
INSTAGRAM: https://www.instagram.com/tinselstown/