In the photogenic world of Hollywood, casting directors are constantly on the lookout for young stars who are both easy on the eyes and compelling in their performances. Unfortunately, that emphasis on youth leaves older actors with limited options for roles. As a result, they're forced to play characters that fall into all-too-common stereotypes: spokespeople for products like Viagra and Depends, creepy Casanovas hitting on their younger peers, annoyed "get off my lawn" types, etc.
One actor who dealt with the indignity of portraying those characters was former college psychology professor and musician-turned thespian Roger Burton (Baskets, Fargo, Shameless), the star of the new comedy series Old Guy. Produced by Five Sisters Productions (comprised of Maria, Ursula, Charity, Jennifer and Gabrielle C. Burton), Old Guy features their father Roger as the recently retired Harry, a late bloomer to the world of showbiz.
Encouraged to seek his first breakthrough part by his wife Bridget (played by Roger's real life spouse/the Burton sisters' mother/series co-writer Gabrielle B. Burton), Harry finds out that finding meaningful work in movies and TV seems as difficult as finding a needle in a haystack. Worse, Harry's new agent Winnie (Frasier's Peri Gilpin) consistently offers him roles that fit the media's negative stereotypes of older people to a T.
In fact, the characters Harry often plays are only referred to as "Old Guy" – a reference to both the titular parts Burton ended up taking during his career, and the title of the series. Despite the often humiliating qualities of his fictionalized personas, Harry discovers that his new profession may turn out to have some well-deserved benefits for himself, his family and his life.
Based on Burton's experiences with youth-obsessed talent agents and Hollywood's perpetual typecasting of older performers, the 6 episode series (now streaming each Thursday on YouTube, Vimeo, Facebook and Instagram TV; links below) is both a hilarious yet eye-opening examination of the media's ageism problem and a loving tribute to Roger and Gabrielle, who worked side by side with their daughters on the series. (Sadly, both Roger and Gabrielle passed away after production concluded on the project.)
In addition to co-creating and co-producing Old Guy, all five Burton sisters played various on-camera roles alongside dad Roger in the show's six episodes. Four of the siblings (Gabrielle, Ursula, Maria and Jennifer) co-directed episodes of the series, while Ursula and Jennifer also co-wrote Old Guy with mom Gabrielle B. Burton.
The idea for Old Guy was pitched to the Burton sisters by Gabrielle (Searching For Tamsen Donner, Heartbreak Hotel), and the siblings' relationship with their parents was one of the greatest factors that motivated them to get Old Guy from script to screen. Another was their mission of demonstrating – through comedy inspired by Roger's own journey in the acting profession – how Hollywood continues to put out inaccurate and often demeaning representations of seniors in everyday society.
A multi-generational production that also involved students from Tufts University as part of its behind-the-scenes team, Old Guy was an endeavor that the Burtons hope will teach young filmmakers about the importance of providing older thespians with opportunities worthy of their talents.
Likewise, the Burtons also hope Old Guy will go a long way towards giving viewers an honest representation of the older generation; one that mainstream media tries yet often fails to offer.
Those aspects of Old Guy's story, and how shows like it can stress the need for society to protect senior citizens at risk of diseases like the COVID-19 virus, are among many explored by the Burton sisters in their recent interview about the series with Snobby Robot.
SR: In what ways did your memories of and work with your mother, Gabrielle, and father, Roger (himself an actor who got into the business late in his life) inspire the overall storyline and situations presented in Old Guy?
Charity Burton: Characters such as Old Guy's agent (played by the hilarious Peri Gilpin) are fictional, but the underlying idea of an older actor grappling with ageism in most parts – as well as the honesty and deep love between the husband and wife – are true. Our mother's fiction and screenwriting was generally based on true stories and characters. One very funny moment that happened was that one day, dad came into the room with his audition sides (pages of dialogue) and whelped, "I think I've graduated! This character is called VERY Old Guy!"
Our parents had a great sense of humor about aging, and life in general, and they also openly shared their insights and experience with us, both about work and about aging. We felt it was a real gift that they were honest about both (the) good and not so great aspects of aging, which (gave us) perspective and appreciation for what we have, and what we will have as we grow older too.
SR: Were any of the events depicted in Old Guy based on real events/people or were they exaggerated for comedic effect? 
Jennifer Burton: Amazingly, the events are not very exaggerated! It is staggering how rarely older characters are developed as full human beings. Instead, TV shows – particularly comedies – often have bit parts that are thrown in for laughs in stories about younger people. There's a kind of tokenism that is rooted in stereotypes, and ultimately that is really damaging for society's valuing of our elders.
We (Five Sisters Productions) worked with a team of students from Tufts University where I teach to make Old Guy. Student after student told us they'd never noticed ageism before working on Old Guy, but all of a sudden, they saw that it was everywhere on TV.
Ursula Burton: In the series, Harry (the character played by our dad) acts as a stand-in for the "every person", and while he sees that the characters he portrays may be funny, the problem is that these roles are often the only presentations of older people in media. There's nothing wrong with an older actor advertising products like adult diapers or sexual aids, but if that's all we see, or if they are used as punchlines, then we are not acknowledging the richness and the complexity of older people's lives.
In the series, we see that Harry's real life is complex. There are toys for grandchildren, musical instruments, (and) the desire to fulfill dreams. Harry and his wife share meals (and) conversations about their work. They have a love life. They travel. The show presents their everyday life as vibrant, which then is contrasted with the limited roles Harry is offered on TV.
SR: Ageism – and the negative typecasting of older actors in roles that perpetuate negative stereotypes – are huge problems in Hollywood and throughout the media. Talk about how Old Guy is helping to spotlight those problems while stressing the importance of giving older actors meaningful roles on par with those that their younger counterparts receive on a regular basis. 
Jennifer: For Old Guy, we decided to use the stealth tactic of character transformation to nudge viewers toward recognizing the prevalence of ageism in media (versus direct messaging often used in advocacy videos). The main character, Harry (played by Roger), is a stand-in for viewers who don't realize the steep cost to playing along with or ignoring ageist stereotypes. Harry's wife Bridget (played by Gabrielle) has more awareness, and over the course of the 6 episodes, Harry slowly transforms.
By using comedy to present the contrast between Harry's acting roles on the one hand and the reality of his vibrant life on the other, we hope viewers will recognize age stereotypes in other media and beyond. The lives of older people are so much more full and varied than typically shown on television.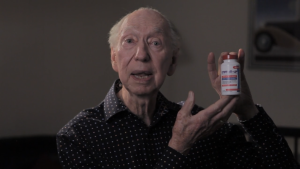 Yet most of our dad's auditions for TV roles or commercials were for characters named only as a type ("old man", "cranky old guy", etc.), plus they typically fell into narrow stereotypes (senile, leecher, incontinent) and were used for quick punchlines in stories about developed, complex younger people.
This is of even greater importance at this time, since we may be seeing even fewer parts for older actors, as producers figure out how to manage liability in the time of COVID-19. Even before the virus, people over 60 were vastly underrepresented in US media.
(Professor/researcher) Stacy Smith's team at USC's Annenberg School of Communication has shown that fewer than 10% of all speaking characters on top television shows are seniors, even though they make up nearly 20% of the US population. So each part that does exist takes on a greater weight, and it becomes even more critical for writers and producers to avoid underdeveloped and stereotyped older characters.
Ursula: This has real world implications. Stereotyped media depictions shape how young people see older people (with consequences such as inaccurate job performance evaluations, etc.). With stereotyped expectations, young people miss out on benefiting from the contributions of older colleagues and mentors, while older people miss out on quality engagement with younger people.
Ageist media depictions also adversely affect the self-perceptions of older Americans, diminishing their potential for active, engaged lives. Interestingly, when ageist stereotypes in media were directly discussed with seniors, those stereotypes lost much of their negative power for those seniors.
We need to engage people of all ages in a conversation about positive alternatives to ageism in media. Hopefully young people will also grow old someday, so even if it's driven by self-interest, we all need to demand and support more diverse representation of older people on television. Rather than these narrow stereotypes, or using older parts for cheap laughs, wouldn't it be more interesting (and truthful) to reflect the reality of varied experiences of older people?
SR: What was it like working with your parents on Old Guy? 
Jennifer: In media, you create a kind of family bond with everyone making the project. For us, we start with our core family of sisters and then that "family" expands depending on the scale and stage of production. So to include our parents in our work seemed both natural, and also special.
They were part of some of our feature films (1999's Temps, 2002's Manna From Heaven), and Old Guy was really a family creation – arising from an idea of our mom's, inspired by a comment of our dad, and then crafted by the whole family, including our brother-in-law (a TV writer).
Now, having this project feels even more like a gift. Soon after we finished filming, our mom was diagnosed with stage 4 pancreatic cancer, and then our dad also died. Being able to finish and release Old Guy, a project they cared deeply about, feels like a way both of honoring them and of celebrating their lives.
SR: How has making Old Guy with your parents helped to bring you all closer together as a family? 
Charity: I think any common project brings people together, in time and focus. The months of working together closely on the development, production, and post-production of Old Guy were wonderful.
To echo what another sister said, our parents shared their thoughts about ageism, and brought us into the conversation.
In turn, Jennifer could bring her Tufts film students into the conversation, and now we are hoping to bring a wider, national audience into the conversation too.
SR: Overall, what was the production process like for Old Guy? 
Gabrielle C. Burton: We shot the series in three parts: two sections in Boston (with many scenes at Tufts, so Tufts alums may recognize a lot), and one in Los Angeles. There was a large mentoring component to the production. For example, we helped the Tufts students run a Kickstarter so that they could travel and work with professionals in L.A., and one of the students, Lai-San Ho, edited the project after graduating. (She then worked on a feature Maria directed, which helped her move into television; and now she edits on This Is Us!)
When COVID-19 hit, and we suddenly had the space and time to launch Old Guy, Lai-San came back (virtually) to help me with some of the tech editing and post, which was really fun. Others from the crew have come back to help with outreach. Plus, new people have come on board for the launch, like Ursula's friend Eduardo Larez who did the sound mix. The thing about film is that you can't do it alone!
It's a group art form, and we love the creative process of working with so many people we respect and care about. It's like a bigger family that you create as you work together on different projects. Our set sound mixer, Tom Curley, actually started his film career as a (production assistant) on our film Manna From Heaven, and he's gone on to win an Oscar (Best Achievement in Sound Mixing for the 2014 Damien Chazelle-directed drama Whiplash). We all hooted and hollered so loud when he won that he probably heard us from across town!
SR: How has your work on Old Guy helped to make you better filmmakers? 
Gabrielle: When you're working independently, you have to problem-solve production challenges often by doing things yourself.
We started out shooting on 35mm, and our narrative feature projects still call for large specialized crews, but we've also been making more passion projects and PSA's on the side, and so we've learned more of the skills that we can draw on for different projects. For instance, we learned to edit in recent years (working on our feature documentary Kings, Queens, & In-Betweens, which took 6 years to make – thus the necessity). This new skill helped us to finish up Old Guy too!
One funny element of being an artist these days is that social media plays a huge role, and while we are filmmakers who have always been more focused on making films than on promotion, we've had to amp up our social media chops because the series is simultaneously premiering each week on IGTV (Instagram TV), Facebook, Twitter, and YouTube! Tech is always developing, and social media is just another type of tech progression, and it's obviously opened up a lot of distribution avenues and possibilities for indie filmmakers.
SR: Who do you think would like to watch Old Guy, and what other movies/TV/web series would you compare it to? 
Maria Burton: The beauty of comedy is it's fun for everyone. When we were shooting Old Guy, it was before Grace and Frankie, so there really weren't many great older characters on television. Now that fantastic series has really moved the needle, and it, in turn, opened the door for other shows with complex older characters, like The Kominsky Method, because studios like Netflix can see that the content is enjoyed by all ages – and makes money.
It's the same with films starring women that consistently bring in big audiences. It shouldn't be a surprise that audiences want to see themselves and the diverse world we live in reflected in stories. The short form series (with Old Guy's episodes running between 3 and 6 minutes each) lends itself to this time especially, when people sometimes just want a short break to make them laugh.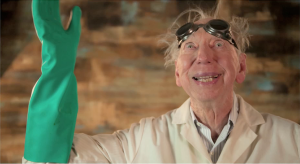 SR: What do you hope people take away from watching Old Guy? 
Maria: We hope people will laugh, and also think. We hope they'll start to question the representations or subconscious expectations for older people in media and in society, and then start speaking up about it! It's not a matter of theory anymore – we can see right now how ageism is coming out in our public conversations about the COVID-19 pandemic.
Age is being used as a substitute for specific risk factors, like pre-existing conditions. Then there are the more extreme arguments essentially calling for older people to sacrifice themselves for the economic good of society – even though most economists argue that such "sacrifices" would actually have the opposite effect.
The one plus is that these extreme arguments have exposed underlying ageism in our society and launched many more of the necessary cross-generational conversations about the insidious cost of ageism to the fabric and functioning of our society, and it has been encouraging to see most people around the world joining together to protect people of all ages from harm.
We have seen how Old Guy has opened up thinking and awareness for the production team and for audiences at test screenings, and we hope that it will contribute to moving the needle forward on the very important conversations about ageism that are happening right now.
NOTE: The Burtons say that all episodes of Old Guy will be closed-captioned.
YOUTUBE: https://www.youtube.com/fivesistersfilms
VIMEO: https://vimeo.com/user24803718
INSTAGRAM: @OldGuy_Comedy
TWITTER: @OldGuy_Comedy