Like their peers in the film and TV community, web series creators around the world experienced the emotional pain of being shut in during the early days of the COVID-19 pandemic. The professional impact was just as undeniable, as projects that would otherwise have gone full steam ahead under normal circumstances were either postponed indefinitely or completely abandoned.
Despite their being forced to remain homebound and physically distant from friends and family, though, many of the world's most talented visual artists made the most of their geographic limitations and created productions that were just as impressive – and captivating – as any made on a huge soundstage or spacious outdoor location.
Season 2 of Atsushi Ogata's award-winning, cross-cultural comedy Lost & Found Cowboy is both a tremendously entertaining look at how people from across the globe can lift each other's spirits during the worst of times, and a perfect case study of how great stories can be told no matter what physical barriers may prevent actors and craftspeople from collaborating in the same place.
With four new episodes now streaming on comedy-focused streaming service Twisted Mirror TV, season 2 of Lost & Found Cowboy finds its globe-trotting yet constantly misunderstood protagonist Yukata Cowboy (Ogata) in a state of emotional devastation following last season's inexplicable disappearance of his beloved girlfriend/dancer Cindy (Kellie Holway).
Demoralized even further by his being quarantined in Japan during the first days of the COVID-19 pandemic, Yukata Cowboy is trapped by a smothering solitude inside his Tokyo residence.
The loneliness he faces is compounded by both the lockdown and losing his love. Luckily, two of his best friends – aspiring Danish comedian Lotte (Lærke Charlotte Olsvig) and brilliant Spanish flamenco dancer Maribel (Xana del Mar) – help the forlorn Cowboy regain his vigor for life.
Thanks to the Internet, and the ever-popular video conferencing tool, Zoom, Lotte motivates Yukata Cowboy to bring his previously thriving in-person stand-up comedy gig to an online audience, while Maribel guides Yukata Cowboy to take a bold step back on the dance floor when she encourages him to try flamenco dancing. As the second season of Lost & Found Cowboy shows, there are truly no limits to friendship – and every reason for life to be celebrated.
Before COVID-19 hit, Ogata had huge ambitions for how and where he wanted Lost & Found Cowboy to be produced. When the coronavirus struck Japan in early 2020, those ambitions were instantly cast aside. "The plan was for the main characters to literally travel to different countries as they continue their misadventures. However, with COVID-19, national borders began to shut down; countries went into lockdown; and it became literally impossible to continue production in the way we had initially conceived."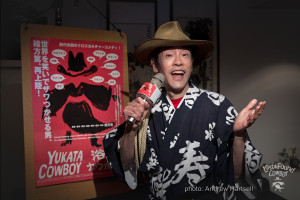 At the same time, Ogata's public appearances as Yukata Cowboy at web series festivals and comedy clubs were turning audiences onto his character and the digital content he started in.
Once under quarantine, Ogata had to dramatically rethink the in-person aspect of his professional life, and the overall direction of Lost & Found Cowboy's second season.
However, thanks to video conferencing, Ogata would find a new way to keep his standup comedy career and his acclaimed series from simultaneously being casualties of the pandemic.
"While normally it is quite expensive and logistically complicated to work with cast in multiple countries, I also realized that during this lockdown, it was ideal to work across borders using Zoom and other online interactions," Ogata explains.
"During COVID, so much of our culture and communication has expanded into digital contact – it has become routine around the world to build and maintain friendships ever more deeply, through Zooms and the like. I decided to set my story in this new 'sphere', and examine how we live differently in it."
Working with Ogata on season 2 of Lost & Found Cowboy are Olsvig and del Mar, who are themselves no strangers to the web series medium having co-starred in the comedy Piso (a.k.a. the Spanish term for apartment). Ogata describes their series thusly:
"In Piso, two young women, one Danish, Anne, played by Olsvig, and (the) other Spanish, Vanesa (Vane), played by del Mar, share a flat in Madrid as flatmates. Despite their differences highlighted partly by cultural stereotypes, they slowly develop a friendship as they overcome conflicts and misfortunes."
Like Lost & Found Cowboy, Piso also showed multi-cultural characters overcoming their differences to consummate strong friendships, and scenarios where cultural clashes could be played for laughs. "I found it amusing, for example, to see Vane crying as she watches Spanish soap opera on TV, or dancing flamenco, while Anne initially tries to maintain a more quiet and orderly existence. The cross-cultural nature of their series was perfectly in line with my Lost & Found Cowboy series and my whole Yukata Cowboy brand."
The similarities between both shows didn't end there. "In addition to the dramatized section, each episode of Piso also has a music video-like section in the end, encapsulating the dramatized section; elevating or commenting through music and dance," Ogata notes.
"I also found these nonverbal, moments of physical expression to be extremely fun and engaging. At times they moved the drama forward, or more deeply expressed underlying emotions."
Having befriended Olsvig and del Mar during the 2016 Bilbao Seriesland Festival, Ogata would soon be won over by their series, the enthusiasm they shared for comedy and creative collaboration, and the undeniably common comedic DNA shared by Piso and Yukata Cowboy (the vlog series that introduced Ogata's titular character and later spawned Lost & Found Cowboy).
"In addition to the cross-cultural aspect of Piso and its dance/music aspect, I found their comedic sensibility very fitting with my own sensibility," Ogata remembers. "When I met and interacted with Lærke (Olsvig) and Xana (del Mar) socially, we quickly found each other inspiring and got along well. I found them ready to react and create at all times."
That meeting would also foreshadow the eventual creation of Lost & Found Cowboy, and Ogata's eventual partnership with del Mar and Olsvig. "Looking back, all the elements that led to our eventual collaboration could be traced back to our initial encounter in Bilbao," adds Ogata. "Elements of cross-cultural humor were clearly already there. At the time, I had still not produced Lost & Found Cowboy and had no idea that a few years later I would be incorporating dance in my own work – using it both to comedic and dramatic effect."
In addition to incorporating Danish and Spanish customs and languages as practiced, respectively, by Olsvig, and del Mar's characters in season 2 of Lost & Found Cowboy, Ogata also brought back two time-honored mainstays of the series: multi-cultural comedy and international dance.
Ogata worked with show producer Sian Evans to realize the primary arc for the series' new episodes, while Ogata and his co-stars underwent a long yet revealing process of developing their characters and choreographing the physical movements required for the flamenco dance and stand-up comedy scenes.
"I drafted our episode scripts, and in early June, we did online table reads with Lærke and Xana over Zoom, crossing through three different time zones. I was working in the dark, while they were working in the light of day, and vice versa," Ogata recalls.
"Our rehearsals were very inspiring as together we generated more new ideas for comedy and cross-cultural intrigue. Both Lærke and Xana's natural talents as actresses and international performers significantly enriched the humor, cultural observations and the narrative of our story."
So too did the various ways Ogata and his co-stars sprinkled cultural references into season 2 of Lost & Found Cowboy. "In flamenco, the dancers use abanico, (which are) Spanish fans. Xana and Lærke showed me the bright red wooden fans they used in Piso, which would look fantastic for our flamenco dance scenes. That gave me the idea to also incorporate sensu, traditional Japanese paper fans with bamboo frames, in our new episodes."
The "fans" element would also inspire a key comedic idea for season 2, according to Ogata. "As we discussed fans, Xana came up with a joke about how Yukata Cowboy and her Spanish character, Maribel, would each interpret the word 'fan' differently. While Yukata Cowboy would say he needs a new fan, referring to the Japanese fan he held in his hand, Maribel would misunderstand, thinking Yukata Cowboy wanted more fans watching as he performed comedy online."
The multi-cultural comedy of Lost & Found Cowboy asserted itself in another memorable scene. "In my original script, I had written a scene where Maribel dares Yukata Cowboy to dance by holding up a red scarf like a matador," Ogata replies.
"Before the reading, Xana was opposed to any reference to bullfighting, of which she doesn't approve. Through the process of development she found a way to perform this scene comedically in an amusing and absurd way."
While the musical interplay between American and Japanese dance cultures was evident during season 1 of Ogata's series, Ogata says that the East-meets-West dynamic for season 2 was represented by his flamenco dance scenes with del Mar, and the carefully arranged soundtrack that was prepared for those scenes.
"Through table reads and Zoom discussions, and with help from Xana's musician friend, we chose wonderful flamenco songs that would be authentic enough for Spanish viewers while also working for viewers outside of Spain."
Of course, putting all their performances on Zoom was easier said than done. Having had to drastically adjust the way they acted and moved on camera, Ogata and his geographically separated co-stars painstakingly worked to meet the inherent challenges of filmmaking, dancing and acting while using Zoom to capture their work.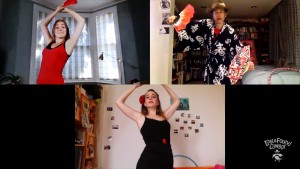 "I had to direct Xana and Lærke on how to set up their cameras and how to act, while also setting up my lights and camera and acting myself. We spent many hours and video tests reviewing wardrobe, camera setups and lens focus, on top of the standard issues of framing standup physical gestures, flamenco and hula hooping with a locked-off camera on a tripod!"
While having to juggle those tasks under quarantine further added to the complexities of making Lost & Found Cowboy, Ogata, Olsvig and del Mar found they weren't alone in their efforts to produce a high quality series in spite of limited resources.
"To maintain the aesthetic and technical qualities we achieved in Season 1, we brought on board our director of photography Motomu Ishigaki, our sound designer Masataka (Taka) Odaka and our animator Ben Hillman, as consultants. We showed them our test clip (an early scene with Ogata, Olsvig and del Mar recorded on Zoom) and script and asked for advice on how to film and record this production," Ogata recalls.
Preparations for each scene's shoot were, given the technology involved, painstaking. "Over Zoom and emails, Motomu (Ishigaki), Taka (Odaka) and Ben (Hillman) advised Xana, Lærke and myself on how to film and record ourselves. Motomu consulted on how each of us could film a variety of shots from different angles with different focal lengths in order to establish the visual language of the episodes. He worked with us extensively to adjust for each of our different cameras and lighting setups as we tested the shots and angles ahead of the actual shoot."
The show's Zoom production elements were constructed like this: "When filming Zoom shots with our computer webcams, we began recording ourselves simultaneously with our video cameras from another angle – each of us was doing a multi-camera shoot in our homes at the same time. This saved us time," adds Ogata.
That said, Zoom's technical features – and limitations – prompted Ogata and his cast to rethink the way they typically approached acting on camera.
"In Lost & Found Cowboy season 2, there are a number of scenes in which each character acts in her or his home alone, but for the Zoom scenes in which I interact live with the other characters online, I tried to adjust my acting, so that it would range from (a) something resembling having a simple conversation on Zoom with others to (b) acting for the webcam on my laptop, with the other characters resembling the audience in a "virtual stand up."
Here's how those adjustments played out during the third episode's standup comedy sequence:
"Yukata Cowboy and Lotte, the Danish character, perform a sketch together online from two different cities – Tokyo and London – to "audience", played by friends of the two actresses in London and Madrid, acting as "extras" on a Zoom call with many participants, each calling in from their own home in different countries! In this way, we reconstructed what I had experienced performing "virtual stand-up" as part of this particular episode."
Shot from a multitude of vantage points, the flamenco dancing scene was both meticulously choreographed and pre-planned through strategic camera placements before it was realized on film.
With Ogata and Olsvig hilariously matching del Mar's otherwise focused moves on camera, all three actors had to carefully monitor their movements while also watching those of del Mar. Considering that Zoom was also capturing their dances, the aforementioned trio adjusted their physical adjacency to the computer camera accordingly.
"Given that we were dancing towards the laptops' webcams, we also could combine movements so that we could stick our faces or fans closer to the laptop to get close-ups and move away further when we wanted a more full body shot," recalls Ogata. "We further combined flamenco with hula hoop. This worked especially well since Lærke was experienced in hula-hooping with multiple hoops simultaneously."
Because each scene was shot with three different cameras, as well as Zoom's desktop recording feature, it was more difficult than expected for Ogata, Evans and Odaka to sync their footage with audio. Nevertheless, they worked overtime to make each visual and sound element connect seamlessly.
"As we discovered numerous instances of our lines being out of sync with the image, Sian, my producer, together with Taka (Odaka), my sound designer and engineer, and I, adjusted them both in the editing system and in the sound editing software," Ogata says. "In the end, we were able to fix all the issues, but this task took a considerable amount of time and effort in our post-production process. It's no easy task to mix multiple cameras with multiple resolution and audio capacities."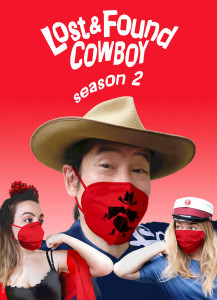 Credit also must go to colorist and longtime Ogata collaborator Miki Inagawa, who along with Odaka, adjusted the visual inconsistencies of each shot and transformed raw footage into the sparkling 4K mastered final cut that viewers will see in season 2 of Lost & Found Cowboy.
For Ogata and his team, the experience of making that series while under quarantine was at times taxing, but the end product they created made that hard work worthwhile.
"As we continued to find new solutions to all kinds or creative, technical and logistical challenges, we, like our characters, felt rejuvenated by an overwhelming sense of accomplishment," says Ogata. "It was incredible how much hard work Lærke and Xana put into this production, not only in terms of acting, but also in terms of filming and data management of the footage they filmed."
As Ogata looks back on the making of Lost & Found Cowboy's second season, he feels that we can all take away something from the show's combined goals of breaking down all that divides us and building up all that unites us. By blending his series with comedy, dance and friendship, Ogata believes that Lost & Found Cowboy can also bring some normalcy back to a world that, in spite of the continuing pandemic, desperately needs a little normalcy.
"The pandemic gave rise to a lot of uncertainties, fears, close-mindedness, hate, blaming and scapegoating. It is my genuine hope that our show will give everyone hope, strength and joy throughout these challenging times and encourage us to reach out, despite whatever difference we may have culturally, nationally, socio-economically, to embrace inclusivity and celebrate diversity, love, compassion and humanity."
Watch all four episodes of Lost & Found Cowboy on Twisted Mirror TV:
https://twistedmirror.tv/en/lost-found-cowboy-s2
NOTE: Regarding closed-captioning/subtitling of Lost & Found Cowboy, Ogata says: "Each episode will be closed-captioned throughout in English. The characters speak mostly in English, but also sometimes in Spanish and a few times in Japanese and Danish."