Imagine being a fly on the wall, being able to eavesdrop on the most intimate conversations and moments in life. Now imagine being that fly in one of the most intimate places of all – the bathroom. The new comedy web series THE LADIES AND THE GENTS, created by Stephanie Thorpe, in conjunction with co-producers Tania Ihnen, Robb Padgett, Avi Glijansky, and Steven Lekowicz, brings viewers a unique, and hilarious, web series experience – two companion series, each with their own set of comic characters and storylines, but with one key similarity – they take place in public restrooms (in this case, a fancy club) with all of the action taking place in the course of one night, as seen through a fixed camera, through each restroom's respective mirrors. Many assorted characters enter and exit, with the only constants being Anna (Beth Fisher), the ladies' room attendant, and men's room attendant Al (Trent Hopkins). The show, which debuted on April 8th, has a total of 40 episodes scheduled for the first season (20 with the men, and 20 with the women), with the women's episodes airing each Tuesday, and the men's episodes on Thursdays, on their Youtube channel, and also ad-free on JTS.tv.
About 130 plus people, from actors, to writers, to directors, contributed their talents to the show, which filmed its 40 episodes, in addition to 20 brief interstitials, over a course of two weekends (4 days) on a sound stage. Each episode of THE LADIES was written and directed by women, including Thorpe, while THE GENTS was written and directed by men. Among the cast of notables: Phil Morris, best known to TV viewers as lawyer Jackie Chiles on SEINFELD, Tara Platt (SHELF LIFE), Paula Rhodes (who produced ELFQUEST with Thorpe), emerging star Chris Powers (who currently enjoys 35,000 subscribers to his web series, BAD ADS) and David Nett (PAIRINGS, GOLD, and the upcoming ALICE AND THE MONSTER, among others), all part of an "actor pool" of talented, professional actors that Thorpe and the series' producers each created, with the casting process primarily through word of mouth.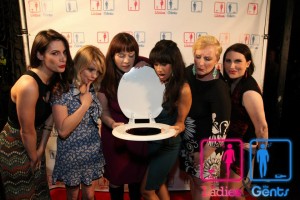 Before the cameras rolled, they developed the concept for the show over a year-long period. "It was a really lovely organic idea. We just wanted to shoot something that would be easy, like a one location deal, that could bring the (web series) community together, and get a whole lot of people involved, and so Tania and I started talking about (how) there's always weird stuff going on in the ladies' bathroom, whether funny or traumatic," Thorpe says.
Another key part of the production process was finding the right place to film each scene, a process which became simpler, given the large amount of cast and crew involved, by converting a mixed-use art space into a soundstage, with Padgett serving as the bathrooms' set designer. As a result, the show has won acclaim from fans not only for its comedy, but also for the high quality of its production, from its talented cast, to its equally outstanding crew, including the show's director of photography Zoe Van Brunt. Says Thorpe: "This was a grand experiment. Each episode was given an hour on set, with the cameras rolling, and as many takes as they wanted, or as many takes as they could get. Most people wrapped up about 40-45 minutes before, so we had time to do behind the scenes stuff. Everyone on both sides came really prepared. It was hard for us to pick the best takes, so in a lot of cases, we had six awesome takes to choose from, and they were all great."
Thorpe feels that the show's high quality of production is one of many factors that set THE LADIES AND THE GENTS apart from other comedy web series. "I think that one of the things that sets it apart is that we're going for a certain style. The camera's fixed, we keep everything short; our shortest episode is 35 seconds, and our longest is four and a half minutes. Some of them are one-joke wonders, and some are a little more involved. Just having this whole sort of cohesive thing where the bathroom itself is a main character, and having this thru-line of the attendants watching all of this go down through the night, I think that people like to be voyeurs, they like to watch, and you have that added idea of (you) watching behind the mirror. It's like a window into something you're not normally privy to."
ON THE WEB: www.theladiesandthegents.com
YOUTUBE: http://www.youtube.com/user/TheLadiesandTheGents
JTS.tv (Just The Story): http://www.jts.tv/TheLadiesTheGents
FACEBOOK: https://www.facebook.com/theladiesandthegents/
TWITTER: https://twitter.com/ladiesgentsshow