There's nothing like the experience of hitting the open road – no matter if it's by car, truck or even motorcycle. However, most people have long associated the latter with the dangerous and often violent world of outlaw biker gangs like the Hell's Angels and the Rebels' Motorcycle Club, among many others. It's a world that has received greater awareness thanks to the hit FX series SONS OF ANARCHY, but one new comedy web series brings viewers a hilarious and distinctive look at the rebels of the road: DEVIL'S COURIERS, created by and co-starring Shane Cibella of Go Diesel Productions. The series' first season of 20 episodes debuted on September 20th, and is now streaming on its official Youtube and web pages with new episodes every Monday and Tuesday. 16 of them have aired so far, and the show's season finale will air on November 26th.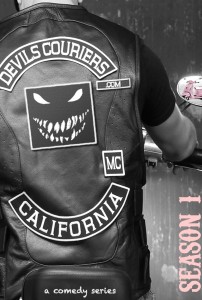 An unparalleled mix of comedy and action, DEVIL'S COURIERS follows the exploits of two rival gangs who fight to control not only the small California town of Gobbler Creek, but also (of all things) the booming black market for erectile dysfunction drugs. One is a tough, intimidating group of badasses known as The Devil's Couriers Motorcycle Club. The other is the neat, perfectly coiffed and properly attired Hipsters On Scooters. Their heated rivalry gets even more tense when the Hipsters suddenly gain access to a new male enhancement drug, costing the Devil's Couriers their fledgling business – and leading to a horrific kidnapping that will change not only their rivalry, but also the lives of everyone involved.
The series features a talented ensemble cast, each of whom portray some of the toughest, yet funniest outlaws on two wheels. John Charles Meyer plays Reaper Richie, the hapless leader of the Couriers who struggles to maintain order with his motley crew of rebels including Mad Max (played by Tim Aslin), Reaper's second in command and frequent love interest of both his ex-girlfriend, Sara (Amanda Hall), a sales rep for the popular impotency drug Bonera, and his mother, Grace (Heidi James), who's also Richie's wife. Cibella plays the group's sergeant-at-arms T-Rex Tristan, who won't allow hipsters, or anyone else, to get in his way. The cast also includes John Walcutt plays the aging Hitman Henry, whose body may be failing but whose sex drive is as strong as ever, Kovar McClure as the bike riding cop Frank, the group's newest (unofficial) member who bends over backwards to become a full-fledged member of the Couriers, and Max Faugno as the handsome, proper and trendy Gregory, whose Hipsters On Scooters gang makes life miserable for the Couriers.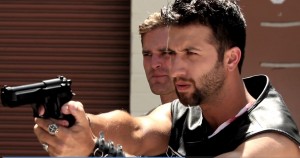 For Cibella, the overwhelming popularity of SONS OF ANARCHY propelled him to create a more comedic take on the dark, edgy world of rebellious biker gangs with characters who put up an intimidating front only to end up getting in some very sticky situations. "These guys are trying so hard to be tough and cool, that they can't get out of their own way," he says. After Cibella put his hilarious vision of a world of misguided outlaws to paper, he set about finding the actors who would bring them to life.
Over 100 performers auditioned for the series' various roles before Cibella finally settled on his core ensemble, though several members of the cast were already in mind as he wrote the characters they would portray. One of them – Walcutt, a veteran actor who instantly livened up the on-set atmosphere with both his experience and his comedic timing. "I didn't actually think he (Walcutt) would do it. When he did, we expanded the role. Everything he did on set should have been put on camera, (and) his resume is intimidating, but he makes the cast and crew around him better," Cibella says.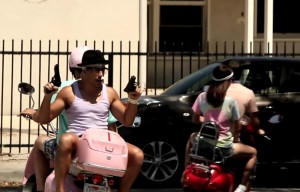 Even though shooting 20 episodes of a web series can be a challenge, the hard work and dedication of Cibella's team paid off despite various obstacles. "We stayed on schedule, thanks to a talented cast, and an amazing camera & sound crew. Dealing with spectators watching was difficult, since we looked like a real motorcycle club. Also, guns and screaming tend to attract a lot of attention," he says.
Inspired by SONS OF ANARCHY and its creator, Kurt Sutter, Cibella's ambition for DEVIL'S COURIERS is to strike a chord with the viewer, and it's that goal that he hopes to achieve not only through this series but through all of his projects. "I get inspired by creating something from paper to film and letting people go for the ride. Whether it's comedy or drama, just invoking any type of emotional response from an idea is pretty damn cool." As evidenced by the overwhelmingly positive reaction to DEVIL'S COURIERS via social media (Twitter, Facebook, etc.) it's a ride that shows no signs of slowing down.
(All episodes are closed captioned.)
ON THE WEB: www.thedcmc.com
YOUTUBE: http://www.youtube.com/takinashot
TWITTER: https://twitter.com/DevilsCouriers
FACEBOOK: https://www.facebook.com/DevilsCouriers
TUMBLR: http://devilscourierscomedy.tumblr.com
PINTEREST: https://www.pinterest.com/devilscouriers/pins/
GOOGLE PLUS: https://plus.google.com/u/0/100373382261311050946/posts