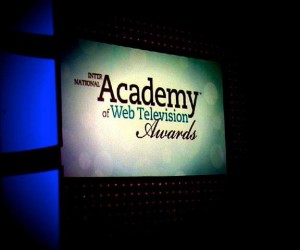 It's a new year, and at this time every year there's always dozens of awards handed out to some of Hollywood's best and brightest – be they the Oscars, the Globes or the various craft specific awards presented to actors, writers, directors and producers. The same is true for the world of web series.
On January 7th, the International Academy of Web Television (IAWTV) will have their own moment in the spotlight in Las Vegas with the 2014 IAWTV Awards, being held at the Rio Resort and Hotel on the opening day of the 2014 Consumer Electronics Show. The ceremony will be held at 6:00 PM Pacific (9:00 Eastern), and streaming coverage of the event can be found on the IAWTV's official web site and on the web site What's Trending (see links below). Coverage begins with the red carpet show at 3:00 Pacific (6:00 Eastern).
As anyone who enjoys movies, TV series and web series can appreciate, it takes a tremendous amount of work to bring them to life. Yet, before the cameras roll, and even before an actor is considered for a part, the process of creating any movie, TV show or web series always begins the same way – on the page. Before the IAWTV announces the winners in Las Vegas, SNOBBY ROBOT takes a close look at two of this year's nominees for best writing for a web series – the transmedia comedy VERSUS VALERIE (co-written by staff writer/co-director Simon Fraser, plus head writer Stephanie Kaliner and staff writer Alice Moran, among others) and the coming of age teen drama SQUARESVILLE (written, directed and created by Matt Enlow), which finds itself nominated in the drama category for the first time, after being nominated as a comedy in 2013.

Airing on its official web site (see link below), VERSUS VALERIE follows the story of Valerie Lapomme, played by Hannah Spear (up for this year's IAWTV's Best Female Performance In A Comedy award), a young woman  and proud geek who finds that falling in love is not always as magical as it appears to be. Joining her along for her adventures (and sometimes, misadventures) in romance is her best friend Guy Sideki (Adam Christie), an opinionated, often egotistical nerd whose attitude conceals a much gentler side.
Standing in the way of Valerie's pursuit of love is her domineering mother ("Mother", played by Shelley Kidwell), an ex-model who gave up a lucrative career to raise her and who now tries to control every aspect of her life, especially who she wants to date. Her latest suggestion for boyfriend material? A mysterious man known simply as 'The Doctor' (played by Mark Meer), who goes on a blind date with Valerie convinced (as is Valerie's mother) that he's the one. The series' first season premiered last March with 12 episodes, and is an extension of the popular transmedia series SEXY NERD GIRL, which began in 2010 and featured the Valerie character appearing in her own personal video blogs (or vlogs, more on that later).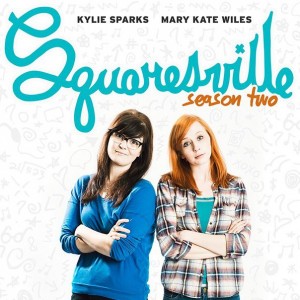 Now in its second season, SQUARESVILLE continues the coming of age story of best friends Zelda (Mary Kate Wiles) and Esther (Kylie Sparks), plus their best friend Percy (played by Austin Rogers). Together, their lives are about to get even more interesting – and complicated as they approach their adult years.
The series began in March of 2012, with 32 episodes having aired over its past 2 seasons. SQUARESVILLE can be seen on its official Youtube page (see link below), and in addition to the main episodes there's also a host of supplemental material including behind the scenes features, plus video chats and monologues from the show's characters.
While VERSUS VALERIE is a newcomer to the awards game, the series that brought it to life – SEXY NERD GIRL, was twice nominated for best web series at the past two Canadian Comedy Awards, in addition to winning Geekiest Vlog at the first ever Geekie Awards. In the comedy category, VERSUS VALERIE is nominated along with other great series like the popular CW Seed sitcom HUSBANDS plus EPIC RAP BATTLES OF HISTORY, THE JEFF LEWIS 5 MINUTE COMEDY HOUR, and season 2 of PRETTY DARN FUNNY.
As for drama, SQUARESVILLE goes up against the four part Irish series CUCKOO, plus the musical drama THE HINTERLANDS, and two acclaimed series produced for the popular female-centric WIGS Channel: BLUE, starring Julia Stiles as a mother who lives a secret life as a call girl, and LAUREN, featuring Troian Bellisario (PRETTY LITTLE LIARS) as an Army sergeant torn between her duties and the pursuit of justice when she finds herself the victim of a terrifying sexual assault perpetrated by three male servicemen.
SQUARESVILLE took home top honors for best ensemble, best comedy and best writing for a comedy at last year's IAWTV Awards, but given the series' increased emphasis on dramatic storytelling in its sophomore season, Enlow and his crew had a tough decision to make when it came to submitting their show for awards consideration (more on that later).
Recently, I interviewed the talented writers of these popular, acclaimed series to get their insights on the creative process in all its facets. From creative inspirations, to the overall development of both shows, plus the collaborative aspects of writing (and its challenges), the scribes of both SQUARESVILLE and VERSUS VALERIE have a lot to say about just what it takes to write and create a quality web series.
How long have you been writing?
Matt Enlow (Writer/Director/Executive Producer, SQUARESVILLE)
It was always my intent to be a writer/director, probably for as long as I can remember. I started work on Squaresville in earnest about three years ago now.
Stephanie Kaliner (Head writer, VERSUS VALERIE):
I've been writing since I was in school at Ryerson University for Radio and Television Arts. I graduated in 2008.
Alice Moran (Staff writer, VERSUS VALERIE):
Professionally for the past 8 years. Before that I kept several over-wrought teenage journals, and as a youth, went through a viscous "Harriet The Spy" phase.
Simon Fraser (Staff writer/co-director, VERSUS VALERIE):
When I was 4-years-old, I wrote this sentence in crayon: "The Lion Ate Mrs. Never-Stop-Talking." I haven't looked back since. And the lion grows hungrier and hungrier.
What was the first project (web series) you worked on?
Enlow: I've had my hand in many series over the years, but the first I called my own, was a show Christine (Weatherup, Enlow's wife and producing partner, who also plays Sarah in SQUARESVILLE) and I did called ENGAGED about, you guessed it, an engaged couple. Surprise, we were also engaged at the time.
Kaliner: Sexy Nerd Girl.
Moran: I wrote several shorts for the Second City Network (the legendary comedy club's Youtube channel); all of them about books (most notably the viral Harry Potter spoof HOGWARTS: WHICH HOUSE ARE YOU?)
Fraser: In 2000, I worked on an experimental web series called Cinema 1. Its purpose was to discern how limited bandwidth affected specific audiovisual elements of video. Soon after, high-speed Internet use became the norm and all my experiments were made irrelevant.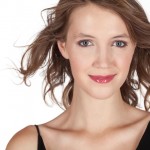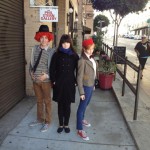 How did you come up with the concept and characters for your show?
Enlow: Like any writing, they're an amalgam of myself and friends. I wanted to make characters that I would recognize from my own life, so they were all based on some common archetype of high school. The challenge is to keep them from being so universal they become cliche.
Kaliner: Simon wanted to develop a web series with a strong female protagonist, who embodied all the power of being confident and saying yes. We also wanted to write something that involved the geeky things we're into, and to show that women like those things just as much as men do.
Fraser: I'd seen a really compelling statement that Helen Mirren made about women not having as much representation in media as men do. And I looked back on a lot of the content I'd written and realized that around 80% of the characters I'd written were male. And I decided I wanted to break that habit.
What (or who) inspired you to write/create your show?
Enlow: I wanted to make a show that would have spoken to me as a young person. I fell in love with short form storytelling, and knew that young people were consuming web series. It made sense to follow that urge, and make something for them.
Kaliner: Simon came up with the initial concept, and the characters and storylines grew from there, inspired by real people and events that all the writers/producers/actors relate to – but heightened using our favorite sci-fi and fantasy movies, books and TV.
Fraser: In terms of the creation of the show, I came up with the kernel for the main character and her world view. Steph and I built the world around her. Mike Fly (producer/co-director/co-editor) pulled us all in the right direction. Hannah and Adam iced the cake.
What (or who) inspires you as a writer/filmmaker?
Enlow: I look at a lot of comic books when I'm working in web. Since I focus on short form, I find that comics tend to lend a lot of inspiration- especially structurally. They're serialized, but self contained, and single serving. The choice to read 20 comics, or just one depends entirely on how many you had at the time, and how much time was available.
Kaliner: I'm personally inspired by Tina Fey, Joss Whedon, and my humor has always been influenced by The Simpsons.
Fraser: Francois Truffaut (famed French New Wave filmmaker). I see Valerie Lapomme as a sort of Antoine Doinel (Truffaut's iconic character, appearing in his classics THE 400 BLOWS, STOLEN KISSES, BED AND BOARD and LOVE ON THE RUN). I would love to show this character's journey over the next 20 years.
Moran: Rowan Atkinson (actor/comedian, best known as Mr. Bean) has probably been my biggest influence as a writer. I had a VHS tape of the best of his Fringe shows that I watched everyday after school. I performed a monologue from it at show and tell, entitled "No One Called Jones". It was wildly inappropriate, and I was too young to understand the jokes in it. As an adult, I know it's funny because he uses the phrase "ass-bandit".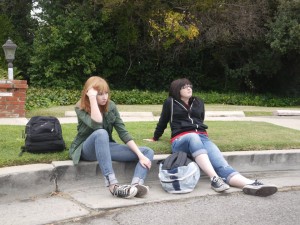 Were there any other web series that inspired you to create your own show, based on their success?
Enlow: I really love what Brad Neely (creator of the web series I AM BABY CAKES and THE PROFESSOR BROTHERS) was doing online, and there have been some great channel 101 shows out there. I loved Clark and Michael, as well, which was a very early web series. And the Maria Bamford Show. Those were the big ones for me (that people may be less familiar with).
Kaliner: We were helped a lot (by) the Pure Pwnage gang, specifically the super-knowledgeable Davin Lengyel. We also were advised by the 3killabytes crew from practically the beginning of SNG and worked with them on both Sexy Nerd Girl and Versus Valerie.
Fraser: For Sexy Nerd Girl, Mike and I also watched a lot of vlogs being produced by popular YouTubers since that was ostensibly the format in which we were telling our story. I watched a lot of Phil DeFranco. Hi Nation. But Versus Valerie takes most of its style cues from Scott Pilgrim vs. The World and the source content to which we refer – Star Trek, Harry Potter, BBC's Sherlock, to name a few. There are more cinematic influences than anything else.
Do you work with any other writers on each episode?
Enlow: I bounce it off a few people, and we normally set up a table read about half way through the process, but I am the sole "writer".
Kaliner: Definitely! It's a very collaborative process. We met up to discuss ideas initially and hashed out the whole first season together, then went off individually to write our own episodes, then came back together as a group to read the scripts out loud and punch them up with more jokes. Also, the actors add hilarious lines on the shoot day. So we're a real team.
Fraser: I wrote 2 episodes in Season 1, one solo and the other with Deborah Etta Robinson. I prefer co-writing a little bit more than solo writing. I love that the result ends up being a magical beast that neither writer could have created on their own. I'm a sucker for magical things. Dragons, Unicorns, Bags of Holding – don't even get me started.
What is the process of writing each episode like, from character and setting development to dialogue?
Enlow: Normally I have some idea of what needs to be accomplished in the episode- an idea, a joke, something that progresses the series arc – and its' just about hashing out the meat of it. Normally I'll write each episode on their own, then do a big rewrite or two once they're all strung together. Sometimes it's fast and easy, and sometimes it'll take me a handful of drafts to get it right. The first and last episode of any season is an extra challenge.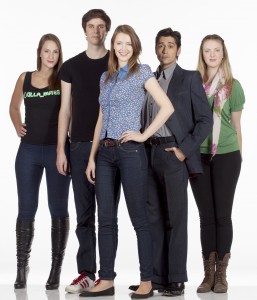 Kaliner: We came up with a treatment for the whole season, and plotted out Val's arc – event-wise and emotionally. Then we all threw in ideas of what sci-fi/fantasy we could parody with each episode. We basically boiled each episode down to what it was about thematically, then chose a geek property that had the same themes. Then each writer wrote their episode, we went through a couple rounds of producer notes, then finally we all did a jokes pass together over the final scripts to make them as funny as possible.
Moran: We had a fun day of punching them up, which is essentially sitting in a room with your best buds and trying to make each other laugh.
Kaliner: As for settings – we wanted Toronto to be very present in the show, so we picked our favorite spots around the city to shoot in. The dialogue came quite organically because we'd already been writing for Guy and Val for over a year through Sexy Nerd Girl, and we knew the actors' voices very well.
Did you have any actors in mind when you wrote the script for your show?
Enlow: We did a massive casting process for season one, so luckily, I knew my main cast for season 2. There were a few actors I kept in mind after having seen them audition and brought them in. Specifically, the actor who plays the lead mean nerd, Jeremy, was written for the actor William Horowich. We had him read for nearly every male role at one time or another, and I really thought he was so funny and great. I felt bad that we brought him in so many times over the years, and was really happy to get him on screen. It was a similar story (for) Arron Fenton (who appears as Noel in season 2's eleventh episode).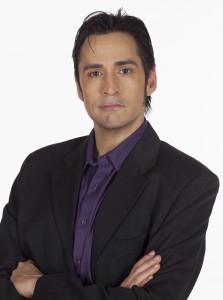 Kaliner: When we made Versus Valerie, we already had cast the Hannah (Val), Adam (Guy) and Shelley (Mother) from Sexy Nerd Girl, so that was easy. And we knew we wanted to involve 3killabytes (the popular Youtube tech review series), so we wrote Kat's part for Kat (3killabytes co-host Kat Jovey). And we knew we wanted a hunky hero-type for Val to fall in love with – which led us to the very chiseled Mark Meer, so the role of the Doctor was written with him already in mind.
When do you feel the script is truly finished (or film-able, at least)?
Enlow: When we have to shoot it! Ha. I normally have the script ready to breakdown for production a couple drafts in – it reads, the jokes are solid, and the pacing is right, but I'm constantly tweaking jokes on set. The great liberty of being the writer/director, is that I re-write jokes on set all the time. I'm never worried about what the writer will think, cause he's me. The actors are often a little thrown at first, but once they get the hang of it, I think they actually have a lot of fun. MK (Mary Kate Wiles) and Kylie would be secretly disappointed if I didn't have a curve ball for them at some point – a new scene, joke, something. We like to keep the shoots active and alive.
Kaliner: When I can't think of any more things to fix, and no more notes are coming in. Basically, my personal rules for sending in a first draft to producers is: if the script makes me laugh, the story is clear, I have no logic questions while reading it, and the action/dialogue drives every moment forward – there's nothing more I can do.
Fraser: I have 2 answers to that because I wrote on the show and also co-directed and co-edited it with Mike. So my first answer is identical to Steph's. My second answer is from a post-production perspective. For me, as an editor, the script is still being written even after filming is done. So it's done when the picture is locked and Mike forbids me to make any more changes.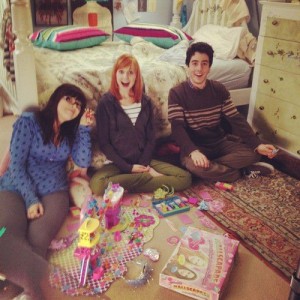 What feedback or input do your actors give with the script, before and during filming?
Enlow: Well, table read will act as our first rehearsal, and I try to get in to iron out any glaring issues then. It's very hard to unlearn the way you do something, so I try to get in front of it. By the time we're on set, everyone has a good sense of how the scenes are going to read, even if blocking changes. I try to make the process as collaborative as possible, and over the years I've learned to give people more to fill in themselves. Rather than spell everything out for an actor, I very consciously step back, and see what they do with the material. Oftentimes, they'll come up with something I never could've asked for.
Fraser: Scripts are blueprints. They make awesome movies in the writer's head. However, when you try to bring them out into the world, there is a slew of circumstances which affect how the script will be transformed into a finished product. As a director, my preference is to always ensure that what I'm capturing feels like the truth. If an actor bring a variance to the dialog that ensures that truth exists on the screen, so long as it doesn't alter the narrative, I don't have a problem with that. There is a joke in Episode 3 (the episode I wrote) that Adam improvised on the day, in which he is comparing Val's boss to Hitler. What I wrote was, "Your boss is Hitler… Adolf Hitler!" And Val replies, "I know which Hitler!" Adam added, "the worst of the Hitlers!" That heightened the truth of the moment and it was included in the show.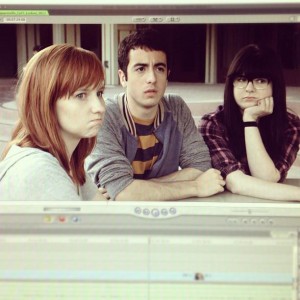 How does the script impact the post-production phase of each episode?
Enlow: My editor doesn't cut to the script at all. He cuts from the footage, and we go from there. He takes his first pass and really crafts the episode in a vacuum. I don't want him knowing how hard or expensive a scene was to shoot. I have that baggage, so I want to make sure that he's cutting from the purest viewpoint he can, so that if a scene isn't working, he can say so. Neither of us care about the context of production once we're in the editing room- does it work or doesn't it is the only thing we need to ask ourselves. It's funny, I always expect a text or two from the actors the morning of release asking where a line or scene went. Ha!
Fraser: Because of the scope of our show, it was shot out of sequence over 4 months. And our budget couldn't accommodate a script supervisor, though I tried to fill in that role as much as I could. So both Mike and I relied heavily on the scripts when we were editing (if only to ensure that we had all the shots we needed.) Our first cuts were all to-script with maybe one or two variances here and there. We'd share that with Steph, our head writer, for her notes. And then we would start cutting off anything that we felt was extraneous. We usually nailed the picture lock in 3 cuts.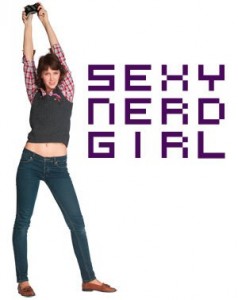 Given the fact that VERSUS VALERIE was born out of a popular series of video blogs (vlogs) called SEXY NERD GIRL, Fraser, Kaliner and Moran's task of transitioning to a more narrative form of storytelling was made easier by the fact that Valerie's (Sexy Nerd Girl)'s character gave them plenty of material to mine through.
However, trying to maintain a steady balance between the interactive elements of those vlogs and the structured episodic narrative of VERSUS VALERIE did not come without difficulties.
Since VERSUS VALERIE has a very strong transmedia element with SEXY NERD GIRL, how does that tie into the overall storytelling and writing approach to the show (if it even does)?
Kaliner: We kept the Sexy Nerd Girl vlogs going while Versus Valerie aired, so that the audience could see Val's perspective on what was happening in her life, and how the events of Versus Valerie were affecting her vlog. It also provided a place for Val, the character, to keep interacting with the audience to keep them involved in the story.
Fraser: When we started Sexy Nerd Girl, we had no idea when we would be able to shoot the full-fledged series. So we couldn't project our narrative too far into the future. We usually shot 6-8 SNG (Sexy Nerd Girl) vlogs at a time. Then we'd look at them and determine if we were pushing the narrative forward too much or not enough and then we would adjust in our next batch to keep a balance between the standard variety format of vlogs and what we needed to accomplish in the narrative.
For Enlow, season 2 of SQUARESVILLE differed from its first primarily because of its changing style of storytelling; one with an increased emphasis on the show's more dramatic moments, as opposed to its comedic ones. While being nominated in the comedy writing category last year, Enlow says that the series' shift in tone made it quite a challenge when it came time for awards season.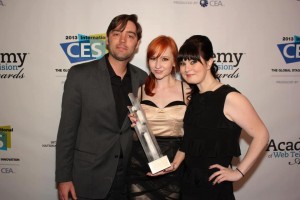 Your show (SQUARESVILLE) was nominated (and won) last year in the comedy category. Now it's been nominated in the drama category. What was that like, and what led to your show being nominated in that category?
It was a hard, complicated decision for the team to make. We were the ones submitting the show to the awards, so it was our call. I ultimately decided that the core of this season was dramatic, and that our strongest episodes were driven by the dramatic elements, rather than comedic.
As a result, how has the show changed over the past season (its second)? Does the show still retain its comedic elements?
I sure hope so! In any successful form of writing, you have to strike a balance between funny and sincere. Esther, Zelda and Percy went through some pretty formative challenges this season, so to take that all without a bit of humor would have been a pretty unrelenting experience.
No matter what challenges come with writing comedy and drama, each of these writers can agree that the goal is always the same – to create a meaningful, entertaining story that viewers can enjoy and identify with.
How is writing a comedy different from writing a drama, and vice versa?
Enlow: Well, with SQUARESVILLE there aren't many "hard jokes"- it's not punchline driven the way network comedies are, so the difference comes in the characters attitudes, and the severity of the plot. If the characters are OK with making light of the situation, that's a comedy in my mind.
Kaliner: A comedy script has to find the humor in the drama. And there are jokes in it.
Fraser: For me, it's all about the characters. It's their behavior and how they interact with other characters and with the world that determines whether it's comedy or drama. I get just as much pleasure writing a good joke as I do writing a piece of dialogue in which one character really sticks it to another character.
Moran: When you write comedy, you get to follow flights of fancy. It's almost like a hedonistic "Oh this feels good, so I'm going to keep doing it" sort of feel.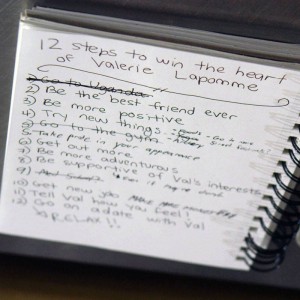 How is it the same (if it is)?
Kaliner: In my personal opinion, there isn't really any difference between comedy and drama except jokes. Good comedy to me always has a dramatic spine. I won't find something funny if I don't find it real first.
Some of the best advice I ever got was to write something as a drama first – which doesn't mean write it like a melodrama and make it over-the-top serious – it just means to not focus on "making it funny". Let the humor comes naturally from the situation and the characters, and write a good strong story above all. Then add the jokes.
Moran: At the end of the day, you're always just trying to tell a good story. Everything else is secondary to that.
What advice, if any, do you have for anyone who aspires to create their own web series (including writers)?
Enlow: My main advice is to just go have fun and make it special for everyone involved. This is a weird world, and web series are still just emerging, so just make the thing you've always wanted to make, and have fun doing it. That's the best recipe for success.
Kaliner: Band together with your friends! We were able to work with a crew and cast that was largely comprised of our friends. That way we were able to trust the people we were working with to put their creative all into the project. Also, keep an eye out for grants, sponsorships, or crowd sourced funding opportunities for financing your project. And finally, just actually do it. The enemy of creativity is procrastination.
Fraser: Make room for others' ideas, including the audience. We were fortunate in that we first brought our story world to market using an interactive platform. And because we all have live improvisation experience, we were comfortable with a give-and-take relationship with our audience. So in many ways our SNG viewers influenced the finished VsV product. We already knew them as patrons so we could better deliver the goods.
Moran: Know your audience, give them what they want, but make them think you're not going to.
What do you hope to accomplish with your storytelling through your web series?
Kaliner: I hope that people relate to the characters and what they're going through. I hope that it inspires people to be proud of their nerdiness and feel confident in themselves. And most of all, I hope it makes people laugh…. and that they sing along with the musical episode.
Fraser: Less shame and smallness in the world. I want viewers to extend their comfort zones after watching our show.
Moran: I think it was important to us to write a real and charming woman. I think that Valerie feels like she could be your real friend. A lot of that is just because Hannah Spear is incredible.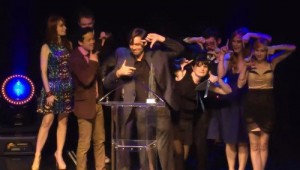 What are your hopes for the success of your show at the IAWTV Awards?
Enlow: The IAWTV Awards are always special, because they represent a community of people very dear to me. These are people who know precisely what it took to make a show like Squaresville – they likely made one themselves. Being acknowledged by your peers is always very flattering, so it's been great to be nominated this year.
Kaliner: I hope we get to meet a lot of interesting creators of other projects… and that we win an award? Or at least get some free snacks?
Fraser: For me, the recognition is in being nominated. Winning just means you get to talk for 45 seconds. What I'd love to get out of it is to edit or write for someone else's show. Wait. Have I mentioned that Mike and I are also nominated for Best Editing?
Moran: I am happy for every new person who watches this show.  It is work that I am truly proud of.
Without going into spoilers, what can viewers expect when they watch your show, and if any further seasons are planned, what can they expect to see?
Enlow: Lots and lots of aliens, and even more making out.
Kaliner: They can expect to see an honest portrayal of a woman in her 20s who feels all the pressure of getting her life started – but has no idea what she wants to do. That, plus cool visual effects.
SQUARESVILLE: youtube.com/SquaresvilleSeries
VERSUS VALERIE: www.versusvalerie.com
To watch the IAWTV Awards on Tuesday, January 7th, visit:
or