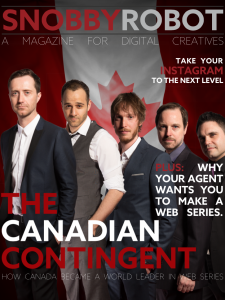 Issue #1 is here, featuring a cover story written by Jess Morton, of The Press Pass, covering the Canadian web series movement. Our goal with this magazine is to deliver something a bit more in-depth on the world of filmmaking and transmedia.
A lot of work went into putting this all together. Dozens of filmmakers, writers and new media practitioners contributed their knowledge and experience to fill these pages. We would love to be able to do this again, and even be able to take our coverage further, but we need your support. Please buy an issue, and share this page with your networks. With enough support we can continue to bring you in depth coverage of the world of web series, filmmaking, and new media.
A special thanks goes out to the Patreon supporters, who made this possible. Your contributions were much appreciated.
Click here to download the magazine. Let me know if you have any trouble.