The new comedy web series 47 SECRETS TO A YOUNGER YOU focuses on two close friends who share vastly different personal and professional lives. One is trying her best to maintain a balance between her professional life and her family life, while the other is attempting to find that one special someone she can share her entire life with.
Over the course of the show's 6 episode first season, directed and edited by Ryan Blackwell and now streaming on its official web site and Youtube pages (see additional links below; the first episode is embedded at the end of this article), 47 SECRETS TO A YOUNGER YOU follows the daily lives of Julie Dooling (played by series co-writer/producer Laura Frenzer) and Karma Kaufman-Castro (played by Rohana Kenin, who also co-wrote/produced with Frenzer).
Though they're best friends, Julie and Karma are both at opposite ends of the spectrum when it comes to love and career goals. While Karma is married to graphic designer Mark (played by Rohana's husband Sean Kenin), whom she shares two children with (son Jake, played by Caleb Kenin, and daughter Clementine, played by Milena Kenin, Rohana's real life children), she finds herself struggling to keep pace with the demands of her job as a director of a non-profit.
Meanwhile, Julie is a recently divorced poet, self-described "craftivist" and adjunct college professor who's taken an extra job at a local restaurant, The Waterwheel, in order to fully support herself whenever she's unable to see her two children (Olivia, played by Daphne Knouse, and Jasper, played by Rex Knouse, both Frenzer's kids in real life). At the same time, she's also attempting to give love another try with the new man in her life, Will Morrow (played by Garrett Hendricks).
47 SECRETS TO A YOUNGER YOU also stars Basil Rodericks as Drew Acosto, the restaurant's bartender and a close friend of Julie's, plus Siobhan O'Neill as Vanessa Potoff and April Armstrong as Nicole Keller, two of Drew and Julie's constant companions – and regulars – at the Waterwheel.
Both close friends, professional partners and moms in real life, Frenzer and Kenin have personally experienced many of the ups and downs that come with growing older.
"Laura and I have been friends, neighbors and artistic and producing collaborators for almost a decade. We're both working parents trying to juggle our parenting lives with our artistic creative lives. And we know a lot of other women (and men) like that," explains Kenin.
Yet, they've also managed to turn those often humbling, but always memorable experiences into hilarious comedy through 47 SECRETS TO A YOUNGER YOU.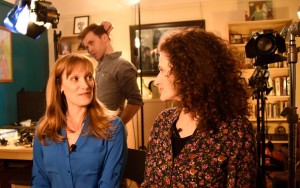 "The show is just us taking real moments that we, or our friends, have experienced and complained, and laughed and cried about," Kenin adds. "I guess sometimes they are depressing for our characters, but funny for us, and we hope our audience thinks so too."
Those moments would be the basis for Frenzer and Kenin's scripts and storylines throughout 47 SECRETS' first season. "Rohana and I were always sharing, complaining, commiserating with each other about life and we would often laugh at the ridiculousness of it," recalls Frenzer. "So at a certain point, we stopped bitching and started writing! We talked about forming some of the ideas into sketches and realized we had enough material for a longer show."
Leading up to the creation of 47 SECRETS, Frenzer and Kenin decided to jot down practically anything and everything that could serve as inspiration for their series.
Remembers Kenin: "We started keeping little lists of these things that made us laugh, instead of crying in our phones and saying 'we should make a web series.' Then it moved to "let's make a web series', 'we can make a web series', and then, we did. Of course, it took nearly 300 people in addition to ourselves, so that's a little over simplified. Just a little."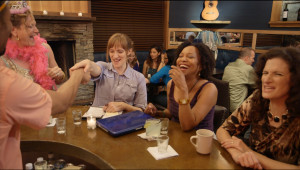 As the show's creators explain, it was their friendship, along with the love and struggles they shared with their own children, that also provided much of the show's comedy.
"We inspired each other. We're friends, we work together, our kids hang out together and over the years we would joke, complain, laugh, cry about the various stuff we were going through – starting to need reading glasses, kid problems, you name it," Kenin says.
Although adult comedy has long been a part of web series, there aren't a lot of shows that focus on the lives of those who are trying to balance career and family after 40. That's something that both Frenzer and Kenin hope to change with 47 SECRETS TO A YOUNGER YOU.
"I think that just being a story focused on women over 40 sets it apart from many web series that seem to be focused on younger adults," says Frenzer.
Adds Kenin: "I don't really think comedies about parenting and working moms are a genre in web series, though there are a few. Some things that make the show unique from other short form web series are: parenting in an urban Brooklyn setting, and the characters that populate the community in the show."
With the scripts for each episode now completed, the next task Frenzer and Kenin would have to achieve was finding actors to play the roles written for 47 SECRETS.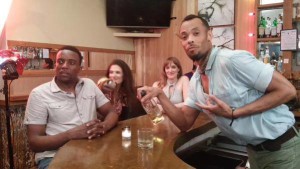 As it turned out, thanks to their own past collaborations with fellow actors, as well as their own personal connections, both actresses wouldn't have to go very far to find the right people to bring their characters to life.
"The first part was easy, we cast ourselves! Then we cast our own kids and I cast my husband Sean Kenin (a professional actor like ourselves)," says Kenin. "Since we've produced plays together before, we called on some actors we'd worked with before like O'Neill, Armstrong, and Rodericks. We produced under a SAG-AFTRA new media contract, so we also held SAG-AFTRA auditions and we found some great people that way."
After a successful IndieGoGo crowd funding campaign that raised $19,200 for production of 47 SECRETS, Frenzer and Kenin would begin transforming the scripts they worked on into 6 fully produced episodes, filmed over 9 days this past June.
Given that the series was the first time they had ever worked behind the camera, both actresses decided to learn for themselves everything they could about the inner workings and techniques of filmmaking itself.
"We came to this with a lot of transferable skills from being on sets as actors, from producing plays, concerts, and other live events and from doing fundraising and promotion but we'd never produced a film or web series before," Kenin says.
"We took almost an entire year writing, re-writing, reading up on the process and meeting with friends, and friends of friends, who are professional filmmakers. They were so generous sharing their knowledge with us."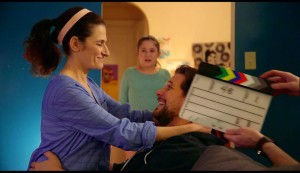 While producing each episode of 47 SECRETS was both a challenge and a learning experience for both Frenzer and Kenin, the production was made easier in large part due to its cast and crew.
In particular, Kenin singles out one key member of the team whose considerable expertise and skills contributed significantly to the show's success – both on the set and in the cutting room.
"We really think of the show as having an ensemble cast and we are really impressed with the talented people who came on board to round out the cast," she says. "But, I think it's also important to mention a huge step was finding our director/editor Ryan Blackwell – who is also from our neighborhood! Since neither of us had done film production from this end before, we need someone who knew his stuff."
The show's success was also made possible thanks to the generosity, kindness and support of those who also call Brooklyn home, as Frenzer explains.
"We also reached out to our community and had tons of support, not only in the IndieGoGo campaign, but also (with) neighbors (who) pitched in on the set, with food, with transportation, loaning us props – the neighborhood really got behind it and that gave a great energy to the project."
47 SECRETS' distinctive brand of comedy will appeal to anyone who finds themselves faced with the daunting tasks of a 9-to-5 job, taking care of the family, and taking the time to make time for love – or find it – all day long.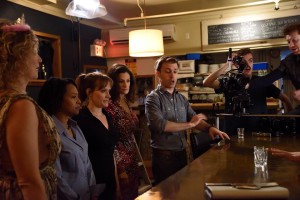 For those who've already made it past the big 4-0, or are about to, Kenin feels that the show's characters and situations will be instantly identifiable.
"I think harried parents who are juggling lots of things will relate to it and find it funny and authentic," she says. "Actually, I think most adults who are approaching or are middle-aged will also like it, kids or not – because parents aren't just parents, they are people who have kids. A lot of what the characters are dealing with is just what women over 40 deal with."
Although kids play a major part of Karma and Julie's lives in 47 SECRETS, make no mistake: this isn't the kind of show you'd want your children to watch. "I don't think kids would really like it," responds Kenin. "It's not really meant for a kid audience," Frenzer adds. "There is a lot of adult language, so parents – use discretion!"
In fact, don't expect Frenzer and Kenin's kids to be watching the show any time soon. Why? "Our kids are in it, so they've seen it, and they do find some of it funny, but they are grossed out by the scenes (where) Karma and Mark kiss," Kenin says. "Of course, they find my husband and me kissing gross under any circumstances."
As it turned out, Frenzer and Kenin's children also contributed to 47 SECRETS in ways that went beyond merely acting on the show. "Our kids are a big inspiration, and while the characters are fictional, some of the kids' lines are things they actually said," adds Frenzer. "And my daughter actually wants writing credit for inspiring me! We keep notes on what they say – constant sources of good material."
Both Frenzer and Kenin hope that 47 SECRETS will achieve two of their primary objectives: making people laugh through its hilarious, yet highly realistic characters and comedic scenarios, and to create greater opportunities to bring viewers a greater understanding and appreciation of what life after 40 really means for women, while proving how turning 40 doesn't mean that life is all downhill from there, no matter how the media likes to have people believe otherwise.
"So much of the advertising and media pointed at women our age is telling us the secret to a better life is to somehow magically be younger, which is impossible," says Kenin. "We'd like to, over a few seasons, explore what it's like for a couple of women to go on a journey to discover what a better quest might be. But our characters Julie and Karma definitely aren't there in season one."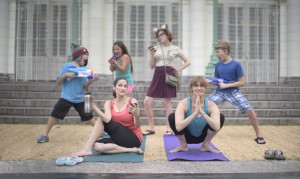 Frenzer and Kenin especially hope that 47 SECRETS will only be the beginning of an even greater effort to positively portray the lives of women over 40 in modern media.
Adds Frenzer: "We want to do our little part to increase the number of stories out there centered around women over 40; to add our creative energies to those already trying to change that focus. To not accept being invisible."
In short, 47 SECRETS TO A YOUNGER YOU proves that no matter how old you are, or where you may find yourself in career, romance or parenthood, how you manage to handle the big and (mostly) small problems that come with everyday life is what counts the most. Frenzer and Kenin believe that the show's message is simple: don't sweat the small stuff – even if it seems big.
"It's really about the small stuff that can trip you up as you're juggling and going into middle-age. All that small stuff you're not supposed to sweat, that's what our characters are sweating – maybe to the detriment of some of the big stuff," says Kenin. "So no big murder mystery or international spy rings, just having too much to do, not enough sleep, laundry, lice – you know the usual."
NOTE: Regarding closed-captioning of 47 SECRETS, Kenin says: "It is not currently closed-captioned, but we're researching how to do it via YouTube Creator Academy. We're still figuring out a fast way to edit the automatic captioning YouTube can provide."
The first episode of 47 SECRETS TO A YOUNGER YOU can be seen here:
ON THE WEB: http://www.47secretstoayoungeryou.com/
YOUTUBE: http://www.youtube.com/c/47SecretsToAYoungerYou
FACEBOOK: https://www.facebook.com/47SecretsToaYoungerYou
TWITTER: https://twitter.com/47secrets