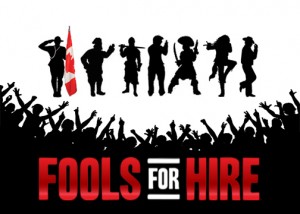 There are two kinds of entertainers: the ones we're most familiar with, from actors, musicians, and singers, to dancers, all of whom perform on stage, screen, or both, in front of millions… and then there are corporate entertainers, those who entertain only one kind of audience: the businesses who hire them.
In FOOLS FOR HIRE, a new-ish comedy web series which debuted in December 2012, created and written by Nick Harrison, Mike Cavers (who both star, respectively, as Nick and Mike) and Neil Every (who also serves as the show's director and as the director of photography), two men who play the roles of "corporate entertainers" subject themselves to hilarious, and often humiliating, experiences, all in the hopes of trying to support themselves, and their families.
The show has aired 4 episodes so far, with another 4 set to air, and also stars Eric Breker (as the duo's arch-nemesis Eric Von Huffington), Barbara Kozicki as his assistant, Rochelle, plus Pearce Visser, Rebecca Harrison, and Victoria Davidson. In addition, episode one guest-starred TV veterans Gary Jones (STARGATE SG-1) and Jackson Davies (BEACHCOMBERS), whom Every says will probably return to the show in later episodes.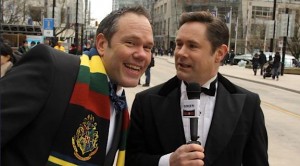 FOOLS FOR HIRE is based on the real-life experiences of Harrison and Cavers, both of whom have seen their fair share of hijinks in their careers as "corporate entertainers". Several years ago they started filming themselves before and after various gigs – they thought, "This is kinda funny; Nobody will ever believe the shit we have to endure doing these gigs, maybe we should make a show about it!" Much talk ensued until Nick was working as an actor and 1st A.D. on another web series ("Libelle") where he met me directing – we got talking and a short while later Fools For Hire was heading towards production," says Every, who believes that the show may well be the first web series of its kind about corporate entertainers, and their experiences.
The show was filmed in Vancouver, British Columbia, and it was their close-knit entertainment community that provided vast resources for its production, Every says. "The Vancouver entertainment community is a very close-knit group and is incredibly generous with their time – everyone wants to work and be part of fun projects so we just asked our friends if they wanted to be a part of things. Our cast is still relatively small but as we get into the next batch of episodes we'll be expanding things and bringing in new talent. We've already got a ton of awesomely talented people lining up to work on the show."
Every, who cites the prolific '70s output of filmmakers Steven Spielberg, George Lucas, and John Carpenter, plus modern works by James Mangold and Sam Mendes among his creative inspirations, says that the process of filming each episode of the show was, "short, mad-cap, stress-full at times but 99% wall-to-wall fun." Aside from gaining viewers, and pushing the creative envelope in further episodes, Every's greatest hope for FOOLS FOR HIRE is this: "I suppose the message would be, no matter how hard things get, no matter how humiliated you feel, life is short – do what you love, be yourself and keep on pushing through all the b.s. life will invariably throw at you! I think all of us have a Fool inside of us. Society kinda looks down on the foolish but a true fool puts themselves out there with no shame, all for the sake of bringing a smile to the world and that is something that is in short supply. The world needs more smiles and people need to not take themselves so seriously."
ON THE WEB: http://www.foolsforhire.net
FACEBOOK: http://www.facebook.com/FoolsForHire
TWITTER: https://twitter.com/fools_for_hire