Being a princess is never easy. On the other hand, being a party princess may be difficult, but it's a living for two best friends in the new comedy web series CROWNED, co-created by the husband and wife team of Brianne Sanborn and Josh Bednarsky, and premiering August 15th. The show stars Sanborn as Macie, and Veronica Mannion as Vianka, two recent college graduates who in the midst of a difficult job market (Macie aspires to be a veterinarian, while Vianka hopes to be an actress) find their only source of employment to be as 'princesses' who appear at children's birthday parties, a growing phenomenon that not only brings out the kid in Macie, but also leads her toward her own journey of personal growth throughout the series. CROWNED also stars Bednarsky (who in the series is virtually unrecognizable in layers of latex makeup, more on that later) as Monty, the crotchety old owner of Crowned Entertainment, the firm that employs both Macie and Vianka, while Kurt Peterson plays Monty's loyal assistant, Wilhelm. Six episodes are set for the show's first season, along with several character vlogs (video blogs) that will air in between each episode.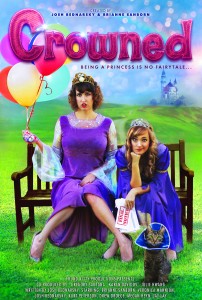 Sanborn and Bednarsky created CROWNED based on their own personal experiences in the 'party princess' industry. "The show was born out of our experiences as party princess entertainers and fledgling actors. While performing at all of these birthday parties, funny things started to happen and the characters we met along the way really inspired us to write a series based off of it. As we started to write, we also added and created new characters and plot elements," Bednarsky says. Filming began last October, and is still underway as of this year with more of the show's character vlogs being filmed. In addition to the main episodes and character vlogs, real life party princesses are featured in the supplemental series CONFESSIONS OF A PARTY PRINCESS, where many of them have already submitted videos featuring their stories of some of the most memorable experiences they've had in their careers as children's entertainers. Sanborn and Bednarsky are still accepting videos for that series, as well.
The hardest part of CROWNED's long, exhausting production process came at the beginning, according to Bednarsky: "The production process was first a funding phase on Kickstarter with my wife. We literally spent 30 days on Twitter and Facebook begging friends and family to pledge," he says. "During this, I got busy writing the first draft of 7 episodes. Then, after successful funding, we went into compiling our crew and cast. Brianne handled all of the casting that were not already pre-cast (friends of ours). The most important member of my crew was Lisa Donato (our Assistant Director). With my loopy brain, she kept us all on task and organized. We shot the show in 3 units due to the indie nature of having to pause production, re-calibrate our aims, and keep moving in a productive direction. It was a lot of learning as we went." Even as of this writing, more character vlogs are being filmed.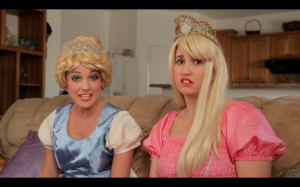 For Bednarsky, even playing the role of Monty presented its own unique challenge, primarily due to the layers of latex makeup applied in order to give his character an aged, grandfatherly appearance. It took two hours for special effects artist April Fiske to apply the makeup, and 90 minutes to remove it. However, makeup wasn't the only contribution she made to the show, he recalls. "She was fantastic and contacted us actually during the Kickstarter campaign. It was a painstaking removal process though." While Bednarsky and Sanborn don't expect any financial benefit from producing CROWNED, they each hope to bring viewers of all ages a show that focuses on the unique world of 'party princesses' and the wacky experiences that come with it. Says Bednarsky: "Sometimes life takes its crazy turns, but a more magical part to play could be just around the corner. We would describe the show as zany, funny, and magical."
ON THE WEB: http://crownedseries.com (also the show's Tumblr page)
YOUTUBE: http://www.youtube.com/crownedseries
FACEBOOK: http://www.facebook.com/crowned.tv
TWITTER: http://twitter.com/crowned_series