Climbing the Hollywood ladder has always been the stuff of legend, and countless tales abound of today's biggest stars and creative minds getting their start right at the bottom. Such is the case for the three protagonists of the new comedy web series BREAKING AND ENTERING, created by series co-star Justin Carter. Its seven episode first season debuted this past August on its official web site, Youtube and Vimeo pages (see links below) and follows three best friends, each seeking to achieve success in Tinseltown: Michael (played by Carter), an aspiring actor currently working as an assistant to one of the silver screen's biggest stars (you'll have to guess who), screenwriter Sam (played by Noah James), who currently serves as an assistant to a high powered producer (again, if you want to know who it is, keep wondering), and Frankie (Meg Stevenson), a hot tempered, no B.S. production assistant for a top rated reality show (keep guessing).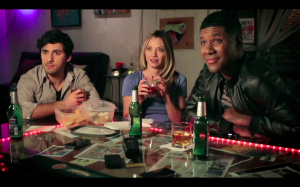 The show also stars Lisa Darden (who also co-produced the show with Carter) as first assistant/office manager Malaysia, whose only mission in life is to make Michael's climb atop the Hollywood ladder a treacherous one, plus Angela Gulner as Sam's seductive co-worker, Liz, comedian Myke Wright in a hilarious role as a reporter for the celebrity gossip site TNZ (parody of TMZ), John Harden as Sam's secretive boss (and the show's scene stealer) Glenn, Buckley Sampson as the overwhelmed leader of AA (Alcoholics Anonymous) meetings, and John Kaiser as bartender and aspiring comic Nicky, who counts Michael, Sam and Frankie as his best customers at the local watering hole known as the Casting Couch. As part of the show's social media campaign, viewers can interact with each of these characters through their own Twitter accounts (see below) and also through the site's blog, 'The Dailies'. Also, special bonus video content appears alongside each of the main episodes of the show.
The show will also be closed captioned for deaf and hard of hearing audiences. As Carter points out, while making web series accessible to those audiences is crucial for their creators, there's a very important – and personal – reason why serving those viewers is essential for his series: "I am very sensitive to the needs of our fans who require close captioning because I have family and friends who struggle with these issues. In fact our first pass at using a transcription service wasn't as accurate as we'd like and in order to ensure the integrity of the close captioned content we decided to have it transcribed again by another service. I cannot stress how important this is for content creators out there to not only close caption their work, but then confirm the quality of the transcription afterwards. This will ensure that you do not alienate any of your potential viewers who would benefit from great accurate close captioning."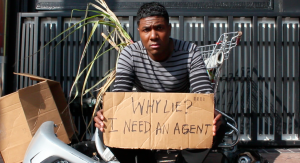 Carter based BREAKING AND ENTERING on his own memorable experiences as a Hollywood assistant, where he met others just like him, who pursued their own dreams of success while working for some of the biggest personalities – and egos – in the industry. Yet, he also sought to dispel a popular notion among those who think that the land of dreams is all glitz and glamour. "I did a great deal of development work and I encountered dozens of Hollywood assistants who were secretly aspiring actors, writers, and directors. I was fascinated by the idea that from the outside looking in, the perception of the entertainment industry was very glamorous but the reality was much more gritty. Shows like ENTOURAGE gave the impression that the business is a lot of red carpets and paparazzi, but the people I knew really living and working in Hollywood were going on coffee runs and picking up dry cleaning. A great deal of humor and pain can come from being an assistant who reads awful screenplays all day for their celebrity boss who wants nothing more than to ask their boss to read their own screenplay. These are the dreamers who come to Hollywood seeking their big break but end up breaking their backs working as assistants instead. They live in real Hollywood with no 'entourage'. I felt it was important that these dreamers had their stories told."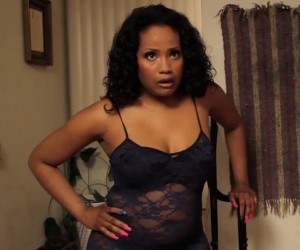 BREAKING AND ENTERING was also inspired by the real life stories of many others who had their own tales of climbing the Hollywood ladder. "Authenticity was essential to me so I reached out to all of the Hollywood assistants I could connect with during the development process. This is where the concept of relying on real working assistants to share their actual stories was born. After we started, the flood gates opened and the stories just kept pouring in even faster than I could write them. The enthusiasm was pretty awesome," Carter says.
Like many web series, the production of BREAKING AND ENTERING had its own unique set of difficulties, but as Carter explains, a few key people stepped up to make the daunting task of producing the show smoother. "Lisa and I were constantly being pulled away by different projects. I went straight from directing a play in New York to casting sessions in LA, scouting, and shooting all of the first season only few days later. It was both very exhilarating and ridiculously exhausting as well. Keith Croket (the show's editor) was a godsend. Rather than big timing us, he really believed in the material and worked closely with us to perfect it. Keith gave BREAKING AND ENTERING the same effort he gives the big budget features he works on. You'd be hard pressed to find a finer editor or a more decent human being. Talib Kweli, Res, and Idle Warship are also two of my favorite artists, so when they agreed to provide the music for BREAKING AND ENTERING, it was just an unbelievable thrill."
BREAKING AND ENTERING portrays the hectic and hilarious lives of those who try to make life easier for those who make Hollywood the entertainment capital of the world – while trying to make life easier and better for themselves as they pursue their dreams of showbiz success, and Carter feels that its characters, plus the show's unique brand of comedy, will appeal to everyone who's ever been on the bottom of the corporate ladder, no matter the industry. "BREAKING AND ENTERING is for anyone who has ever had a dream, then started reaching for it only to stop for a moment to ask themselves 'now what?' It's for everyone who has ever worked a job that they hate in order to succeed in a career that they love. It's for assistants and interns who wonder how exactly grabbing coffee for somebody builds a career, and it's for anyone who has ever wondered who's on the other end of those celebrity tirades that go viral every so often. BREAKING AND ENTERING is like the bastard child of CURB YOUR ENTHUSIASM and ENTOURAGE if the parents never acknowledged the child's existence and the child burned down the group home," Carter says.
ON THE WEB: http://breakingandenteringtv.com/
FACEBOOK: https://www.facebook.com/pages/Breaking-and-Entering-TV-webseries/508978862473031
TWITTER: @BandE_TV
YOUTUBE: http://www.youtube.com/user/BreakingandEnteringT