New Orleans has long been regarded as one of America's best and most distinctive cities. It's a place best known for its people, its music (having been the birthplace of jazz), its great food, and of course, Mardi Gras. Yet, like all cities, New Orleans has its own share of problems and challenges it faces on a daily basis. Perhaps none was greater than the adversity faced by the city's residents in the immediate aftermath of Hurricane Katrina in 2005. Like a phoenix rising from the ashes, New Orleans and its people emerged stronger and more resilient than ever, and in the years since those dark days, the city remains one of this country's greatest destinations.
Yet, even before Katrina's wind and waters struck the city, New Orleans was already thriving as a hub for film and TV production. After the storm passed, the industry, just like New Orleans itself, slowly but surely regained steam. Katrina not only changed the face of New Orleans, but it also played a huge role in several films and TV shows that were produced there, including HBO's popular drama series TREME.
Along with the film and TV production boom that has taken place throughout the city, web series have also flourished. One such series that not only was inspired by the events of Katrina, but more importantly by the unique spirit and people that makes New Orleans the amazing city that it is, is a new comedy called BELOW SEA LEVEL. Created by actor/writer/professional magician Michael Dardant (a.k.a. 'Magic Mike', who also appeared in NEW ORLEANS PIE and BOURBON WHIZ, previously covered here), BELOW SEA LEVEL takes place five months after the hurricane, and follows a group of close friends who try to rebuild their lives amidst the chaos and uncertainty of post-Katrina New Orleans. The series' 2 part pilot is on Youtube (see link below), with part 1 released as a set of 5 webisodes, and part 2 released in broadcast form (22 minutes long). The Youtube page also features special bonus content, including a deleted scene from one episode, all filmed in conjunction with the series.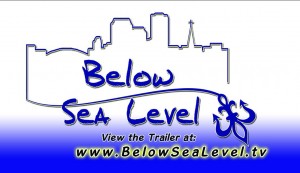 In addition to further episodes being filmed, Dardant also hopes that the series will be closed-captioned not only for the benefit of deaf and hard of hearing viewers, but also for a completely different – and hilarious – reason: the cursing, bleeped in the existing pilot, which proved to be just as uproarious even though it wasn't uncensored. "It was funny to us to see it bleeped out, but almost funny in a different way because you know what they're saying but you can't hear it. I know I laughed harder because it was bleeped. When someone gets to see the actual cut, they get to see a longer version, and to hear all of the language as well."
The cast, including Dardant, portrays characters that are incredibly similar to their real life personalities. Dardant stars as Mitch, a local magician and juggler who finds himself forced to become a street performer, and who struggles to not only keep a roof over his head – but to also keep his head about him. In addition, there's aspiring comic Pettivino (played by comedian and series co-writer Chris Fontana), and even though he can't seem to maintain steady employment due to his ADHD, he literally sees the world through rose colored glasses. The show also stars Lindsey Crow as Courtney, Mitch's former love interest who's trying to start her life over after the storm – and thanks to her feisty personality, she often proves to be the life of the party.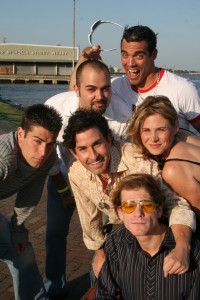 In addition, the show's ensemble cast features Armando Leduc (BOURBON WHIZ) as the handsome Salsa instructor/aspiring actor Antonio, a man known for his romantic prowess – as well as his reputation as a 'metrosexual'. D.J. Buras portrays Mitch's roommate, Monty, a French Quarter tour guide from New Orleans' West Bank (south of Lake Pontchartrain and of the Mississippi River), who has little interest in the subject matter of the tours he gives (the city's legendary tales of ghosts and vampires) – or of changing into new clothes. Rounding out the group is "The Roy", (played by Roy Farthing of NEW ORLEANS PIE), who not only stayed behind during the storm, but also  claims to have been abducted by aliens. As Dardant describes the character in the series' bible, "he (The Roy) could be compared to 'Kramer' on SEINFELD if 'Kramer' had been played by 'Animal' from THE MUPPET SHOW."
Dardant, a veteran of the local film and TV production scene who has extensive on-set experience in various productions filmed in New Orleans, developed the series that would eventually become BELOW SEA LEVEL over four years. Originally, Dardant wanted to create a show based on his experiences as an extra on the sets of the many films he worked on in the city, but when he realized that Ricky Gervais (creator of THE OFFICE) created EXTRAS, a show just like the one that had conceived (and one he thought of after Gervais' show hit the air), Dardant refocused – before Katrina changed everything.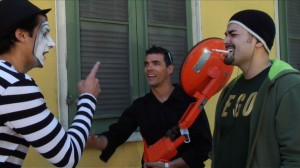 "It kind of evolved into something a little different than we (Dardant and his production crew, including producer Jason Waggenspack, who met after working on a short film for the New Orleans 48 Hour Film Project) intended, mainly because right in the middle of the thought process, Katrina hit. The initial show that we filmed has a lot to do with the post Katrina situation, but the entire theme of what that series was meant to be about is New Orleans. New Orleans is the main character, and you find yourself eavesdropping on a conversation of these fun people you meet in the French Quarter. It's kind of based on the fact that everyone who's visited the city has whatever happened here as among their top ten stories that they tell people because it's just that crazy and serendipitous the way that things happened and the vortex that is the French Quarter especially," Dardant says.
Another turning point in the development of BELOW SEA LEVEL came shortly after the storm, when MySpace and the popular FX sitcom IT'S ALWAYS SUNNY IN PHILADELPHIA sponsored a contest for aspiring filmmakers who hoped to be discovered in the same way that the creators of that show were. "We did a crappy 5 minutes, but it had Harry Anderson (best known for his role as Judge Harry T. Stone on the long-running NBC sitcom NIGHT COURT, as well as for his talents as a magician), and it was based on two actual stories that happened with the strait jacket. We sent that in, but I realized that after we did when we saw the finalists that they were going for video quality that could look good on their site. They had so many entries, there's no way in that amount of time they could have reviewed them all. It really wasn't a contest to find the next sitcom because some of the ones they had chosen were just totally ridiculous," Dardant says.
Despite the contest not being what he or anyone else expected, Dardant saw it as an opportunity to refocus his vision for the series. "It kind of forced us to really start to pull some things together to try to make something for the contest, so then even though the idea was in mind, the pilot was still scattered because we only needed that five minutes. It got the attention of some folks, like Jason Waggenspack, and he got a bunch of the kids at UNO (University of New Orleans) who were trying to work on projects together and they decided to attack it and see if we can turn the script into something."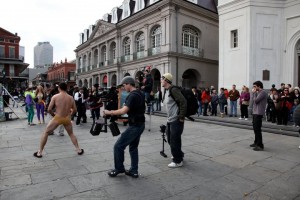 Filming BELOW SEA LEVEL was an intimidating experience for Dardant, who had never previously directed any film or TV series of any kind. Yet, thanks to the assistance of Waggenspack, plus the talented young filmmakers from UNO's prestigious film school, the overwhelming task producing the show's pilot episode was made easier. "For me it was an incredible experience. I remember Jason looking at me the first time it was time to yell action, and me realizing, wow, this is kind of a pivotal moment for me. Luckily I had him to help out with that because it got really insane. Trying to figure out every aspect of production was like cramming yourself through film school. I actually had the UNO kids bringing me books, and telling me 'hey, you might want to read this', so you know something about this industry you've gotten yourself into. I had post-its all over my walls, color coded, each one applying to different things, and that was the only way I could see the whole thing," he says.
However, post-production was another story, as Dardant recalls. "The real nightmare came later in the editing because having not done it before, trying to change the structure of the show to shorten everything, there just wasn't enough footage and we had to start getting very creative as to the way we were able to cut out of the first scene without it being 12 minutes, 17-20 minutes long. We put the little flyers as the opening credits, and went and filmed that and stuck the footage in where we cut to the flyers in at specific points, just so we could cut up that first scene, and we decided to keep that style throughout, where you see (it) in the credits that way."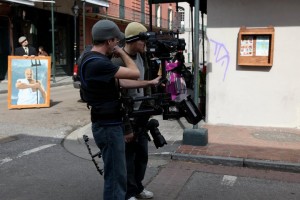 The 'fly on the wall' approach to BELOW SEA LEVEL's production is another key factor that sets the show apart from many sitcoms, even those produced for the web as Dardant explains. "What I wanted to do differently was to sort of have that reality style filming, but in a scripted show, kind of like the way they're filming THE OFFICE or MODERN FAMILY, except no interviews, and nobody's camera aware. You really just eavesdrop on the situation, but I try to stay true to that, and I always wanted to always have it feel like you're in the scene, so there's no crazy shots, if there was a crane shot it would need to be opening on a scene to establish something, otherwise it would feel like you're being pulled out of the scene from the perspective that I want people to have."
Dardant also wanted to incorporate another unique aspect of the city's overall ambiance as part of each scene. "I wanted the in-source music as well, because New Orleans is a city of music, and my idea was to have local musicians in support of this, and to have all local music and to try to have all source music from the scene itself. The characters are hearing it in addition, so the soundtrack is live. That was something else that I wanted to challenge us to do, which was to create the soundtrack happening that way."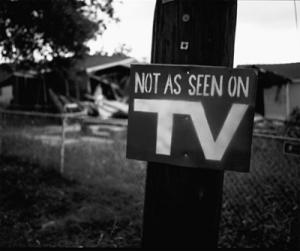 Described by Anderson as "SEINFELD meets MASH" primarily because of the situation the show's characters find themselves in – in this case, the atmosphere of post-Katrina New Orleans, BELOW SEA LEVEL is a sitcom that brings a humorous and fresh approach to a subject that's been covered many times through popular movies and TV shows, with characters that are as quirky and memorable as the city itself. Says Dardant: "I want it to feel like whoever turns it on is like a tourist who came, knocked on the door, and now they're in the living room, and they're witnessing this. This is how New Orleans people live. So, you turn on the TV, and you're entranced in whatever's going on in this conversation, and go on, 'is this for real'? That's the feel that I wanted for it, so that is the one way I want it to be different."
ON THE WEB: www.belowsealevel.tv
YOUTUBE: https://www.youtube.com/playlist?list=PLB10414E5D7049488