Life tends to get a lot more complicated the older people become. Sure, there's the joys and perks of growing older and more mature, from being in love, having disposable income, and getting behind the wheel. Yet, with any great freedom comes an even greater sense of responsibility, especially when it comes to trying to keep a roof over one's head – and trying to make sense of life itself. No one knows that reality more than ex-porn star/male escort Ryan Crosby, the protagonist of the critically acclaimed, award-winning web series drama HUSTLING.
The series' third and final season premieres today, this New Year's Eve (Tuesday, Dec. 31st) on its official Youtube page and web site (which links back to the Youtube page, see link below), and was written, directed and created by series star Sebastian La Cause, best known for his roles on the popular dramas HOMELAND, ORANGE IS THE NEW BLACK, as well as the Broadway version of the 1975 cult film classic THE ROCKY HORROR PICTURE SHOW. Nine episodes will air this season, with the first four being released simultaneously on Dec. 31st to accommodate the new trend of binge viewing. The remaining five will be released throughout January of 2014.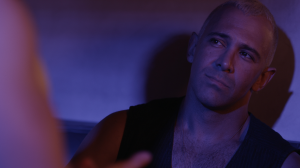 La Cause stars as Crosby – a.k.a. former male escort/X-rated film star Rod Driver, who attempts to rebuild both his life and career. In season one, a cash-strapped Crosby struggled to break away from his former line of work, one that proved to be less and less lucrative as a result of turning 40. As time went on, he soon found a new passion – cooking. Unfortunately, he wound up slipping back into the old, familiar world of adult entertainment, and while he gained a new love in makeup artist Liv (Jessica Press), his life changed instantly when his estranged mother Lena (Sharon Washington) suddenly resurfaces.
Season two picked up from there, with Ryan pursuing a new career as a chef but still having one foot in his past thanks to his new "mentor", Geoffrey (played by Gerald McCullouch of CSI, HOUSE, BONES and the indie comedy BEAR CITY). Even worse, Liv holds a dark secret that threatens to tear her relationship with Ryan apart. While he tries to further his career path through his friendship with career counselor Mitchell (played by Gary Cowling, who also serves as series producer), Ryan gets reacquainted with an old friend and gives her a big opportunity to change both her life – and his.
Now entering its third season, the series picks up a year after the events of the previous season. This time, Ryan is now moderately successful as the owner of a supper club located below his stylish new apartment. Yet, when a magazine reporter seeks to dig deeper into the world of the ex-porn star/escort turned culinary whiz, the lives of both Ryan and all those in his inner circle reach a critical turning point.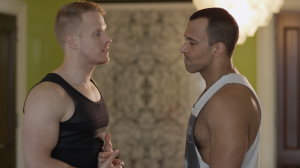 The series features an outstanding ensemble cast, including Broadway veteran and two time Tony nominee Daphne Rubin-Vega (RENT, THE ROCKY HORROR PICTURE SHOW, NBC's SMASH) as Ryan's long suffering landlady, Rosa Juarez, plus Stephen Guarino (ABC's HAPPY ENDINGS) as Rod Dixon, Ryan's long time agent who tries to get his client the best work he can find – if he can find it. In addition, the cast includes Mara Davi (also from SMASH) as Liv's best friend Charlie, Andrew Glaszek as Jay, who looks up to Ryan as not only his friend but also his role model, plus Kevin Spirtas (ONE LIFE TO LIVE, DAYS OF OUR LIVES) as Joel, a man who has a predilection for toys, and season 2 guest star Wilson Cruz (MY SO CALLED LIFE, NOAH'S ARC, and THE WEST WING) as one of Ryan's newest clients, Gabe, who's always turned on by the smelliest of aromas.
Guest starring in season 3 is Broadway star Jim Newman (HANDS ON A HARD BODY, STEEL PIER, in addition to his role as the cowboy in the newest version of The Village People), plus Jamie Clayton, best known for her role on the Emmy winning web series DIRTY WORK, and Marc Sinoway (from the web series HUNTING SEASON). As if that's not enough, Jai Rodriguez (from QUEER EYE, plus the recent ABC sitcom MALIBU COUNTRY) also makes a cameo appearance in season 3.
For La Cause, the emerging new medium of web series opened up a whole new world of creative opportunities and possibilities. Yet, as he explains, his goal with HUSTLING was to create a drama that was more than just a story about the usual struggles in the entertainment industry. "I came up with the idea for the show after I had returned to New York from a six month stay in Los Angeles. I was so inspired by filmmaking and the television industry that my creative juices started flowing. I knew about web series but I started researching them again with new eyes. What I found made me want to get involved. It made me want to be proactive and create. The only thing I knew is that I didn't want to write a show about an out of work actor. So I developed the story around a down on his luck hustler instead. I could infuse what I knew about career struggles as an actor or aging into that story. The human experience of change, rebirth, transformation or self-discovery is the same – it was just the situations that were different," says La Cause.
In addition to his own personal experiences with the ups and downs of showbiz, a new passion of his also factored into the development of HUSTLING: "I imbued my love of food and cooking into the show as well. I drew relatable struggles and obstacles from my own life and colored them for the world that became HUSTLING," he adds.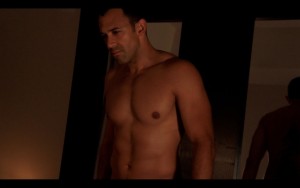 As is often the case with any web series, HUSTLING had its own share of growing pains. Yet, as each season progressed, so too did its overall production quality. "Season one was extremely low, I mean like super, ultra slash no budget. I shot a lot of the scenes myself. Other times it was one of the actors, Max Carpenter (who played Scotty in season 1), who was behind the lens. I did all the lighting and the craft service – the casting, wardrobe, scheduling, marketing, PR, everything. Except the editing. Andreas Anastasis and I edited the first season together. Andreas also shot the teaser for season one. It was ghetto, guerrilla filmmaking. It was exhilarating and life changing," La Cause recalls.
From there, HUSTLING became a major critical and commercial success, gaining not only a large and devoted fan following but also a ton of awards. Among them: La Cause's win for best actor at the Indie Series Awards during the show's first season, plus an additional seven nominations for its sophomore season including a second straight win for La Cause as best actor, plus the trophy for Best Ensemble. Along with multiple nominations and wins at the popular Groovy Awards (including 2 best actor trophies for La Cause), the series' highest honor came this past year when it was named as an Official Honoree at the Webby Awards in the drama category. "That was huge for us. We were in great company. It was a huge honor," La Cause says.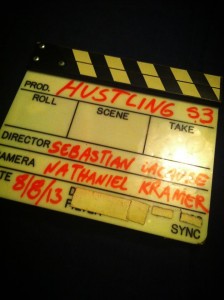 In season 2, the series' production improved in all facets, thanks not only to a successful Kickstarter campaign that raised 130% of its goal but also a key contact La Cause met during that effort. "Nat (cinematographer Nathaniel Kramer) came on board and elevated the visuals of the show immensely. I was also able to hire a sound person. So production quality sky rocketed from season one to season two. My writing in also grew," La Cause says.
In addition, season two changed dramatically in terms of its storytelling. "Season one was entirely from the point of view of the main character. In seasons two and three I expanded the world and created multiple story lines. I had more help during filming but I was still wearing many hats – adding editor to my list of responsibilities. For season three, I had a much better sense of what I was going to need in the editing room and Nat and I knew each other better so our work, I think, is even stronger. Season three will be the best season yet, in all areas – writing, directing, cinematography and sound," he adds.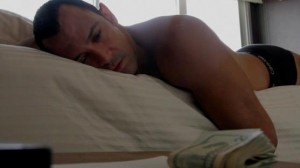 The series' third season was filmed in a span of 14 days, though not consecutively. While the process of writing, producing, filming and editing each episode was long and seemingly never-ending, La Cause felt more prepared than ever for the daunting task of producing the show's final nine episodes. His talented cast and crew made that challenge a lot easier. "This time around I knew I needed more coverage because I wanted to pick up the pacing so we had to move even faster. Sometimes it seemed as though we wouldn't make our day but was always confident we would. All three seasons during production, there has been this incredible energy on set. It always felt good and it felt like we were making something of note. The camaraderie, love and laughter made us a tight unit. There has always been a lot of love on set. When you're working for little or no money, there had better be love. But I felt like everyone I was able to assemble from cast to crew, (and) was there because they believed in the show. And I also felt they believed in me which motivated me and made me feel safe to create," he says.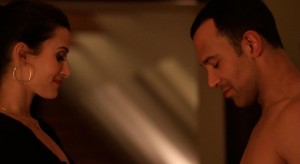 HUSTLING's third and final season will not only conclude the powerful story of a man who's struggling to make a name and life for himself in a world where his past is still a major part of his present. But it will also continue to bring viewers characters whose conflicts, successes and failures are true to life; moments that many people can easily identify with.
As La Cause explains, that aspect is just one of many that makes his show stand out from many other dramas. "For one, I think the acting is top-notch, extremely easy and real. I never put a moment that I don't believe myself in the show. There's something about it that just feels authentic and honest. there isn't anything that's forced. i think the writing is strong. It's mature and smart and funny and very nuanced. the subject matter is edgy but handled deftly. But most importantly that show, the story and its characters are relatable and identifiable," he says.
There's also a bigger mission that La Cause hopes to accomplish through HUSTLING. "Sexuality isn't always black and white. Which brings me to another reason HUSTLING sets itself apart from the pact. It's diverse. Truly diverse. It's like a Benetton ad. That was very important to me as a film maker and as a biracial man myself. I don't see myself reflected enough in the media. Having a biracial President hasn't even done enough. There should be more ethnically ambiguous characters on TV and in film. Or biracial. That's why it was important for me that my mother character was black. Biracial people exist and we don't always want to play Latin. The Latin community will go up in arms if a network casts a non-Hispanic person in a Hispanic role. Where does that leave those of us who only appear Latin? Unemployed and creating our own work. That's where," he says.

Overall, HUSTLING is for all those who know just how hard it is to make a fresh start in life – no matter who they are or what they do. "You don't have to be a hustler to understand what it's like to reach a point in your life when you start to question the choices you've made. Everyone understands wanting to make change happen in your life. HUSTLING also handles sexuality in a way that hasn't been touched before. There are gay characters and there are straight characters but there are also characters that live somewhere in the middle. I've never seen a show where the main character gets involved romantically and sexually with both men and woman. It's a story that should be told," La Cause says.
(Note: season 1 of HUSTLING is closed-captioned, and La Cause says he hopes to add both captioning and Spanish-language subtitles for season 2.)
ON THE WEB: www.hustlingthewebseries.com (also redirects to its Youtube page)
and
YOUTUBE: https://www.youtube.com/user/slacause/featured
FACEBOOK: www.facebook.com/HustlingTheWebSeries
TWITTER: @HUSTLINGseries
The first of 4 consecutively released episodes of season 3 of HUSTLING can be seen here: