2013 has been a year of tremendous growth, not just for the web series world as a whole but also for SNOBBY ROBOT. Since joining this blog earlier this year, I've had the great fortune of not only watching many of the web's best original dramas, comedies and reality based series, but also getting the opportunity to interview the talented people on both sides of the camera who contributed to the success of those shows.
While this year's crop of new and returning series is both excellent and numerous, there were several that stood out to me in various ways. From outstanding and innovative production quality – much of which was achieved on limited budgets, to great writing, acting and compelling storytelling, these five series are among the best I've seen in 2013 and are highly recommended for both readers of this blog and fans of all web series. Here, in no particular order, are my picks for the top 5 web series of 2013:
OUR CULTURAL CENTER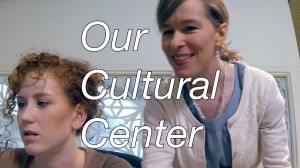 Created by Martin Garcia, this comedy revolving the motley crew of a fledgling Chicago modern arts museum was a hit with me from the very first episode. The series' effectiveness lies in both its hilarious comedy and its talented ensemble cast, whose quirky and offbeat characters further add to OUR CULTURAL CENTER's strength as a comedy.
The cast includes Julia Kessler (and, in later episodes, Cameron Feagin) as Victoria Craft, the founder of the Craft Family Art Center, whose efforts to keep the museum afloat after her ex-mother-in-law's passing are made all the more complicated when her ex-husband Randall Vandeberg (Kurt Ehrmann) enters the picture.
Vandeberg, a no-nonsense businessman who can't stand (or understand) his former spouse's artistic approach to the museum's day to day operations, clashes constantly with Victoria and the entire staff – Eric Feltes as art aficionado Pete Bomba, a man who loves modern art so much he finds himself at risk of losing his job, Katie Hunter as Victoria's niece Katee, desperate to not only lose her job but also to gain that special someone who can put her out of the daily misery of being behind a desk, and Andy Hager as ex-junkyard worker Louie, who lost his job toiling in the scrapheaps of America but gained a greater appreciation for art itself as a result by turning the broken into the beautiful (which is why he got fired from the junkyard to begin with).

Along with its great comedy and outstanding production quality, Garcia hopes to send an important message to both viewers and the modern art community through OUR CULTURAL CENTER – that art, in all its forms, is important to all of us. Just as important is interacting with modern art, be it through watching movies, stage plays, listening to music, or admiring some of the greatest paintings and sculptures ever designed – all by the world's most talented artists. Furthermore, he hopes to convince those whose business is in running museums like the one depicted on his series to increase accessibility of the arts to all people, and to defy the all too common misconception that modern art is only for the elite. The series airs each Friday on its official Youtube page (see link below):
Where to watch:
www.youtube.com/user/chicagoarts
IT COULD BE WORSE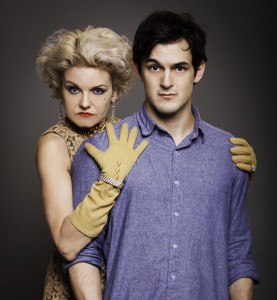 Just as OUR CULTURAL CENTER poked fun at the business side of people responsible for bringing art to the masses, the critically acclaimed, award-winning series IT COULD BE WORSE brought viewers – myself included – a hilarious and entertaining look at those who put the show in show business, as seen through the eyes of a struggling actor named Jacob Gordon, played by the series' co-star and co-creator, Wesley Taylor (best known for his roles on NBC's late, lamented musical drama SMASH and Broadway musicals like ROCK OF AGES, and THE ADDAMS FAMILY).
For Jacob, being a struggling actor is hard enough, but his personal life becomes even more awkward thanks to his uneasy relationship with boyfriend Phillip (played by Gideon Glick) and the divorce of his parents. As a result of their separation, Jacob's father Leo (Richard Poe) decides to move in with him, making things even more complicated – and just as funny.
Just when it seems that Jacob's dreams of Broadway stardom have stalled, he finds that his first big break may be just around the corner – a chance to star in a new musical alongside one of the Great White Way's biggest divas, the high maintenance Veronica Bailey (played by Broadway veteran Alison Fraser, of the popular musical GYPSY). More often than not, Veronica steals the spotlight from Jacob both on stage and off, and the comedic tension between Taylor and Bailey is one of many significant aspects that makes IT COULD BE WORSE one of my top 5 web series for 2013.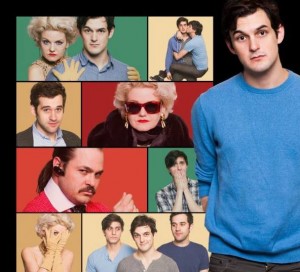 In fact, the show's entire ensemble, including series co-creator Mitchell Jarvis as Jacob's agent Sam, Adam Chandler-Berat as Ben, who causes even more conflict between Jacob and Phillip, and Nancy Opel as Jacob's mother Judy, makes IT COULD BE WORSE one of the funniest and best new shows to come out this year.
The fact that the series' first season also features a host of cameo appearances by some of Broadway's biggest stars makes the series even more of a winner with theatre lovers. As a result of its successful recent Kickstarter campaign, season 2, currently in production, promises to be even better as Jacob tries to achieve success in an even tougher place – Tinseltown.
Where to watch:
PRODUCING JULIET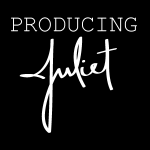 While there's often plenty of humorous moments to be found in the ultra competitive world of theatre, it's an industry that also has just as much drama behind the scenes as it does on stage. Nowhere was that more evident than in the new drama PRODUCING JULIET, written, directed and created by Tina Cesa Ward (ANYONE BUT ME, GOOD PEOPLE IN LOVE).
The series, set to release its next episode January 15th on its official web page (see link below), focuses on the public and private lives of two talented young women – one an acclaimed playwright, Juliet (Rachael Hip-Flores from ANYONE BUT ME and GOOD PEOPLE IN LOVE), who's struggling to follow up on the success of her debut production; the other, Rebecca (Alisha Spielmann), a theatre aficionado who leaves the mundane world of the workplace to bring Juliet's new play to the stage. While the public focuses on the drama onstage, the personal backstage tension and conflict between cast and crew threaten to overshadow any success the production hopes to achieve.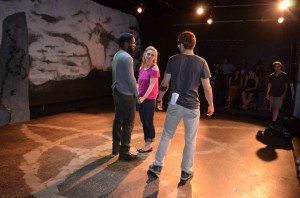 Juliet faces an emotional battle with director Richard (Kevin Sebastian), who's been hired to helm the revival of her first successful production, while Rebecca finds herself in the middle of a complicated open relationship with the play's leading lady, Laura (Jenny Grace) and Michelle (played by Stacey Raymond). Juliet's personal life is equally as tense, thanks to her relationship with openly gay actor Evan (Andy Phelan). There's also Rebecca's friend and play producer Andrea (Betty Kaplan), who's quickly becoming frustrated with Richard's attitude, and who also hopes that Rebecca will move on from Laura. Rounding out the show's great ensemble cast is Chinaza Uche as Laura's co-star, Jacob.
As someone who appreciates and admires the world of theatre, and all those who work on both sides of the curtain to make the world's most enduring plays and musicals memorable, PRODUCING JULIET is one of my picks for top 5 web series of 2013 because it is both an excellently acted, written and filmed series with compelling characters and great performances by Hip-Flores, Spielmann and the entire cast, and also because it takes an intelligent look at what goes into creating original works for the stage.
In my original feature on this show, I opened with how the world of theatre has been a frequent subject of popular movies and TV series – one of which being the now canceled NBC musical drama SMASH. While I and many others will always remember that show, and what made it so compelling, that's not to say that it didn't have its flaws, especially in the show's second and final season.

Nevertheless, it did provide viewers with a weekly peek behind the curtain, where the drama backstage was just as compelling as that onstage. Along with that series, plus other notable productions like SLINGS AND ARROWS, and humorous fare like WAITING FOR GUFFMAN and THE PRODUCERS, PRODUCING JULIET continues in that proud tradition. Just as before with ANYONE BUT ME and GOOD PEOPLE IN LOVE, Tina Cesa Ward and her talented cast of actors have got another winner on their hands.
Where to watch:
PROGRESS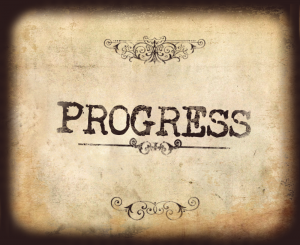 Sometimes, the most impressive web series can be those produced on a miniscule budget. Case in point: the new, 10 part "steampunk" mystery PROGRESS, produced by Nicole Wright and Armando Saldanamora.
Set in a parallel version of 19th century England during the height of Jack the Ripper's reign of terror, PROGRESS combines elements of both the modern and the old as it tells the story of Oscar Lewill (Ben Whalen), a cyber hacker who tries to crack the case of the notorious killer through steam-powered technology that's pretty much like today's modern internet.
Further adding to the suspense, and his search for Jack The Ripper's true identity, is the fact that the killer actually posts evidence of his grisly crimes on a Wikileaks-like site. In a case of art imitating life, the series also reflects the often controversial aspects of today's modern technology through its storytelling. While sites like Wikileaks, plus the continuing debate about government overreach and over-regulation of communications has dominated the headlines as of late, PROGRESS' storyline focuses on a world where technology is heavily regulated, and where, like Julian Assange today, Oscar Lewill finds his life and freedom in constant peril by the authorities, and by his own enemies.
In Oscar's case, the pursuit of a killer is made all the more suspenseful by each of those factors, including the British police officials of Scotland Yard, and especially his target – Jack The Ripper himself. The series' ensemble cast features Derek Houck as Rhett, one of the many "trolls" who roam throughout the world of steampunk cyberspace, plus comedian Andy Pandini as England's right wing radio loudmouth, Mr. Hummbaugh, Rebecca Lynch as Victorian webcam girl Lila DeClide, and Kai Cofer as the constable of Scotland Yard, Mr. Alben Scot.

Along with its great cast, writing and storyline, PROGRESS also makes an incredible visual impact on viewers through its dazzling special effects and production design – both of which were accomplished on a next to nothing budget. It's an impressive feat that has earned PROGRESS two IAWTV nominations for both outstanding visual effects and set design. The series' impressive visual effects were created by veteran editor/effects artist Paul Lada (known for his work on big budget blockbusters like Ridley Scott's PROMETHEUS and for the film HARRY POTTER AND THE DEADLY HALLOWS), and its set design was conceived by David King, whose expertise in steampunk design helped contribute to the series' distinct look.
Also contributing to that look were costume designer Shannon Arrant, illustrator Andrea Garduno, and prop designer Tim Repsher. Even more impressive is the fact that PROGRESS is up in both categories (visual effects and art design) against two higher profile series: BATTLESTAR GALACTICA: BLOOD AND CHROME, and CONTINUUM. Combined with its outstanding group of actors and its intriguing story, PROGRESS is a web series that truly made quite an impression on me – both in style and substance.
Where to watch:
A FOOL'S IDEA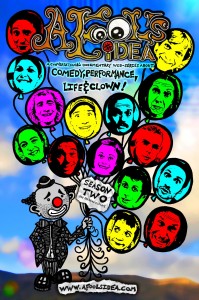 Rounding out my top 5 web series for 2013 is a documentary series about a subject that often scares more people than it entertains. In fact, it's a subject that is difficult to understand and define on its surface – clowns. Now in its second season, A FOOL'S IDEA, created by Brian A. Bernhard, made me not only appreciate the many talented performers who both redefine what it means to be a 'clown', but also portrayed their personal stories of success, failure and life itself.
The ongoing series began airing on its official Youtube page in 2010, and features compelling in-depth interviews with many of the world's best performers in various fields (physical comedy, performance art, etc.).
Among those interviewed: Jango Edwards, Jef Johnson, Eric Davis (a.k.a. Red Bastard), Deanna Fleysher, Gabriela Munoz (who also contributes to the charity organization CLOWNS WITHOUT BORDERS), and other performers who've brought their talents to Cirque Du Soleil, and to the training grounds of Ringling Bros. and Barnum and Bailey Clown College.
Through these interviews, viewers get to not only witness open and honest discussion about the personal and professional highs and lows these performers experience, but they also see just how the face and meaning of the term 'clown' continues to evolve. In addition, they get to see these incredible artists doing what they do best – entertaining people and defying the boundaries and stereotypes that have become overly associated with the word 'clown'. Bernhard expanded the reach of A FOOL'S IDEA through supplemental content, including a podcast that features expanded interviews with many of the performers featured in the series.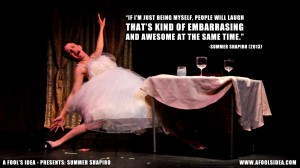 New for the show's second season is the spinoff series A FOOL'S IDEA PRESENTS, which compliments the more informative style of its parent series by presenting a personal, in-depth look at the talented people who entertain people throughout the world through comedy, magic and other impressive physical feats. One such episode stuck with me – the story of Summer Shapiro, who continued her life and her career as a physical comedian/clown despite being diagnosed with cancer. It's a tale of perseverance and strength that no viewer, myself included, will ever forget.
A FOOL'S IDEA will surely make viewers re-examine just what it means to be a clown, and while it may not totally convince them that they're not as scary as they might think, it's a web series that will certainly make all who watch appreciate the hard work and talents of these exceptional performers.
Where to watch:
www.youtube.com/blightproductions
2013 was a great year for web series. 2014 can only get better. Happy New Year, and Happy Viewing! Be sure to check back in on Monday when we reveal the winners of the 2013 #WebSeriesWednesday Awards!