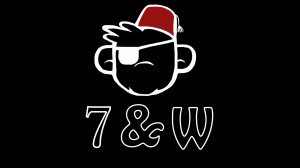 Just as kids have been captivated by their favorite cartoons over the past few decades, the emergence of edgy, more adult flavored animated series has also enjoyed tremendous growth. With shows like Seth MacFarlane's FAMILY GUY and AMERICAN DAD, plus the popular Adult Swim late night lineup on Cartoon Network, groundbreaking animated comedy geared towards more mature audiences has both transformed and redefined the genre. Web series have also added their own distinctive and bold touch to adult animated comedy.
Among them is the new series 7TH AND WASHINGTON, produced by Nate Ferrell and Justin Dean. The series, which debuted on October 1st, 2013, revolves around the adventures of three disparate and wacky employees of a local taco stand named Taco Shack. 5 episodes have already aired on its official web site, plus its Youtube and Vimeo pages (see links below), with 5 more set to air later this Spring.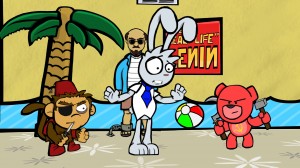 Taco Shack's crew is led by its manager, rabbit Sherwood (voiced by Dean), whose attempts to keep a cool head amidst the chaotic atmosphere of his business are often thwarted by its custodian, Algiers (voiced by Ferrell), a scheming primate whose loyalty to the Taco Shack belies his relentless pursuit of his own personal vendetta.
Rounding out the trio is Bruce, the shack's resident luchador (Mexican wrestler) and cook, whose tough exterior conceals a kind, gentle soul that serves as the emotional core of Taco Shack's crew. The series also features Rino Romano (best known for his work as Batman in the popular animated series THE BATMAN), who voices the villainous Collector in the series' third episode, plus Pete Sepenuk (NARUTO, BLEACH, THE LAND BEFORE TIME) who gives voice to two different characters: the loyal communist bear Pinko (in episode 2) and the video game warrior Samurai (in episode 5).
For Ferrell and Dean, the concept for 7TH AND WASHINGTON came literally by accident, and just how it got developed is an even more amazing story considering that neither had any experience in the world of animation. "…When we set out to make an animated web series we had to teach ourselves how to do it. At first we were developing a completely different show idea and we started doing animation tests. Most of these animation tests ended up featuring this rabbit character I crudely sketched up. After about a dozen or so tests we realized we weren't ready yet to do the show that we had originally wanted to make so we decided that we'd do a practice show with this rabbit to see if we actually could make an episode," recalls Dean.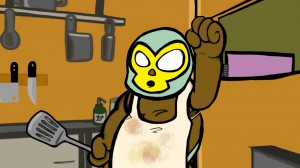 After the test animation proved successful, the series' co-creators expanded on the show's story and characters. "I came up with a monkey sidekick because who doesn't like monkey sidekicks and we wanted another character for a three person dynamic, but we didn't want it to be another animal so Bruce was born," Dean says. However, for Ferrell and Dean, the biggest moment in the show's development occurred on a seemingly humdrum trip to lunch.
"We both wanted to do a workplace comedy so we were brainstorming ideas as we walked to lunch—which happened to be Manny's corner taco stand in Sherman Oaks and Nate was like 'screw it, lets just make it a taco stand'. And somewhere along the way of finishing that first episode, we both realized that maybe this isn't just a fun test animation. Maybe we could go the distance with our Taco Shack gang and make a full set of episodes," Dean adds.
As is the case with many web series, the production process can be a real learning experience amid all the challenges that come with it. While Ferrell and Dean voiced, co-directed and co-produced each episode, the task of bringing 7TH AND WASHINGTON to life was multi-pronged. The series' animated elements were created through Adobe After Effects software, with Dean taking up the duties of not only illustration but also individual character design. Ferrell contributed his unique touch to the visual process through overall animation and background design.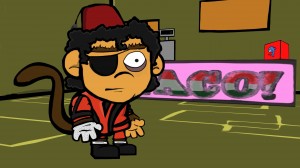 Even though the task of creating what viewers see in each episode is key, that's only one part of the job. As Dean explains, "for scripting usually we'll just talk about ideas and jokey bits that could work until we hone in on a premise. Then I'll go off and write the actual script. After that we all get together and lay down the VO where we'll usually just riff wild lines for any punch-ups.
Sound is such an important part of animation and we're very grateful that our good friend and extremely talented Jason Salisbury decided to be part of the team. Jason's an actual audio engineer and he does such a pro-level job with all his design. Nate handles all the editing on Avid and does the website stuff.  And I'm in charge of putting the video on Youtube because I have a fourth grade understanding of computer-ing. But am awesome at the internets-ing."
Described by the show's creators as "somewhere in between REN AND STIMPY and REGULAR SHOW with a little SCOTT PILGRIM thrown in the pop culture blender," 7TH AND WASHINGTON once again proves that some of the best animation ever created for TV (and the web) isn't always kids' stuff (nor is it for kids, per se), but it's definitely making quite an impact with viewers who can truly appreciate their cartoons with a little edge.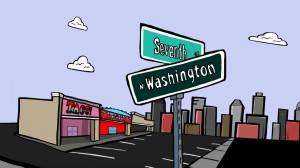 For both Dean and Ferrell, their goals for the success of 7TH AND WASHINGTON are modest: "Our plan currently is to just let the show grow naturally. We've seen some really great support for only being out for 3 months and we don't want to rush or force anything. That being said we are keeping our options open for the future of the Taco Shack," they say.
Adds Dean: "This whole process has been (a) massive learning experience for Nate and I. With only the crudest understanding of animating before last year, every episode we learn a little bit more a trick here or a shortcut there. So our goal has always been to make the next episode a little bit better than the one before it. Ultimately we're just trying to make stuff that we personally think is funny and enjoyable to watch and if we can find an audience that shares our taste, then double awesome."
(Note: Ferrell and Dean say that 7TH AND WASHINGTON is not currently closed captioned, but they plan to add that feature in the near future.)
ON THE WEB: www.7thandwashington.com
YOUTUBE: https://www.youtube.com/user/7thandwashington
VIMEO: https://vimeo.com/user20723809
FACEBOOK: https://www.facebook.com/7thandWashington
TWITTER: @7AndW
TUMBLR: http://sharkinthebox.tumblr.com